River Island Launches Line With Sibling
River Island have collaborated with fashion label, Sibling, on a spring 2016 collection and it's 90s enough to make Cher Horowitz swoon. Sibling are just one of the ever growing list of designers to collaborate as part of River Island's Design Forum initiative. Past collaborators include Zoe Jordan, Jean-Pierre Braganza and Eudon Choi. The Design Forum is an initiative which aims to provide a platform for emerging labels by commissioning them to create limited-edition collections for the high-street retailer.
Cozette and Sid, designers of Sibling, have said "Both Sid and I love River Island's own product, especially the level of quality and design. Also their list of previous collaborators: hello Rhianna! Quite the honour to be asked really" Cozette told Glamour. This is Siblings first venture into high street fashion, the line focuses on their signature playful style. Highlights include knitwear embellished with floral motifs, ruffle-trimmed swimwear, and co-ordinates in pastel pink. Womens Wear Daily report that the designers drew inspiration from a variety of references, including Ellen von Unwerth's photographs and Brigitte Bardot. Cozette said "this collection stays true to the design values of our brand and to our commitment to quality. The price point is also spot on. Sid and I always look at collaborations as a way of saying thank you to everyone who has supported us, but might not afford or wish to spend the amounts of money our main line commands". The line is, therefore, extremely affordable at between £15 and £55. She also pointed out that the collaboration might help the label address the issue of being copied by the high street; "In the past Sibling has very much been copied, which might initially seem flattering but let's face it, it isn't really. Working directly with River Island on a capsule collection is the perfect solution to this problem and it will also allow us to widen our consumer base". You can find the collection on the River Island website.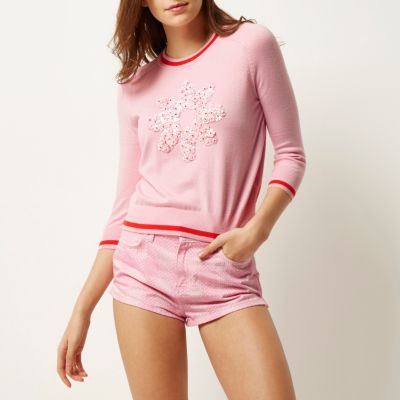 Holly Martin
holly@bjournal.co
all images belong to River Island and Sibling