No Comments
Chris Eubank Jr Set to Defend his World Title Against Arthur Abraham
Chris Eubank Jr views his first IBO world super-middleweight title defence against Arthur Abraham next month as a chance to build his legacy.
The 27-year-old goes up against Abraham on July 15 at the SSE Arena, Wembley, aiming to become only the second man to stop the 51-fight veteran. He beat Australian Renold Quinlan at London Olympia in February to win his version of the Championship and makes his first defence next month.
Eubank Jr has followed in the footsteps of his father by stepping up from middleweight to super-middleweight.
Brighton-based Eubank Jr is 10 years younger than his Armenian-German counterpart who has held multiple world titles at middleweight and super-middleweight during his career.
Despite Abraham's experience, Eubank Jr says it is time for his opponent to move aside.
"Arthur Abraham is highly-regarded as a super-middleweight; I'm a natural middleweight," said Eubank Jnr. "I walk around at 12 stone, but my speed, determination and skill surpasses whatever Abraham has.
"I respect all fighters, but he's had his time. It's my time now.  He's a strong, come-forward fighter but one-dimensional. I know what I need to do to beat him. I want fights that will build my legacy, and this is a great opportunity."
George Groves
If Eubank Jr defends his world title against Abraham, he will target a showdown with WBA champion George Groves in the Autumn.
Twenty-nine-year-old Groves won a world title at the fourth attempt when defeating Russian Fedor Chudinov with a sixth-round stoppage in Sheffield last month.
"It was a case of never give up, I guess," said Eubank. "I don't rate Chudinov. It wouldn't have been a huge challenge for me.
"George made it a bit difficult for himself. But now he is world champion. So he and his title are 100 per cent on my radar."
James DeGale
A meeting with James DeGale has also been muted although that will not happen until the 31-year-old recovers from injury. DeGale recently underwent shoulder surgery and faces a lengthy spell out of the ring, so punters will have to wait before a fight with Eubank forms part of their boxing strategy.
He took a swipe at Eubank earlier in the year, suggesting his potential opponent "brings nothing to the table other than a name".
Eubank confronted DeGale at the 02 Arena in March when Tony Bellow beat David Haye in their heavyweight grudge match and DeGale hardly seemed interested in a potential showdown.
Eubank, who has lost just one fight professionally, claimed last week that DeGale was running scared.
"He's talking about shoulder surgery but it's more like heart surgery that he needs. He's got no heart," said Eubank.
"He was just timid and shocked that I even went up to him. For a world champion it was embarrassing.
"I thought I would get a bit of heat from him but it was the complete opposite. I frightened him, he was afraid to engage me. He doesn't want to fight.
"If someone came up to me and told me they want to fight me I would put them in their place. He didn't do that at all — he just scurried off.
"Now he's got an injury but the fight has to happen — there is no way out for him."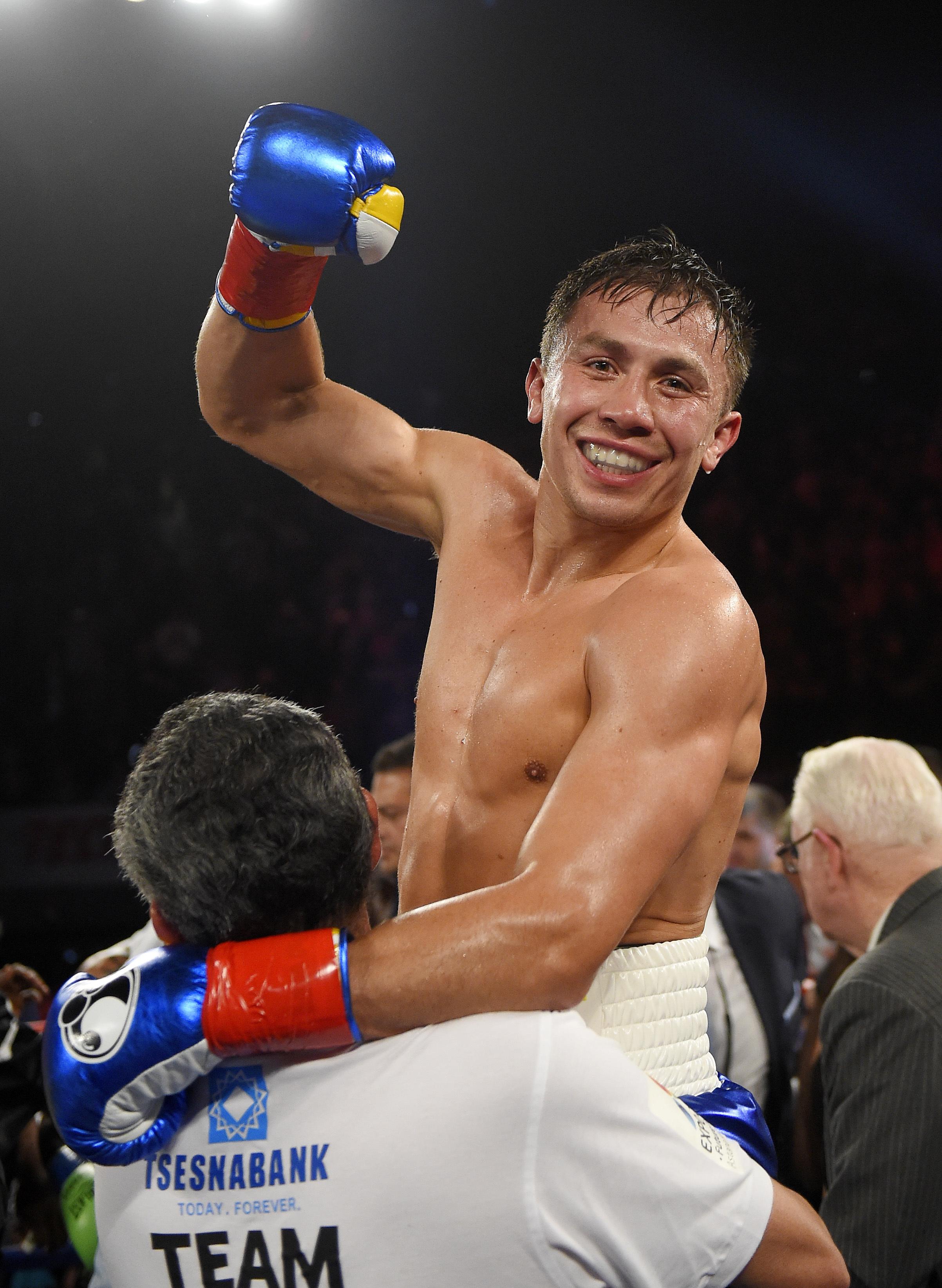 Gennady Golovkin
Eubank is also keen to take on world middleweight No. 1 Gennady Golovkin later this year.
Eubank claimed at the beginning of the year that he had been calling for the fight for two years but promoter Eddie Hearn gave it away to fellow Briton Kell Brook who was dispatched in five rounds by the man from Kazakhstan.
Brook was the subject of scorn from Eubank recently after the way he ended his title fight with American Errol Spence Jr. Brook ended the fight in the 11th round by going down on one knee after sustaining a swollen eye. It later emerged that Brook had sustained another broken eye socket – this time in his left eye after having his right one broken in the defeat to Golovkin.
At the time Eubank took to Twitter to suggest that Brook had 'given up' because of a 'swollen eye' – remarks that earned him criticism in the boxing world.
There is no shortage of candidates for Eubank to face should he emerge victorious against Abraham but he first needs to focus on despatching the veteran next month before moving on to greater challenges.