No Comments
Loves Disney Cartoons – Brighton Illustrator And Designer Liam Smith
On

November 17, 2016

https://www.bjournal.co
Sussex man, Disney obsessed Liam Smith, from Crowborough, Winnie the Pooh's home is 26! Currently working as a designer at "Once upon A Time", a company that does branding for a variety of different TV and film production clients such as Disney, Warner Brothers…  And other popular brands like Lint chocolate, Russian Standard Vodka…
Liam's infamous knowledge of animated children's films and additional enthusiasm has made him the go to man for most Disney and Warner Brothers projects at work. Designing advertisements, using popular characters in children's cartoons to capture their audience's attention, his most recent example was Dory in "Finding Dory". Liam says "I love it because you can be creative but I don't get to do so much illustration. I have ideas and do drawings for films but I can't do exactly what I want".
In his spare time, Liam indulges his creativity in making detailed illustrations. He publishes his work on his blog Giantworks, a nickname he acquired at Winchester University School of Art which he graduated from in 2012. He gradually started putting his work online "getting a bit of a base going and it's starting to get really good now that I'm in Brighton there's a nice amount of people who appreciate art here".
Liam has a shop on Etsy where he's selling a collection of his illustrated prints of buildings and different architectures, sometimes personalised. Website
"This was a Paris- style house that someone ordered from me for their girlfriend, with a lot of details that we spoke about together deciding what he wanted in the image etc."
His dream is to have his own home ware brand, like illustrated plates, wallpaper, anything in the home basically. "I'd love to walk into someones home, look around and see something I've designed."
Liam's artistic abilities started to really develop around the age of 7, when he was already designing gardens and clothes "I used to sit on the floor at home and just start drawing, pretending I had my own hotel". From then on, Liam wanted to pursue a career as an artist "I wanted to be a cartoonist, making comic book strips" until he reached GCSE level and became aware how difficult it is to earn your living on an artists salary "So I decided I would settle for designing or illustrating."
What are some of your favourite cartoons? "I'm a massive Disney fan, I'm absolutely obsessed! It's always been a big inspiration." Liam showed me two Toy Story characters tattooed one on each arm confirming his previous statement! "I absolutely love Toy Story!" He used to do a little animation during his art foundation course and still wants to now but says it's a very time consuming ordeal.
After Uni, he moved to London briefly for an internship "I didn't really like London, it was too busy. Where I grew up in Sussex everything was very chilled out and relaxed and everyone's really friendly, when I moved to London I found everything just the complete opposite. Where as in Brighton, you can walk down the road and have a friendly conversation with someone that you don't even know, it's fantastic".
I loved that Liam was from the town that is home to Winnie the Pooh's adventures "the Hundred Acre Wood is actually Ashdown Forest which is the location in Winnie the Pooh. As a kid it was one of those things that you went to as a family! Pooh bridge is there, the Poohsticks under the bridge, it's fantastic! It's probably the one thing people come to Crowborough for."
Liam currently lives in Hannover or "muesli mountain" as he calls it, which he explained is a very close community that has a famously-entertaining community board on Facebook. "I posted in there saying I had some Brighton themed illustrated prints and I couldn't believe the response I got, I was expecting maybe 1 or 2 sales but I got about 23 in one day!"
Liam's Brighton related illustrated prints are very popular. "I like to use the parts of Brighton that everyone usually walks past and draw them, trying to a bit cheeky I suppose". One of his favourites is the West pier "I think it's a very under rated attraction and a beautiful one'.
As a big fan of Japanese culture, Liam dreams of one day going to Tokyo in Japan to sketch the alternative architecture. From his own research, imagination and skill he designed this illustration "It's a bit made up. It's supposed to be like the back streets of Tokyo."
'Brighton Rock Shop' and 'Brighton Fish n Chip shop' which is waiting for some colour and the unfinished 'amusements' is a three series illustration Liam is working on.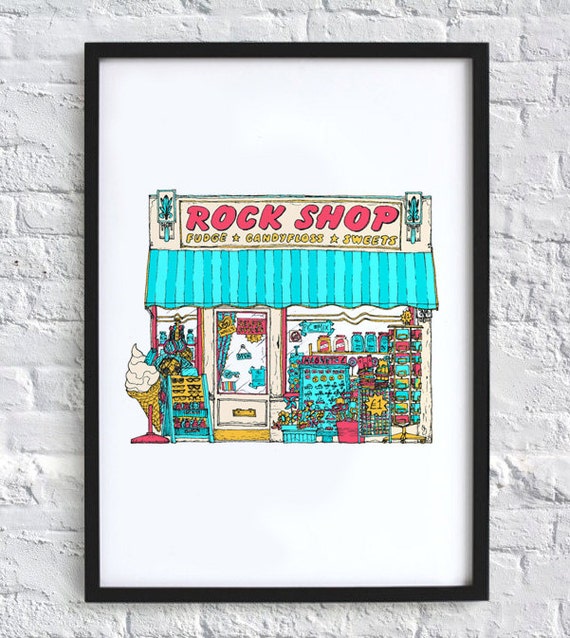 Liam explained that he's quite hesitant to use colour usually "I need to get over my fear and just digitally explore loads of different coloured versions of my illustrations, but I find it so stressful. I just need to do it!"
You can see more of Liam's work on his blog Giantworks and on his Etsy shop Liam Smith illustration!