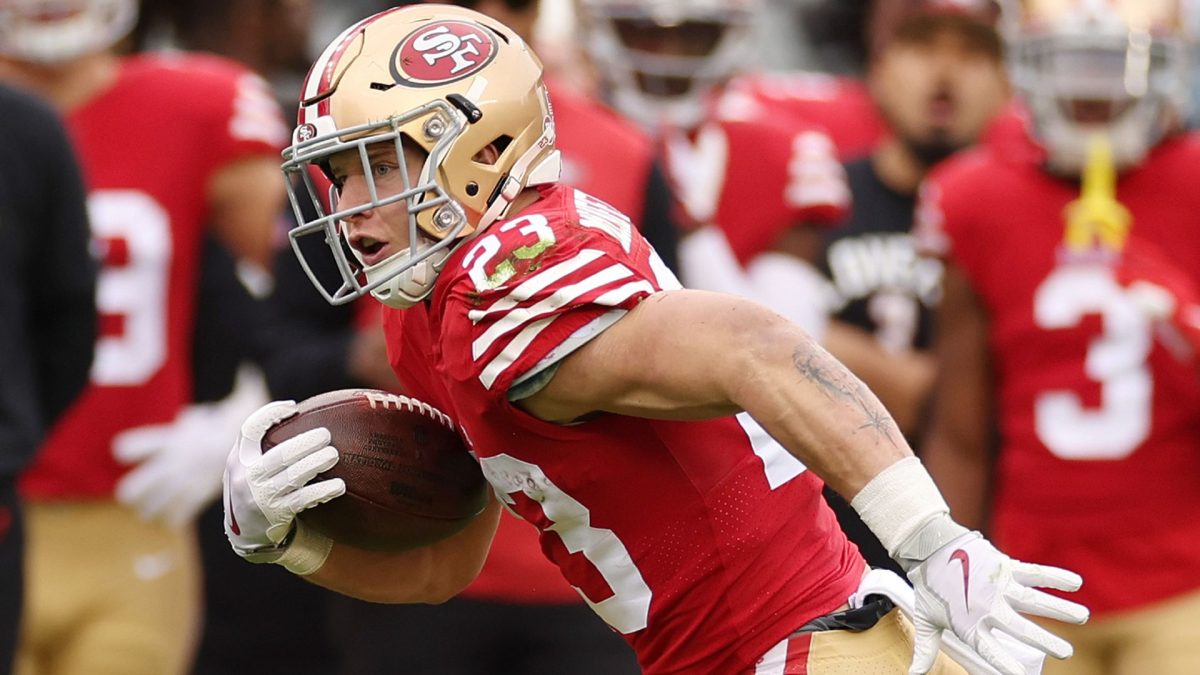 SANTA CLARA — Christian McCaffrey started at point guard in the first three games of the regular season.
On Thursday, the 49ers running back was recognized by the league as the winner of the NFC Offensive Player of the Month award for September.
McCaffrey leads the NFL in rushing with 353 yards and three touchdowns on 60 rush attempts for a 5.9-yard average. He has 11 receptions for 70 yards.
McCaffrey holds an active streak of 12 consecutive games, including the postseason, with at least one touchdown.
McCaffrey is tied with Hall of Famer Jerry Rice for the longest touchdown streak in franchise history.
"This is a huge honor," McCaffrey said following the 49ers' 30-12 win over the New York Giants last Thursday.
"Obviously scoring goals is a team thing. The O-line did a great job of blocking, and I just had to hit the hole. But, yeah, it's a huge honor to be mentioned with someone like that."
Only Emmitt Smith (separate lines of 14 and 13) and Arian Foster (13) have scored a touchdown in more consecutive games since 1990.
This is the third time McCaffrey has won Player of the Month honors, tying him with Tennessee's Derrick Henry for the most active running backs.
McCaffrey first won the honor in September 2019 — his 1,000-1,000 rushing season with the Carolina Panthers. After a midseason trade netted him to the 49ers last year, he won the award in December.
Dallas' Micah Parsons won the NFC Defensive Player of the Week award, while Tampa Bay's Jake Camarda won the special teams honor.
In the AFC, Player of the Month awards went to Miami quarterback Tua Tagovailoa, Pittsburgh Edge TJ Watt and Buffalo's Tyler Bass.
This month's NFL Rookies of the Month were Houston quarterback C.J. Stroud and New England cornerback Christian Gonzalez.
Download and follow the 49ers Talk Podcast
"Devoted travel trailblazer. Freelance beer scholar. Passionate analyst. Hardcore twitter fanatic."