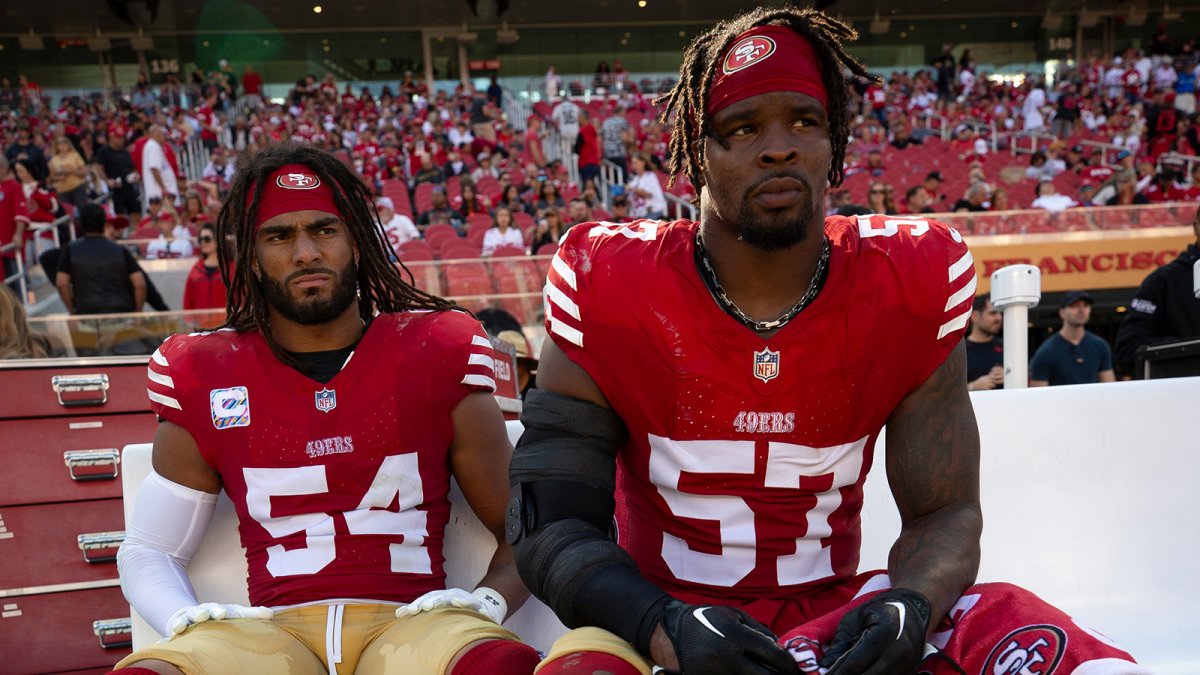 SANTA CLARA — It wasn't just the Dallas Cowboys' offense that noticed the 49ers' running backs putting on a clinic in San Francisco's 42-10 win on "Sunday Night Football."
After the game, many San Francisco players expressed their appreciation for the performance of midfielders Fred Warner and Dre Greenlaw in stifling the opposition's attack. Wide receiver Brandon Aiyuk, in particular, is happy not having to face his teammates on the field.
"I've seen some plays where I was glad I couldn't catch the ball in the middle of that defense," Aiyuk said. "These guys play great football, fly every game, and these are the worst midfielders in the league for sure."
Aiyuk spent enough time on the practice field facing off against the running back duo to know what the Cowboys receivers went through during the course of the game.
In just 36 defensive snaps against the Cowboys, Warner tallied eight total tackles — five solo, one for loss, a pass breakup, an interception, a forced fumble, a hit and a quarterback sack.
Greenlaw was on the field for the same number of plays and finished the game with five solo tackles — two for loss, a pass breakup, and like his linebacker counterpart, a hit and a sack.
Trent Williams has admired the 49ers with Warner and Greenlaw for some time but believes their Week 5 performance may have been their best yet.
"Best in the business," Williams said. "Literally the best in the business. There's no two players you could pick over these guys. Day in and day out, that's the engine of the defense."
The All-Pro left tackle added that linebacker Oren Burks was also a key component of the group. Through 25 defensive snaps, the sixth-year vet racked up five tackles — two solo, a pass breakup and the first interception of his career Sunday night.
"We have great pass rushers and great point guards, but the way those guys fly, and OB as well, frees up the defensive line to play freely," Williams said. "And then the safeties can play free, too, because they know those guys are getting deep in their drops. They're punishing every check, running to the ball. They're the best in the business."
Even Nick Bosa, who spends most of his time during the game facing away from the club's midfielders, can feel their presence. After the game, the NFL Defensive Player of the Year was asked if there was anything Warner couldn't do.
"No," Bosa replied succinctly. "He's the best in the world, and it's not even close."
Download and follow the 49ers Talk Podcast
"Devoted travel trailblazer. Freelance beer scholar. Passionate analyst. Hardcore twitter fanatic."