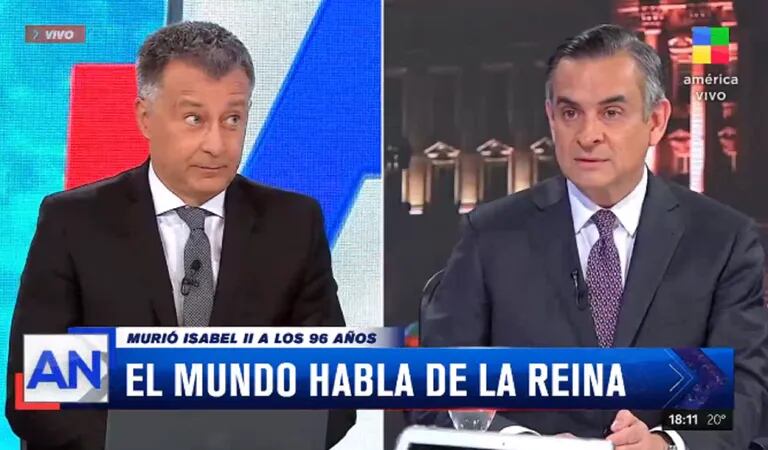 This was confirmed on Thursday Death of Queen Elizabeth II of the United KingdomAt Balmoral Castle, Scotland, aged 96.
The news, of course, went global, Changing media plans around the world. news America News It decided to do a special broadcast revealing everything that happened on this historic date.
Its drivers Rolando Grana and Soledad Larqui received a press visit Luis Rosales, Specializing in International. However, after expressing one of his first thoughts, There was a tense back-and-forth in the studio.
After 6:00 PM, Luis Rosales started talking about Queen Elizabeth II. They hold their countries together, in this case England, Scotland, Ireland and Wales.. However, the news anchor noted: "During his reign there was a guerrilla between the two Irelands".
However, Rosales continued with his idea: "The King of Spain holds all of Spain togetherThese are different nationalities, and Belgium, two different nationalities. It is difficult for us to understand hereBut it's like he's the king of the United Provinces of La Plata: Uruguay, Argentina and Chile all together", he explained.
"In hindsight, I was surprised Why the taxi driver who brought me (for channel) in Buenos Aires, Argentina, He was shocked by Rani's death", he said and Soledad Larghi defined: "At least they all know".
"I think The series took on something very real. This woman represents something to all human beings and that's why she was so popular. It seems to me a set of values ​​that are out of use and being lost due to the immediacy of social networks: patience, sobriety, education.", Luis Rosales listed.
However, his words were interrupted by Rolando Grana, who said with a very serious face: "I would also say colonialism. She was a queen who ruled an armed empire against Argentina, and she seems so sweet to me… To the English she was a goddess, perfect, and now to us…".
However, the guest journalist doubled down on the bet: "If we take a survey, I assure you, you will not get what you think, she is like that all over the world.". The answer annoyed Grana, and he judged: "I think it's an ideological appearance", but Rosales denied such a statement. "You have political militancy, I don't"Reinforced the driver.
"To think that the Queen of England's values ​​are those of Argentina, I don't know where you get that from. I don't think we'll finish A discussion that is not done on a serious basis And it seems to me that it's an ideological point of view," Grana said, although Rosales added: "I put it out of my thoughts. Well, maybe it's ideological."
"Let's get back to being professional please"demanded Grana and the guest resumed the word after a tense interlude: "She is a woman who embodies a series of values ​​that are highly valued today, Maybe not in terms of politics, but as a man and what he did, it seems to me that he was very valuable for a very short period of time.".
Instead of wanting to keep the back-and-forth quiet, Grana revealed: "I don't want to add less blows, but Ask relatives of former fighters what they think of the Queen".
"I understand that, I completely separate it," Rosales replied, but Grana interrupted again: "No! You didn't split it! Rani is a political figure! Is it a formal and decorative figure? If so, we enter the realm of fairy tales. Now, if he is a political figure, Let's discuss politically", he snapped.
"I was disinterestedly trying to highlight some of the woman's virtues, nothing more…", That's when Larkey intervened, Rosales said, announcing a cell phone call from London that somehow ended the heated debate.
"Introvert. Thinker. Problem solver. Evil beer specialist. Prone to fits of apathy. Social media expert. Award-winning food fanatic."