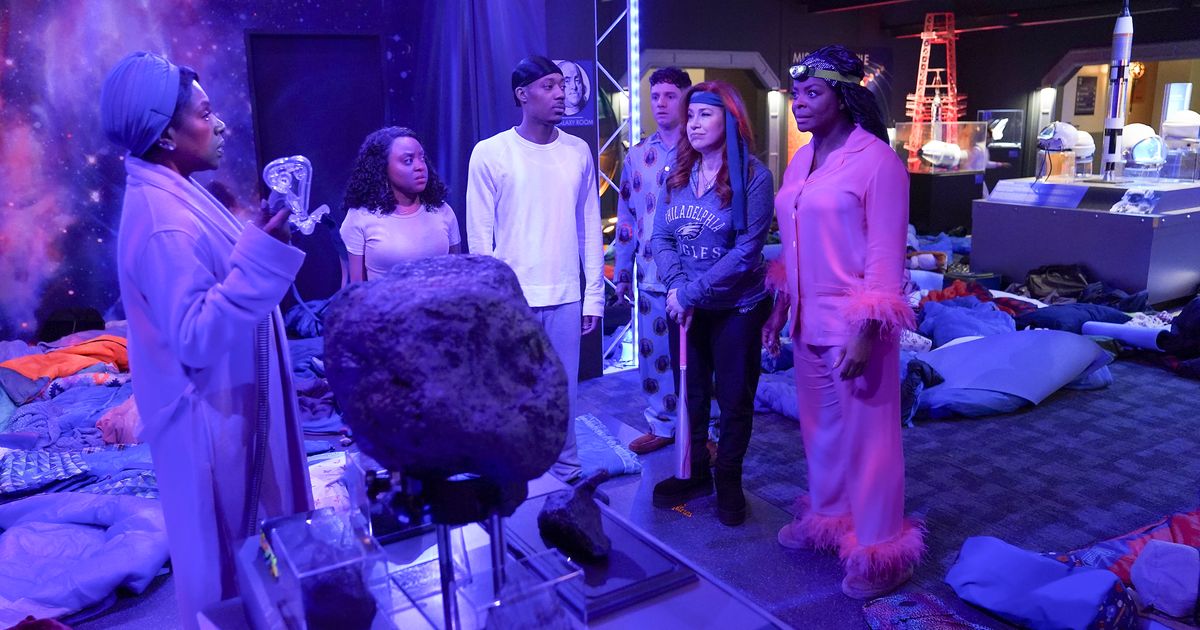 Abbott Elementary
Franklin Institute
Season 2

Episode 22
Editor's rating

5 stars

*****
Photo: ABC/Gilles Mingasson/ABC
Precious Slow Janine and Gregory almost burn in full flame before they take a very different path. It's not easy learning how to navigate the adult world, settle into our more mature identities, and follow our hearts all at the same time, so selfishness is the name of the game at this time in our lives — or at least that's what I've been telling myself. (I feel like Janine and Ava agree.) It takes Janine a moment to come to this conclusion, but I think this is just a "continuation" of Janine and Gregory's story, not the end. (Call me a hopeless romantic if you want!)
This season, Janine has made great strides in terms of her personal growth, which has been her goal since the beginning, when her split with Tarek was still fresh (her new part is paying off!), and we've seen her step up to the plate in some sticky situations. She made new friends outside of work, bonded with her sister in a way she hadn't before, set boundaries with her mom, and dated someone new. Her relationship with Maurice, in particular, seemed like one big exercise in accountability. At this moment Janine felt that breaking things off with Maurice was noble and mature. Sitting down at his favorite BBQ to tell him she kissed his best friend before breaking up with him in front of the best friend (whom she didn't want to date) seems like the adult thing to do. Well, hindsight is 20/20, and when you meet Janine Morris while the school is on her way to a night field trip at the Franklin Institute, she's forced to do some deep thinking about how much growing she needs to do.
Thanks to Ava's shenanigans, Janine and Gregory are paired up for a field trip, and both are overflowing with excitement over their first sleepover. The flirtation has undoubtedly become public. They laugh while talking to the camera crew, and Gregory admits to watching Night at the Museum Because he watches all her recommendations. It's all sweet and innocent, and Janine is practically on high on sweetness when she bumps into Maurice while she's waiting for her kids to get on the bus. She goes to apologize for breaking up with him in Bone Town, and he calls her selfish. This accusation upsets her and Janine has to reassess the situation. When she festers that she hurt Maurice, she vows to do some soul-searching before she inadvertently hurts someone else.
Gregory immediately senses Janine's change in behavior and lack of fun with him once they arrive at the Franklin Institute, but he does his best to try to make her smile. Nothing works, and when he tells her about the summer job opportunity with his dad in Baltimore, hinting that he hopes she'll want him to stay so they can hang out, she becomes confused and embarrassed. So he turned to Jacob, the person he spoke to frankly about his feelings for Janine. He lets it slip because he and Janine kiss him at the convention, and Jacob urges him to finally express how he feels for her, even if there's no turning back, because "there might be a lot of good on the other side."
Janine's fears that she might be too selfish continue to intensify the longer they stay at the museum. Gregory asks if they can have a side chat, and she erratically avoids him by moving her entire class into the Galaxy Room, where Barbara sleeps. Barbara, who has been acting suspiciously throughout the episode, chooses Galaxy's secluded room so she can sleep with her CPAP machine on. Embarrassed by the large headgear, she tries to be as discreet as possible, but scares off a student who has had his head filled with pictures of alien invasions by the headmaster. Ava took the science-related field trip as an opportunity to share her theories about the depths of the universe and the true possibility of contact with extraterrestrial beings. One student was so inspired that she drew her idea of ​​a humanoid alien, complete with breathing aids, who just happened to look like Barbara.
Right before the poor student starts a fuss throughout the museum when he sees Barbara, Gregory manages to pull Janine to confront her directly about what has been going on between them, finally confessing his feelings. Janine does not have time to react as she sees a frightened student, Barbara, exclaiming, "ALIEN!" It awakens all of the students, who begin to run in a frenzy when they see Barbara with her CPAP machine mirroring the image onto the diagram. The teachers split up to collect the students running around the museum, and Gregory and Janine search inside a huge, anatomically correct heart model of rogue children.
There's no way Janine couldn't express her feelings while she's inside a real heart, so she exclaims, "I like you, too." For the first time, they are completely open and free with each other, talking about how much they liked each other since the first day he got to Abbott and the multiple hookups and side relationships that have happened since. But this is not enough. At her most vulnerable, Janine says her conversation with Maurice didn't change how she felt about Gregory, but it did change how she felt about herself. What's more, she knows her feelings for Gregory are real and intense — and any relationship between them will be something special. However, Gregory has become a close friend to her and a huge part of her support system which she is not prepared to lose. At this point in her life, she doesn't want to risk this friendship or hurt someone she cares deeply about because she has some growing up to do on her own.
It's not the response Gregory wants to hear, and I don't think it's even the response Janine wanted to give, but it's the truth. Gregory realizes this is for the best, and they return to their students. Jacob consoles his friend with a long bro hug before all the teachers settle into their corners of the museum. Janine tells the camera crew that she thinks she made the best decision for this moment in her life and that she's not ready for Gregory, who she declares is the greatest. I wanted to get to the screen, shake her, and tell her she deserved better, but it was time for Janine to learn this on her own. Gregory, Abbott's resident Nebo child, is also fine with how things are going. He is satisfied with the result even if it is not what he wanted, as "it is time to plant something new".
• Melissa's study of the museum tour guide was a surprise not only because I thought the guide was annoying but because I learned so much about Philadelphia! I had no idea Philly had America's first hospital or that it was the capital (I probably should have known the latter, but I grew up in American public schools).
• Jacob's reaction to discovering that Janine and Greg were the perfect kisser. It was very much how I looked at them watching them heartbroken as they let out their feelings. Also, his pajamas made me cry.
• It's a very bittersweet end to this season for Abbott. It's been one of my favorites that I look forward to every week, and I've enjoyed watching it with all of you. Season 3 is coming fast!
And finally, here are my favorite lines:
• Jacob: "Everyone I love knows him. Zack and Diego Luna have seen my tweets."
• Melissa, after the mentor said she was a volunteer: "And you deserve every penny they give you, sweetheart."
• Jacob: "You know, Jacob's night, he has this dog in him."
• Barbara: "It's best to do the scooting in silence."
• Mr. Johnson, not convinced that Gregory and his father are not in the FBI: "They may be plotting how to assassinate another black community leader. COINTELPRO killed Tina Marie."
• Jacob, before he goes out to eat with Janine and Gregory: "Don't worry, every spot on my local restaurant spreadsheet has something you love: water."
• Mr. Johnson, when Janine asks his first name: "When you get home tonight, look up at the sky. It's written in the stars."
"Freelance entrepreneur. Communicator. Gamer. Explorer. Pop culture practitioner."