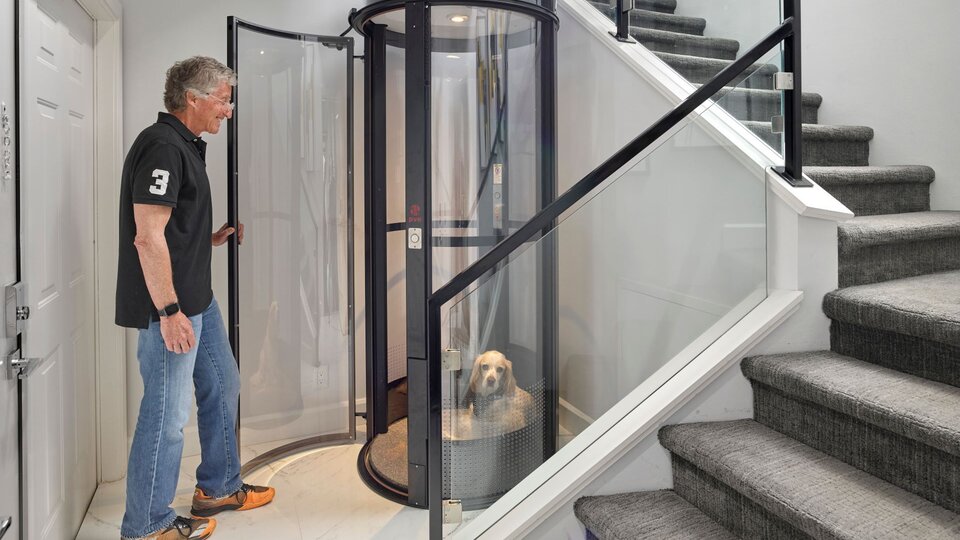 A few years ago, it was unthinkable that an elevator could work with a mechanism that did not require gears and pulleys. The only thing that seemed possible was to ascend and descend through a transparent tube using the principles of air and vacuum. The Jetsons, William Hanna and Joseph Barbera's famous animated series about a futuristic family from the 2060s who lived in a modern and efficient robot house. however, Fortunately, There is no need to wait years for this idea to come to fruition..
In 1994, a lawyer and rugby fan Parana After years of trying, failures and adjustments, he started a company. It was possible to produce an elevator different from what was already knownLooks similar to what is seen in science fiction, but realistic and original functionality.
They are elevators They move with the force of air and vacuum: Passengers travel in a cabin through a transparent cylinder from one floor to another, with a 360º panoramic view. In addition to its attractive design and unique functionality, They are ecological and have many advantages for the elderly or those with reduced mobility..
"My father tried to see reality a little higher than others", he said Page|12 Maidane, Daughter of Carlos Maria AzcuaCreator and founder Pneumatic Elevators SA (ENSA)The company that revolutionized vertical transportation for family homes.
A crazy idea, a barn and a long road

The seed of it all may seem silly to most people. In the nineties, A Inventor from Parana He knocked on his father's door.Lawyer Career and Former rugby player-, to convey a Original idea. "It was a machine that created the height of the cabin (elevator) through a vacuum. It's such a crazy idea, this one to do Dad thought it was wonderful. Remember the youth
Volcano, what? I have no background in engineering or physicsremained impressed. He internalized the idea and, along with his wife, Patricia Popelka, went to great lengths to change that "crazy idea." First pneumatic elevator prototype.
"It all starts in a shed, here in Parana, hand in hand Three operators. A Trial and error processAlmost seven years were dedicated to the development of the first elevator to work with this innovative air suction system", noted the young woman who is the general sales coordinator of the family company in Argentina and Latin America.
The first pneumatic vacuum lift was installed at Carlos' parents' house. His wife, who was already working, set a goal of selling at least one elevator a year. "It could not be accomplishedMaithan recalled.
"This is how they started: By force of will, Lots of lungs, With very flat objectives that were growing little by little", he figured. The idea was there, the product worked, but there was a lack of buyers. In this situation, Maiden said, his father made him go out "around the world to look for patent buyers." And he got them.
Argentine Industry: From Parana to the World
"With this idea already developed, a prototype ready, and with the desire to seek financing, he goes to the world to sell the patent, and achieves this goal in France. That is what allows them to continue in this challenge of creating. A sustainable company Maitane revealed. In 2003, Carlos Azcua received approval with the UL mark for its commercialization in the United States and sales soared in that country..
Since its establishment, and has been able to establish business relationships with industry figures in the United States, ENSA began to experience rapid sales growth and significant expansion in the North American country.
Over time, the Parana-based company established itself by obtaining the CE marketing mark Spain, Portugal, China And Arab EmiratesAnd, it did Market leader in the production of fixed and technical elevators at national and Latin American level. According to his records, They have installed more than 20,000 elevators worldwide.
"The local sales numbers in Argentina are very good, but if we compare it to the business growth we achieved in Miami and Spain, we are below. Similarly, we plan to increase that percentage. Until a few years ago, 95 percent of the teams left, Another 5 percent stayed in Argentina and Latin America", under control.
The reason behind the slow establishment of the elevator business on Argentine soil is "The Homosexuality "The team is handled at the municipal level in Argentina," Ascúa said.
The future arrived a while ago: a stationary elevator that can carry up to 225 kg
The equipment used by ENSA manufactures Small electricity: One uses only 220 volts (household appliances etc.) for passenger boarding only. As for descent, the energy consumption is zero. It is considered as such An example of efficient and ecological vertical transportation.
But besides To reduce energy consumption costs And so will be Modern and attractive due to its transparent cylindrical design, it allows a 360º panoramic view, making this elevator truly remarkable. 100% Argentinian It, unlike conventional, A system that works mainly with air and vacuum causes the passenger compartment to rise and fall.
Produced by Entre Ríos Three models Elevator: First, PVE30 750, capacity per person (120 kg), and can do up to four stops; The second, PVE37, can be carried up to 2 people (200 kg), and makes five stops; The largest of the three, PVE52 1316, has space Three people (225 kg), And it is suitable for people with limited mobility who use wheelchairs.
Besides, Its installation does not require investment in major engineering works, such as digging a pit or installing a machine room containing lubricants, pulleys, gears and other components. They are self-supporting models and are very light due to their materials Sit directly on the floor of the houseAnd They do not need to be fixed to a wall or some reinforcement.
How a pneumatic vacuum lift works
Almost three decades ago, the founders It brought into practice the idea of ​​combining the principles of pneumatics and vacuum To develop the technology of your elevator plan. The two foundations are different but related.
"Pneumatics is technology Mechanisms use air as a means of transfer of energy to move and operate (…). On the other hand, is emptiness A closed cavity where the pressure of air or other gases is less than atmospheric", the company explains on its website.
An elevator consists of a cylinder Aluminum and Polycarbonate Inside it slides a sealed cabin where passengers travel. Policy is like drinking mateBut instead of water, a cabin goes up.
Passengers have to start the motor at the top of the lift to take them to a higher floor. Absorbs air Above the room. As vacuum is created and The interior atmospheric pressure is reduced compared to the exterior of the polycarbonate, The cabin is pushed from the bottom and rises slowly. Upon reaching the boarding point, the cabin is anchored.
Meanwhile, to go down, the elevator opens only one valve that allows air to enter, which causes the pressure to equalize and the cabin with passengers slowly descends. "That is, energy is used only for climbingMaidan said. Inside the cabin, the atmospheric pressure in which the passengers travel is always maintained at a normal and safe level.
"Energy consumption is minimized on its way up and zero on way down", he stressed. He also emphasized that the lifts "do not require oils, greases or lubricants that are harmful to the environment".
Seal of Good Design Exhibition: How to Ride the Elevator of the Future
Pneumatic Elevators SA (ENSA), The Argentina company It does that Pneumatic vacuum liftThat is, they work mainly with air, vacuum and little electrical energy, supplied At the annual fair Selected products on call Argentina is a good design label Last year, held April 13 to 16 at the Kirchner Cultural Center (CCK) with free admission.
This is a great opportunity to meet and appreciate many people in person One of the most innovative national brand products, Technical and stable Developed in recent times.
Through the distinction of the Argentine Good Design label, the Ministry of Industry and Productivity Development seeks to promote and develop all national companies and SMEs with various strategies. Promotes their competitiveness and productivity. 2023 Call is valid till May 15.
Meanwhile, the creators of these elevators will attend the exhibition, which brings together all the winners for 2022 with their most impressive models.
Vacuum Pneumatic Systems in Argentina: Why and When Used
He Vacuum pneumatic system For business and communication purposes, it is a technology that has been used for a long time: in Argentina it was implemented for the first time at the beginning of the 20th century, and was almost out of use at the beginning of the new century.
He was mainly known for Pneumatic mailA system by which letters and telegrams travel long distances at high speed through pipes distributed throughout the city of Buenos Aires and it works by means of compressed air or vacuum.
In other words, in addition to the tunnel network, the port city hides several hollow tube channels up to 60 kilometers long below the surface. to see The entrance to the central station of the pneumatic mail at the corner of Rivadavia and Montevideoin the Plaza del Congreso, to check it out.
Businesses, banks, money or mail and companies that need to send packages urgently over short distances have happily appealed to the pneumatic tube system. However, it stopped working in 1970. To date, vacuum pneumatic shipping system is used in public and private institutions such as some companies or hospitals.
I continued to read:
"Introvert. Thinker. Problem solver. Evil beer specialist. Prone to fits of apathy. Social media expert. Award-winning food fanatic."