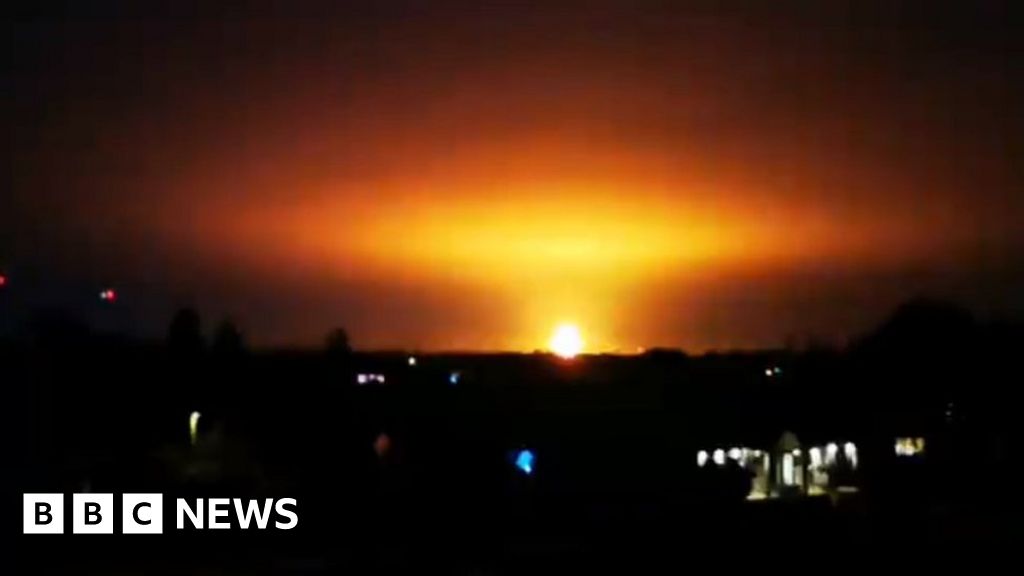 Written by Galia Dimitrova
BBC News
A lightning strike has caused a huge gas explosion at a food waste recycling plant in Oxfordshire.
Witnesses reported seeing a fireball lighting up the night sky after the explosion at the Severn Trent Green power station in Cassington, north of Oxford.
The company said the strike caused one of its biogas tanks to explode at around 19:20 GMT.
She added that no one was injured and that staff were working with emergency services to secure the site.
Six fire engines, 40 firefighters and police, and at least four ambulances were deployed at the plant, which processes the conversion of food waste into biogas.
South Central Ambulance Service confirmed that paramedics were at the scene, but they were there on standby to assist the police and fire service.
An ambulance service spokesman said: "There are no reports of any injuries at this time."
Oxfordshire County Council said firefighters were using an aerial device and a water tank while putting out the flames.
Jack Froud, 34, who works at Oxford University, said: "I was sitting in my kitchen when the whole room was lit up with a bright white light, followed by a huge crack which sounded like really loud thunder."
"I looked out the kitchen window and it was as if the sky was pulsing with orange.
"I ran back to catch the orange glow as it faded after about 20 seconds."
"It is believed that lightning struck gas containers on site during bad weather this evening, causing a large fire," Thames Valley Police said in a statement.
The force said the A40 had been closed earlier between Wolvercote and Eynsham as a result of the incident. The road has since been reopened.
A police spokesman added: "To ensure public safety, nearby residents are asked to remain indoors, close windows and doors and not come to the scene."
Residents reported power outages in Witney, Burford, Chipping Norton and Milton-under-Wychwood.
"Travel specialist. Typical social media scholar. Friend of animals everywhere. Freelance zombie ninja. Twitter buff."