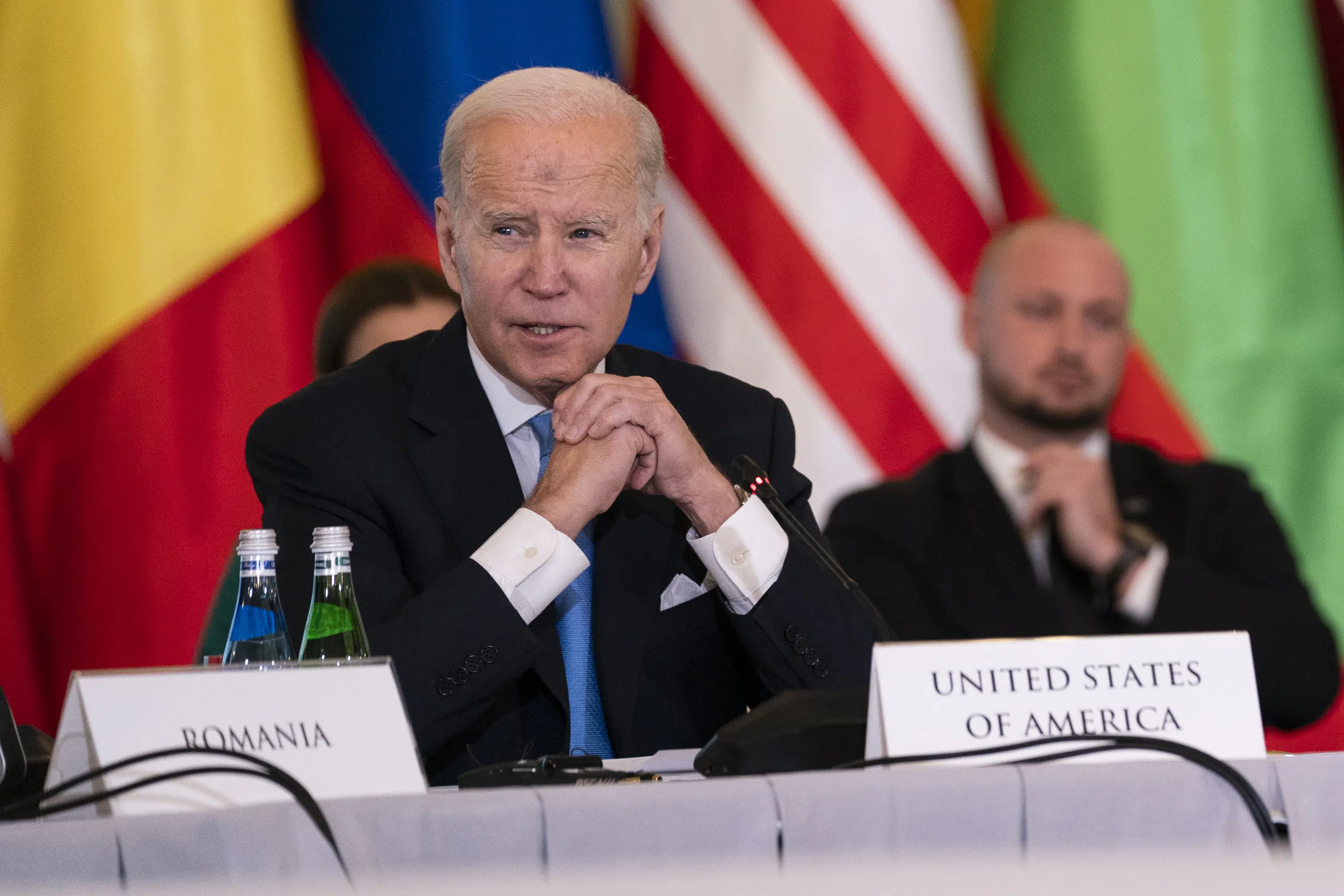 WARSAW, Poland (AP) – President Joe Biden said Wednesday that Russian President Vladimir Putin made a "big mistake" by suspending his country's participation. In the last remaining nuclear arms control treaty between the United States and Russia. The American president was in Poland to reassure eastern NATO allies that the United States would stay by their side amid Russia's grinding invasion of Ukraine.
In his first comments since Putin's announcement on Tuesday, Biden condemned Russia's decision to withdraw from the treaty, known as New START. The move is expected to have an immediate impact on the United States' view of Russia's nuclear activities, but the agreement was already on life support after Moscow late last year called off talks aimed at salvaging an accord it accused the other side of violating. .
"It's a big mistake," Biden said.
The president's comments came at the conclusion of a four-day whirlwind visit to Poland and Ukraine with talks with leaders from the Bucharest Nine, a group of countries in the eastern parts of NATO that came together in response to Putin's 2014 annexation of Crimea from Ukraine. He left Poland on Wednesday night to return to Washington before the anniversary of the outbreak of war on Friday.
The Bucharest Nine's concerns have been mounting as the Ukraine war drags on, with many worried that Putin might move to take military action against them next if he succeeds in Ukraine. The alliance includes Bulgaria, the Czech Republic, Estonia, Hungary, Latvia, Lithuania, Poland, Romania and Slovakia.
"You are the front lines of our collective defense," Biden said Wednesday of the group. "And you know, better than anyone, what is the danger in this struggle? Not just for Ukraine, but for the freedom of democracies throughout Europe and around the world."
He vowed that NATO's mutual defense pact was "sacred" and that we would "defend literally every inch of NATO".
The day before at the foot of the Royal Castle in Warsaw to celebrate the somber event of Russia's year-long invasion, Biden warned that Russian aggression, if not checked, would not stop at Ukraine's borders. "The appetite of a tyrant cannot be appeased," he said. "They must be opposed."
Hungarian Prime Minister Viktor Orban, the right-wing populist leader who argued last week that the European Union was partly to blame To prolong the Russian war in Ukraine, refrain from imposing sanctions on Moscow and arming Kiev. Orban was skipping the meeting with Biden, and President Katalin Novak was attending in his stead.
However, Klaus Iohannis, President of Romania, insisted that "B9 is more powerful than ever."
NATO Secretary General Jens Stoltenberg, who was attending the meeting, said, "We don't know when the war will end, but when it does, we need to make sure that history does not repeat itself."
Referring to previous Russian actions in Georgia and Ukraine, he added, "We cannot allow Russia to continue undermining European security. We must break the cycle of Russian aggression."
Biden met Tuesday in Warsaw with Moldovan President Maia Sandu, who alleged last week that Moscow was behind a plot to overthrow her country's government using outside spoilers.
Sandwiched between Ukraine and Romania and one of Europe's poorest countries, the Eastern European country has historical ties with Russia but wants to join the 27-nation European Union. In his remarks, Biden supported Moldova's bid to join the European Union.
"I am proud to stand with you and the freedom-loving people of Moldova," Biden said of Sandu and her country in his speech on Tuesday.
Since Russia invaded Ukraine nearly a year agoMoldova, a former Soviet republic with a population of about 2.6 million, has sought closer ties with its Western partners. Last June, it was granted EU candidate status, on the same day as Ukraine.
Sandu spoke last week of a Russian plot to "overthrow the constitutional order". She spoke after Ukrainian President Volodymyr Zelensky said his country had intercepted plans by Russian intelligence services to destroy Moldova. Moldovan intelligence officials later confirmed these allegations.
Biden's speech on the Ukraine war came one day after he paid a surprise visit to Kiev, a great gesture of solidarity with Ukraine. The speech was partly an affirmation of Europe's role in helping Ukraine fend off the ongoing Russian invasion and partly a stern warning to Putin that the United States would not commit to Moscow in defeating Ukraine.
The White House has applauded several East Wing countries, including Lithuania, Poland and Romania, over the past year for stepping up efforts to support Ukraine with weapons, economic aid and refugee reception.
Biden has paid special attention to Poland's efforts. The country hosts about 1.5 million Ukrainian refugees and has allocated $3.8 billion in military and economic aid. to Kyiv.
"The fact of the matter is, the United States needs Poland and NATO as much as NATO needs the United States," Biden said during his talks with Polish President Andrzej Duda.
"Travel specialist. Typical social media scholar. Friend of animals everywhere. Freelance zombie ninja. Twitter buff."