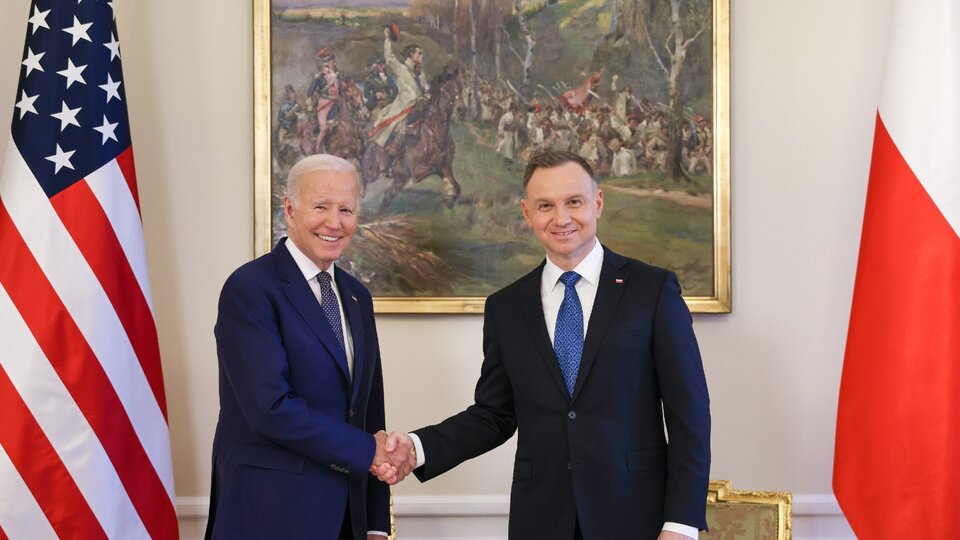 President of the United States, Joe BidenOn Tuesday, Washington and its allies pledged continued support for Kyiv He promised that Russia would never defeat Ukraine, in a speech full of accusations against Russian President Vladimir Putin. Biden made the pledge before a crowd of Polish citizens and Ukrainian refugees in Warsaw. "The democracies of the world will watch over freedom today, tomorrow and forever". Before the speech, he met his Polish counterpart Andrzej Duda amid busy consultations with allies in Europe.
"We have to have security in Europe. It's basic, simple."Biden said at the Presidential Palace in Warsaw. The US president said NATO, created in 1949, was "perhaps the most stable alliance in history" and that despite Russian President Vladimir Putin's hopes that it would be fractured by the war in Ukraine, "it is stronger than it has ever been".
"Kiev stands tall, strong, tall and, most importantly, freeBiden announced as hundreds of people waved American, Polish and Ukrainian flags. "A year after the bombs started falling, a year after the Russian tanks rolled into Ukraine, the country is still free and independent. From Kherson to Kyiv, that land has been reclaimed," the Democratic Party leader said.
Despite the triumphant tone of his speech, Biden acknowledged it The rest of the war would be "hard and bitter" daysHe pledged the United States' continued support for Ukraine and reaffirmed its commitment to NATO, particularly the mutual defense Article 5 included in its founding agreement.
"Today we are seeing again what the Polish people and people across Europe have experienced for decades. The hunger of autocrats cannot be quenched, it must be resisted. Autocrats only understand one word: No, no, no!" cried Biden. As White House advisers had hoped, the message piece was designed to resonate with the American public in particular and remove any hint of war-weariness. Now members of the Republican opposition are arguing for cuts in aid to Ukraine. .
Hours before Biden's visit to Poland, Putin announced before a full session of both houses of the Russian parliament that Moscow would end its participation in the last nuclear arms control treaty for the United States. Biden lashed out at Putin throughout his Warsaw speech, but made no mention of suspending the New Start agreement.
Polish President Andrzej Duda, during his meeting with Biden, praised his decision to make an unannounced visit to Kiev, calling it "spectacular" because it "raises the morale of Ukraine's defenders". Biden is scheduled to meet with NATO's eastern members again on Wednesday: Poland, Bulgaria, Czech Republic, Estonia, Hungary, Latvia, Lithuania and Slovakia.
"Introvert. Thinker. Problem solver. Evil beer specialist. Prone to fits of apathy. Social media expert. Award-winning food fanatic."