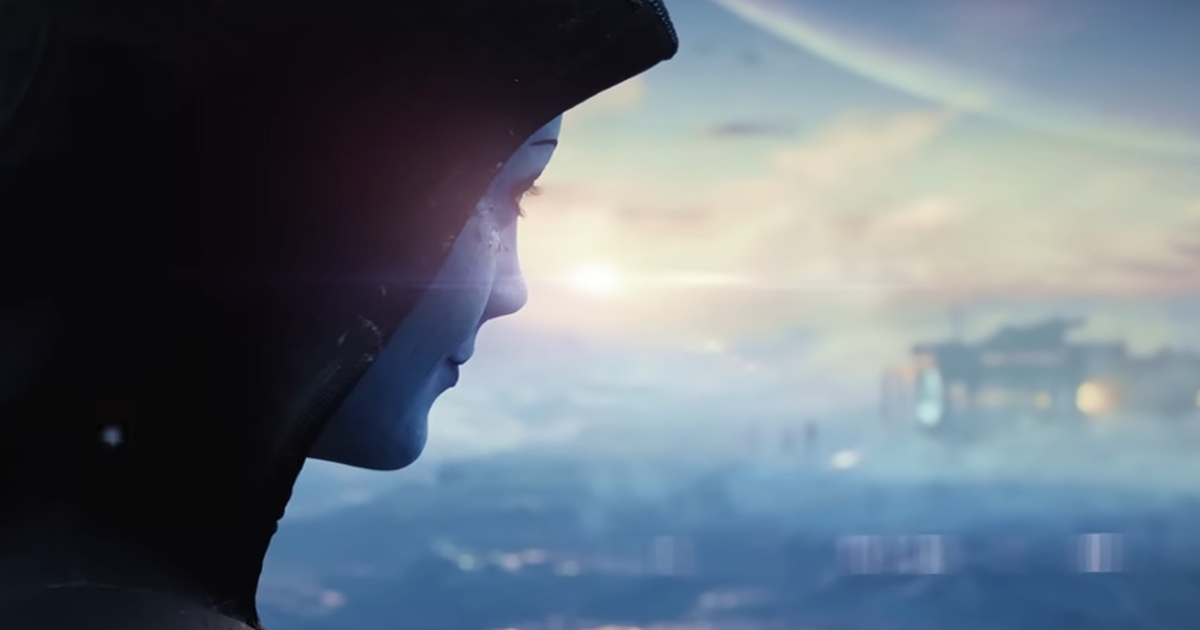 Updated at 11.30pm: After a bit of gathering community heads, the clues were solved and the full 30-second BioWare teaser was shared online.
Admittedly, it's not much more informative than the initial five-second bit we got at the beginning of all this earlier today, but it does at least show off a very cute coat emblazoned with the N7 logo, suggesting our mysterious hooded character. – The hero of the next game? villain? – He is a member of the series' military band. Or the coat thief.
The same trench coat appeared again The artwork was shared on BioWare's Twitter/X feed, this time discreetly reveals – through a few old details "ENHANCE" – some potential small details. by Zoom in, we see an interesting scene in a neon bar, featuring clothes for Geth and scenes of Angora – which is explained to me by Eurogamer Mass Effect expert Tom Phillips (by the way, Matt is the one writing this update; Tom does not refer to himself in the third person): "Angara is her home The original Andromeda, which means either the Gith are on Angara as well now or the Angara are in the Milky Way (I think it's the latter)." So here you go!
---
Original story 6.14pm: BioWare celebrated this year's Mass Effect anniversary with a blog post that hints at the title of Mass Effect 5 — and suggests that fans will get answers to their burning questions about what happened after Mass Effect 3 ended.
However, it's unclear whether this means these items will be coming in Mass Effect 5 – which is still several years away – or sooner, as part of N7 Day itself.
"We asked ourselves many of the same questions you asked us over the years!" Mass Effect head Mike Gamble books. "What happened to everyone you knew and loved in the games? Who really died? Who had children with whom? What does a baby sound like?"
"What about all the galaxies? The endings! What the hell is going on with our asari world turned into a shadow medium? What about S—it doesn't matter… you get the idea."
"Of course, there are answers to these questions, but you will have to wait to hear them. And anything we say will not be easy to find, just as you would expect from our #N7Day ads."
The rest of the post continues with a list of various Mass Effect merchandise available for purchase, with the hidden binary code spread throughout. Filter it and you get 010001010111000001101101001011011000110111101101110, which spells out the word "Epsilon". Could this be the name of the next Mass Effect game?
Fans have already found a new page on EA's website if you type in the following URL: https://www.ea.com/en-gb/games/mass-effect/epsilon It remains to be seen whether more will be added to the page in the coming hours. [UPDATE: There's now this brief video clip, below – and a reference to Andromeda.]
It is worth noting that Epsilon was one of the original names BioWare considered for the series, before the developer eventually chose Mass Effect. Oh, and Epsilon is also the Greek number 5 – which would make sense for ME5.
Epsilon Impact was one of the original (rejected) titles for the project that would become known as Mass Effect. pic.twitter.com/n4WXL4iwMS

– Mass Effect News (@MassEffect_News) November 7, 2023

To see this content please enable targeting cookies.

Manage cookie settings

Of course, the answers to who lived and who died after the events of Mass Effect 3 will vary from player to player. The absolute reference to "S-" has fans excited, with some who insist that Shepard will somehow be alive in the next game looking for crumbs of information to justify their theories.
Mass Effect 5 is still in pre-production, with the bulk of BioWare still busy wrapping up the long-awaited Dragon Age: Dreadwolf. The next chapter of the space opera saga is expected to come hundreds of years after the original trilogy, and returns the focus of the series back to the Milky Way Galaxy.
Previous years have seen N7 Day provide further evidence. 2021 has given us a very detailed picture with a lot of hidden details, not the least of which is the return of the Gith. Last year brought more concept art and a snippet of new dialogue from Liara.
Earlier today, we reported on two groups of former Mass Effect and Dragon Age workers seeking to use N7 Day to highlight their plight, after being let go earlier in the year. A sit-in is planned at BioWare's offices, while a group of employees files a lawsuit against the company over severance pay.
"Certified food guru. Internet maven. Bacon junkie. Tv enthusiast. Avid writer. Gamer. Beeraholic."