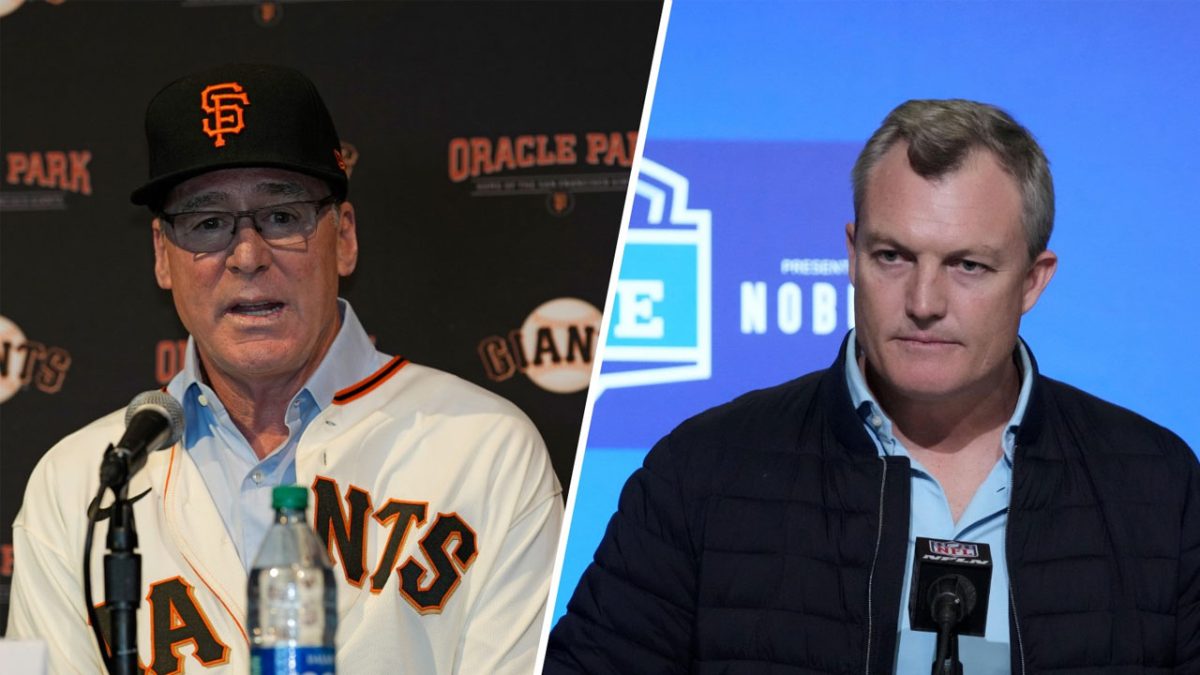 As someone who grew up in San Diego, 49ers general manager John Lynch is loyal to one MLB team and one MLB team only: the Padres.
But new Giants manager Bob Melvin, who was manager of both the Oakland Athletics and Padres before San Francisco hired him last week, hopes he can change Lynch's allegiances now that he's back in the Bay. On the most recent "Giants Talk" podcast with Laura Britt of NBC Sports Bay Area, Melvin detailed his desires after hearing Lynch was "sick" about the former Padres captain leaving San Diego.
"Look now, I like fuck [out] "What they did there, and obviously I grew up watching the 49ers as closely as I watched the Giants, so I'm looking forward to that relationship," Melvin told Brit of Lynch. "It's interesting that you say that; I didn't know that. I would love to be able to spend some time with him and I hope he turns into a Giants fan here at some point."
"you know, [Warriors coach] Steve Kerr is also a friend of mine, and I met him when I was in first grade. He has different baseball teams that he supports as well, and I don't want to let the cat out of the bag, but he was always very supportive when he came to Oakland, so hopefully we can get Mr. Lynch on the Giants train, and maybe we'll see how good he looks in the orange and black."
The respect is mutual between the two, with Lynch telling KNBR last week that the Giants' hiring of Melvin should work out well for the MLB team.
"I'm sorry for the Padres because I think he's a great manager," Lynch said. "People will say, 'If that's the case, how did he get on that list and things didn't work out?' You hear Warriors and we talk about connectivity and that everyone is connected. It doesn't seem like this was a front office and coaching staff there connected. I hear Bob is as easy to handle as anyone, so I don't know what the problem is, and I think that's a win for the Giants.
"I'm tired of the Padres, but I think the Padres are growing on me. I always have to stick with my hometown team, and I'll always support the Padres, but I'm happy for the Giants because I think they got a real shot at (a good manager). There's a lot of players in baseball." Retirees who live in San Diego that I see when I'm there. I've never heard anyone say a bad thing about Bob Melvin. That's not just a nice guy, 'oh the manager too. "I think it's a big win for the Giants and I'm excited for them to have someone like that and see what they can do."
Lynch and the 49ers are still searching for an elusive sixth Vince Lombardi Trophy, but the San Francisco GM has had plenty of success with the red and gold, including three NFC Championship Games, two NFC West titles and one Super Bowl appearance. Since his appointment in 2017.
And in San Francisco, Melvin will take over a Giants team looking to bounce back after a disappointing 2023 MLB season that saw a sub-.500 record and a shocking fall from playoff contention in the final weeks of the campaign.
With two sporting minds keen to bring trophies to the Bay, there is certainly a lot that Lynch and Melvin can learn from each other – including cementing interests.
Download and follow the Giants Talk Podcast
"Devoted travel trailblazer. Freelance beer scholar. Passionate analyst. Hardcore twitter fanatic."