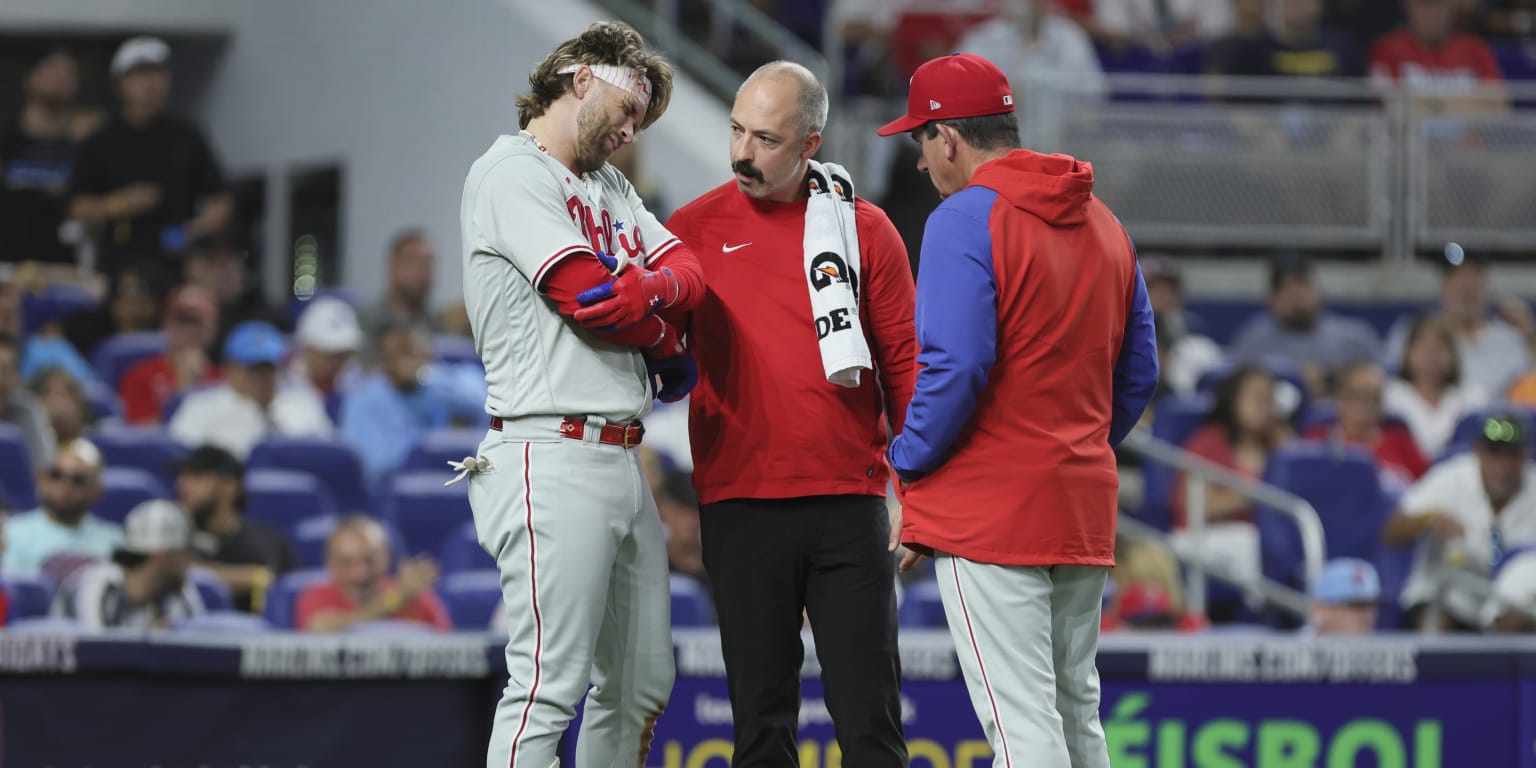 MIAMI — Bryce Harper spent Saturday afternoon wandering the playing field at Loan Park, learning where he needs to be in different situations if he wants to play first base this season.
Not only does Harper plan to play first base in the second inning, but he also plans to hit like he knows he can.
But nothing comes easy in baseball. Harper trained his surgically repaired right elbow with a 90.2-mph fastball in the third inning of Saturday's 5-3 loss to the Marlins, which snapped the Phillies' record 13-game winning streak. Harper stayed in the game at first, but Bryson Stott hit him out in the fifth inning. However, the x-rays were negative, and Harper is supposed to be fine.
"Just so painful," he said. "It certainly could have been worse."
Harper will be back. If not on Sunday, then after the All-Star break. Harper's second half actually turned out to be interesting. His ability to play first base may affect how the front office attacks the August 1st trade deadline. And whether he can rediscover his strength could improve the Phillies' chances of making the postseason.
"I'm not Bryce yet," Harper said before the match. "I don't feel like it."
But Harper hasn't made 160 consecutive panel appearances since May 25. It is the longest homeless drought of his career.
"I'm glad I'm in the field, you know?" Harper said. "I can really say that. I wouldn't be in this situation without the people at the club – my coaches – and the way I worked in the off-season. Everything before the break was a gift. You know what I'm saying? K Long [hitting coach Kevin Long] Yesterday he was like, "Oh, I just finished spring training and beyond." I'm like, "Well, if I can get 60 off-season visits and spring training that count toward my year, I'll take it."
"I'm not where I want to be. I don't hit the creeps I want to or anything like that. I get hits when I need them. I still feel like I'm good at playing. I still feel like I'm going there and I stop. We've got a long way to go."
With that, Harper comes close to playing first base.
"When I come back from the break, I know we're going to do more tags or cut things," Harper said. "I'm not sure then what their next plan is. I haven't really talked to anyone about it, just trying to get the work I need done. I think when we all feel good, Bobby included [Dickerson] And [Rob Thomson]We'll have that conversation about when I'm going to start playing."
Dave Dombrowski said the Phillies will know if Harper can play first base before the August 1 trade deadline. This is important because if Harper can punt first, he can move Kyle Schwarber from left field to DH. The Phillies may go after a left fielder. If Harper cannot play first base, they may focus their attention on the pitcher or even the corner fielder.
"I want to be good out there, not just for myself, but for the team and the guys out there," Harper said. "I don't want to go there and just go, 'Hey, that's cool.'" I'm here. No, I really want to be good there. If we do a move or something, if it's a first baseman or a third baseman or an outfielder, we'll get a really good player. Like I said, I want to play well there – and I want to be good there, not just go there and play."
If Harper plays at first base, if he catches a force, and if the Phillies make upgrades before August 1, the Phillies would love their chances at another Red October.
"We're really good," Harper said. "I don't think we're done getting along with anyone. I know Dombrowski and John [Middleton] They will try everything to make us better. If that's hitting, if that's throwing, if that's hitting or attacking – whatever. I know they will get what we need. Our office has been really good to us. Our start was great. The attack offense didn't arrive the way we talked about, did it? Homer, things like that.
"But, overall, I think we've done a great job. Lately we've been playing great baseball. We just have to keep doing it for the next couple of days and go into the break with a good mind. After the break, we've got some good teams to play. We just have to Keep going. Keep building every day."
"Devoted travel trailblazer. Freelance beer scholar. Passionate analyst. Hardcore twitter fanatic."