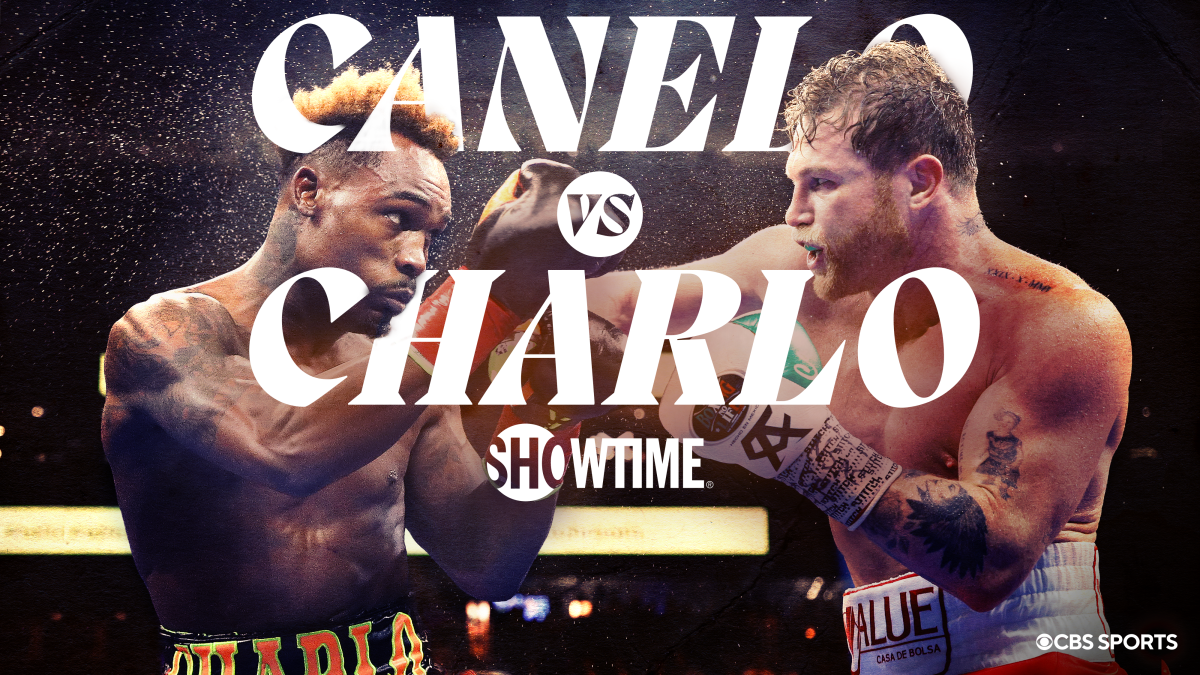 Fight night has finally arrived. After months of trash talk (most of it on the respectful side), Canelo Alvarez and Jermell Charlo will meet in the middle of the ring inside the T-Mobile Arena in Las Vegas on Saturday night. This meeting marks the first time in boxing's four-belt era that two undisputed champions will face off with Charlo moving up two weight classes to compete for Alvarez's 168-pound crown.
Alvarez has been one of boxing's biggest stars for almost his entire career, moving up weight classes and collecting world championships while remaining more active than most of his contemporaries. Some have become concerned about Alvarez's recent fights on the back side of his career because he has been less impressive than usual.
"I feel good and ready for this fight. Jermell is right, I have nothing to prove. But this time, I have something to prove to him," Alvarez said. "He never believed in my skills. He was calling me names. Now I have the opportunity to show him my skills. This motivates me. I had a great camp and I am ready to show my new skills to everyone."
Charlo was not nearly as active as Alvarez but he established himself as a great fighter and captured all four world championships at junior middleweight by defeating Brian Castano in his last bout.
It's an interesting bout featuring two of the best fighters in the world, and it's scheduled to take place on Saturday in Las Vegas.
"I'm coming to win this fight, no matter what he says. We'll see on Saturday. If he's motivated to prove to me he has skills, so be it. I'm coming to win," Charlo said. "Making history means everything to me. That's what it's all about. We'll come back to these moments later in life and look back and enjoy them. Now we live in this moment and continue to turn these chapters."
Can't get enough of boxing and MMA? Get the latest in the world of combat sports from two of the best in the business. Subscribe to Morning Kombat with Luke Thomas and Brian Campbell For the best in-depth analysis and news, including a full preview of Canelo Alvarez vs. Jermell Charlo in Las Vegas below.
While the main event deservedly gets all the attention this week, fans will be treated to a strong undercard in the build-up. Look no further than the co-main event as rising contender Jesus Ramos takes on former title challenger Erikson Lubin in a junior middleweight contest. Additionally, former welterweight champion Yordenis Ugas is back and is looking to reclaim the gold in interim fashion when he fights Mario Barrios. And one of the top players opens the PPV show when Elia Garcia takes on Armando Resendez in a middleweight fight.
"Everyone knows I'm a world champion, but I'm also a man of the people and someone who represents Cuban society, and that's really important to me," Ogas said. "I have a very important fight on Saturday, but I am fighting on another front, and that is for my people and the message I want to give them. In Cuba there are political prisoners and I carry their message and fight for them. I represent them." message."
With so much happening on Saturday night, let's take a closer look at the full fight card with the latest odds before we get to our staff's predictions and picks for the PPV portion of the festivities.
Alvarez vs. Charlo fight card, odds
Saul "Canelo" Alvarez (c) -400
Jermell Charlo +310
Undisputed super middleweight title
Yordenis Ogas -280
Mario Barrios +230
Welterweight
Jesus Ramos -440
Ericsson Lubin +340
Junior middle weight
Elijah Garcia -365
Armando Resendiz +285
Medium weight
With such a huge main event coming up, the CBS Sports crew has come forward with predictions and picks for the main event. The pick makers are: Brent Brockhouse (combat sports writer), Brian Campbell (combat sports writer, co-host of "Morning Kombat"), Shakeel Mahjouri (combat sports writer), Michael Mormel (producer), Brandon Wise (senior editor) . ).
Alvarez vs. Charlo picks and predictions
Brian Campbell
Charlo via majority decision
Brent Brockhouse
Alvarez by unanimous decision
Shakeel Mahjouri
Alvarez via TKO9
Michael Mormel
Alvarez via TKO11
Brandon Wise
Charlo via split decision
Campbell: Although their size difference has been a major storyline with Charlo moving up two divisions, Alvarez was once considered a junior middleweight. Charlo is taller, taller and faster. He also has the right mentality to take big chances and rely on a combination of aggression and movement to keep Alvarez guessing. Is the great Canelo past his prime at 33 years old? Not officially. But Charlo represents the kind of challenge Alvarez has not faced in a long time. Charlo has also shown a tendency to rise to the occasion when the lights are bright, especially when the pressure is on and he's being counted. This could be the perfect storm to create a close fight and one that Charlo could win if he lives behind his jab and shows a strong enough chin to take Alvarez deep.
Brockhouse: There are a lot of unknowns here. He is Alvarez is in complete decline at the age of 33 Or were the recent performances a result of injuries? Why couldn't Alvarez stop John Ryder or a faded version of Golovkin? Was Charlo active enough to be ready to jump in terms of weight and level of competition? Personally, I think Alvarez wasn't able to really work as much as he wanted to in recent camps due to a hand injury that has now been corrected. This would explain the lack of force, the lack of timing, and the lack of or stopping power. Charlo is a very good fighter, but he is also a fighter who has been through hell against the likes of Brian Castano and Tony Harrison. Alvarez is a different level than these fighters and he is comfortable at 168. I think Charlo is sneaky enough to get to the cards and good enough to avoid a breakdown but not good enough to get the win.
My abandonment: Alvarez hasn't shown his finishing instincts lately and Charlo has never been stopped. On the surface, this does not bode well for my expectations. But Alvarez will enter the ring for the second time since his left wrist was surgically repaired against an opponent who moves up two weight classes. Alvarez knocked down John Ryder and broke his nose in his final outing. Ryder certainly isn't cut from the same cloth as Charlo, but he's a bigger athlete with a solid chin.
Many promising boxers find that their knockout percentage decreases as the level of competition increases. This was not Charlo's story. In fact, Charlo's power has evolved over time. Charlo deserves credit for that but it's hard to see his power going up in two against Alvarez's diamond chin. Charlo has a great left hook, one that he will certainly land, but I don't see him taking down the great Canelo with it at this stage of their careers. Charlo needs to have a perfect game against Alvarez and I don't think he has the elite experience to do that. I expect Alvarez to take the lead in the middle frames and either take advantage of Charlo's desperate lag or go for the decision.
wise: I've only been burned by taking on the underdog in a big boxing match enough times to know that's a risky proposition. But this fight looks closer to what the line suggests and these two feel like they could be the perfect duo to produce the kind of fight we were hoping to see between Errol Spence Jr. and Terence Crawford. Alvarez has looked slower in his recent fights, and whether it's fatigue from fighting too many times as a pro or making weight and taking a tougher penalty, it's hard to ignore. Meanwhile, Charlo has had some time away to recover and prepare for a competitor he has been calling out for many years. Charlo has the foot and hand speed that troubles Alvarez and it will be interesting to see how the judges score rounds in Alvarez's professional arena. I'll side with the dog to get more work done, but as my colleague Brent Brockhouse pointed out, a draw seems very effective here.
Who would beat Canelo Alvarez vs. Jermell Charlo, and who should be the backup? Visit SportsLine now to see Peter Kahn's best bets for SaturdayAll this from the boxing specialist who made his followers nearly $4,000 in profit, and he found out.
"Devoted travel trailblazer. Freelance beer scholar. Passionate analyst. Hardcore twitter fanatic."