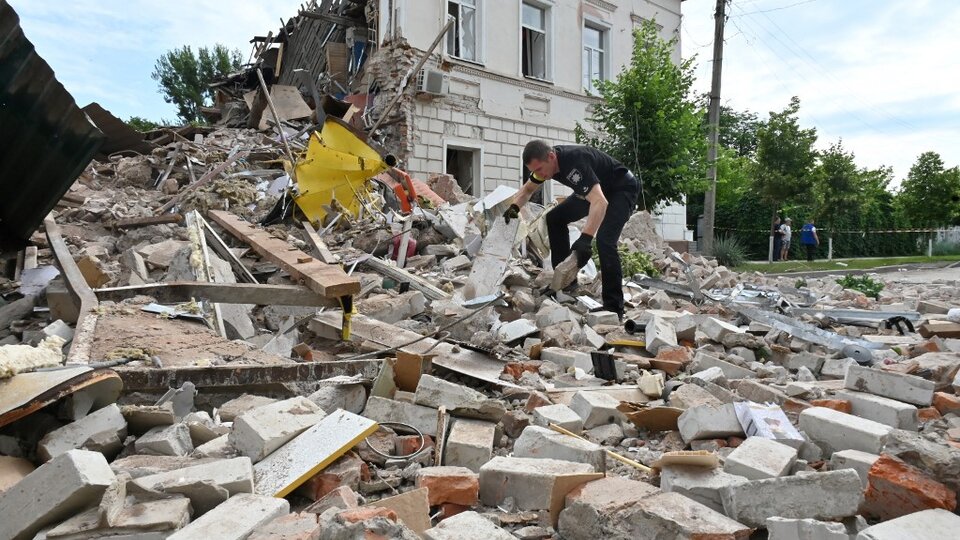 Stoltenberg: "Putin knows the consequences of attacking a friendly country"
NATO Secretary-General Jens Stoltenberg on Monday promised that Russian President Vladimir Putin would "know the consequences of an attack on the Allies," as tensions between Lithuania and Russia mount, and that Vilnius would apply to supplies entering and exiting the Kaliningrad region.
The Kremlin described the move as an application of EU sanctions on Lithuania and Moscow as "illegal and unprecedented" and threatened retaliation against the Baltic states.
"I firmly believe that Moscow, President Putin, understands our commitment to collective security and understands the consequences of attacking a friendly country. It will also enable the response of the entire coalition," Stoltenberg told a news conference ahead of the summit. Allies in Madrid this week.
Stoltenberg expressed concern about the increase in the Russian military presence in Kaliningrad, which "has been going on for many years with advanced armed organizations", and pointed out that the alliance is part of the modernization of its forces and capabilities. Increased its presence in that area.
Russia claims to have paid off the external debt service "in full"
Russia's Ministry of Finance said today that it had "paid" the foreign loan service in accordance with current emission rules and accused "third parties" of allegedly "stopping payments".
"These payments were received on the same day by Eurobond brokers and delivered in a timely manner to Russian Eurobond holders … and international financial brokers," it said in a statement.
The fund insists that Moscow can not repay itself, as the last payment was made on May 20 and May 27 is the due date.
"The inability of investors to receive their money in this case did not take place as a result of non-payment, but as a result of the actions of a third party," he explains.
Moscow insists that this situation is not considered in the document for the suspension of a country's payments, so the case should take into account all the circumstances and analyze the "good faith of the parties involved".
Lysiansk residents are asked to flee before Russian advance
Residents of the city of Lysyansk in eastern Ukraine in the Lukansk region have been asked by authorities to leave the area before Russian troops try to encircle the enclave.
Serhii Haidai, head of the Lukansk Regional Military Administration, urged city residents and surrounding communities on his telegram channel to "urgently evacuate the area."
"Dear residents of the regional community of the city of Lisyansk and their relatives! We call for the immediate evacuation, considering that there is a real threat to life and health!" According to local Ukrainian agencies, Haidoi announced.
He added, "The situation in the city is very difficult. Save yourself and your relatives. Take care of the children!"
NATO will increase its high readiness powers to more than 300,000
NATO leaders announced at an earlier press conference today that they would agree to increase "more than 300,000 preparatory forces" at a summit in Madrid on Wednesday and Thursday. .
In addition, he said, the heads of state and government of the coalition would decide to strengthen some of the battalions stationed in Eastern European countries at the battalion level.
In Madrid, "We will replace the NATO response force. We will also increase the number of our high-ranking troops to over 300,000 troops, "Stoltenberg said.
Zelensky asks G7 for assistance with security systems, reconstruction and wheat
Ukrainian President Volodymyr Zhelensky today called on G7 leaders for a strategy against air defense organizations, aid to his country's reconstruction and Russia's blockade of its wheat exports.
Gelensky addressed the seven leaders of the group in a virtual format, a closed door session in which only a few initial images were sent without sound, but according to the community's compatibility information, G7 asked for this support. Sources and Germans.
Only pictures of the Ukrainian leader with his usual khaki shirt, German President Olaf Scholes, US President Joe Biden and other G7 leaders – including Canada, Japan, the United Kingdom, France and other countries – have been released. Italy – They ask for his intervention, even in plain clothes.
In his message to the leaders of the seven powers, Zhelensky urged them to support his country with determination, and warned that the war against Russia should end before next winter.
It also calls for tougher sanctions against Russia, which will be approved by the summit, which ends Tuesday, according to US sources.
G7 agrees to support Ukraine "until it is taken"
On Monday, G7 leaders pledged to continue to provide Ukraine with "financial, humanitarian, military and diplomatic support" "until needed," according to a joint statement issued on the sidelines of the summit in southern Germany.
They expressed "deep concern" following the announcement that Russia would transfer nuclear-capable missiles to Belarus. Seven leaders of the most advanced economies met with Ukrainian President Volodymyr Zhelensky via video conference this Monday.
Russia, which controls Lukansk, is stepping up its offensive
The Russian military is now trying to lay siege to neighboring Lycianovsk after seizing control of the strategic city of Severodonetsk in the Lukansk region of eastern Ukraine.
As announced by the General Staff of the Ukrainian Armed Forces on Monday, the Russians, backed by artillery, are trying to blockade the city of Lisyansk from the south, in the neighboring Donetsk region, with indiscriminate bombing.
"They are bombing civilian and military infrastructure in Lisichansk, (and nearby) Vovchoyarivka, Loskutivka and Verkhnokamyanka areas. An enemy attack plane bombed near Lisichansk," the military statement said.
However, according to the Ukrainian military, "fighting continues in the Vovchoyarivka region. Near Verkhnokamyanka, Ukrainian security forces inflicted heavy casualties on the enemy and forced the withdrawal of Russian troops."
The Kremlin describes its default rating as "unfounded"
Today, the Kremlin considers today that Russia is suspending its foreign debt-related payments for the first time in hundreds of years, after the offer period for holders of two eurobonds and one euro ended almost $ 100 million yesterday. In curiosity.
"These claims about the suspension of payments have no legal basis in this case," Kremlin spokesman Dmitry Peskov told a daily news conference.
Bloomberg has confirmed that for the first time since 1918 it has stopped making payments, with foreign borrowers not paying two eurobonds from the Russian government after the 30-day grace period.
On May 27, the Russian government will pay coupons for the two eurobonds to be paid in 2026 and 2036 in euros and dollars.
A spokesman insisted that the money was paid in foreign currency last May and, therefore, "did not accept" the Kremlin's claim that Russia had not paid the debt. The fact that these funds were withheld and not provided to the press was "not our problem anymore."
"I mean, in this case, there's no basis for calling this situation a default," he stressed.
According to Bloomberg, Russia has gone into receipt
Russia has stopped paying nearly $ 100 million in interest on its sovereign debt for the first time in more than 100 years, Bloomberg said Monday.
Russia's 30 – day deadline to pay off debtors ended on Sunday.
According to Bloomberg, the situation is considered a default, and is "the culmination of increasingly severe Western sanctions (against Russia for its" special military operation in Ukraine "against Russia").
"This is a serious sign that the country (Russia) is rapidly transforming into an economic, financial and political dimension," the company said.
The UK is proposing a plan to expel grain from Ukraine
Downing Street said in a statement on Monday that British Prime Minister Boris Johnson would support a plan to circumvent the G7's Russian blockade and expel Ukraine's grain and other exports from Ukraine.
The British government will provide advice to the Ukrainians to build safer sea lanes, while donating மில்லியன் 10 million (6 11.6 million) worth of goods to rebuild the railway, which could be exported by train.
Johnson is urging G7 partners to join the effort to invest மில்லியன் 1.5 million (7 1.74 million) in establishing a process to help identify whether grain sold by Russia in the world market was taken illegally from Ukraine. .
This will allow governments to take steps to ensure that Ukraine receives income from its crops, the government statement said.
Russia launches repeated attacks on Ukraine with Iskander missiles and supersonic ships
Russia resumed attacks on Ukraine last night, launching Iskander-type missiles, a short-range nuclear-capable rocket-propelled grenade launcher, and the first-ever Tu-22M3 bombs, all of which were fired from Belarusian territory. .
Last night, the Russian military launched a massive missile attack on several parts of Ukraine, local agencies said on Monday, commanding the Ukrainian Armed Forces.
"Russia has resumed Iskander missile strikes from Belarusian territory and for the first time used Tu-22M3 long-range bombers from Belarusian airspace," the military statement said.
"Typically, more than 50 missiles were launched from the air, sea and land. For the first time, the enemy used Tu-22M3 long-range bombs to attack Ukraine from Belarusian territory. In addition, its use has resumed. Re-emphasized.
"Introvert. Thinker. Problem solver. Evil beer specialist. Prone to fits of apathy. Social media expert. Award-winning food fanatic."