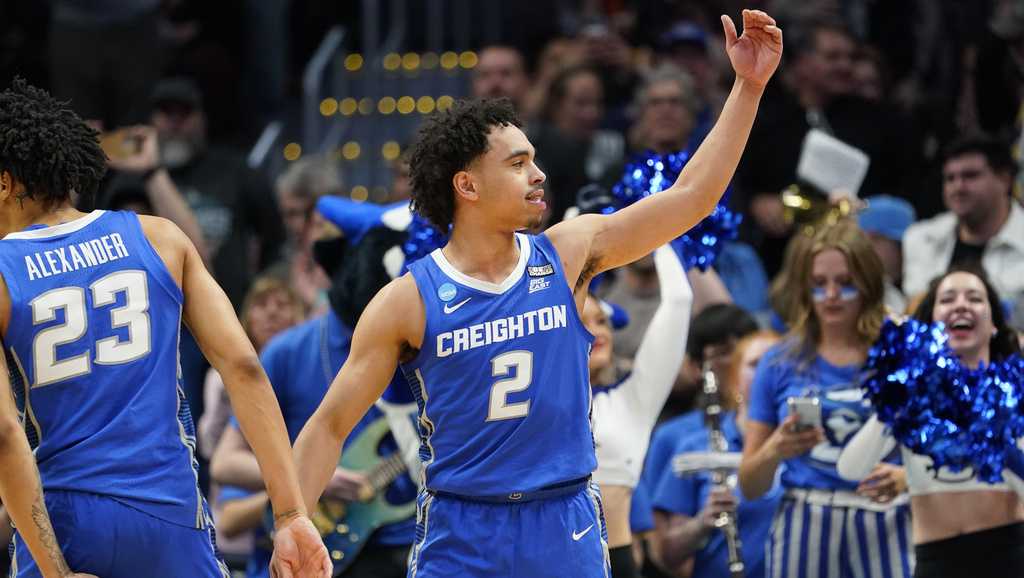 Creighton men's basketball is heading to the Sweet 16 for the second time in the past three seasons. The sixth-seeded Jays (23-12, 14-6 Big East) beat Baylor 85-76 Sunday at Ball Arena in Denver in the second round of the NCAA tournament, with Ryan Nimbard leading Creighton with 30 points and Trey Alexander. He added 17 points, and the Jays earned their first tournament victory over a No. 3 seed and reached the Sweet 16 for the second time in the modern tournament era. Previously, Creighton was among the last 16 teams in the tournament in 1941, 1962, 1964, 1974 and 2021. L.J. Cryer had 30 points for the Bears (24-11, 11-7 Big 12). 15 Princeton on Friday at KFC Yum! Center in Louisville, Kentucky. The Tigers upset No. 2 Arizona in the first round and then defeated No. 7 Missouri in the second round. Click here to purchase tickets to see Creighton in the NCAA Tournament. Get the latest news headlines from KETV NewsWatch 7
Denver –
Creighton men's basketball is heading to the Sweet 16 for the second time in the past three seasons.
The sixth-ranked Jays (23-12, 14-6 Big East) defeated Baylor 85-76 Sunday at Ball Arena in Denver in the second round of the NCAA Tournament.
Ryan Nimbard led Creighton with 30 points, and Trey Alexander added 17.
The Jays won their first ever championship over a No. 3 seed and reached the Sweet 16 for the second time in the modern tournament era. Previously, Creighton has been among the last 16 teams in the championship in 1941, 1962, 1964, 1974 and 2021.
LJ Cryer had 30 points for the Bears (24-11, 11-7 Big 12).
CU is moving forward to play #15 in Princeton this Friday at KFC Yum! Center in Louisville, Kentucky. The Tigers upset No. 2 Arizona in the first round and then defeated No. 7 Missouri in the second round.
Click here to purchase tickets to see Creighton in the NCAA Tournament.
Get the latest headlines from KETV NewsWatch 7
"Devoted travel trailblazer. Freelance beer scholar. Passionate analyst. Hardcore twitter fanatic."