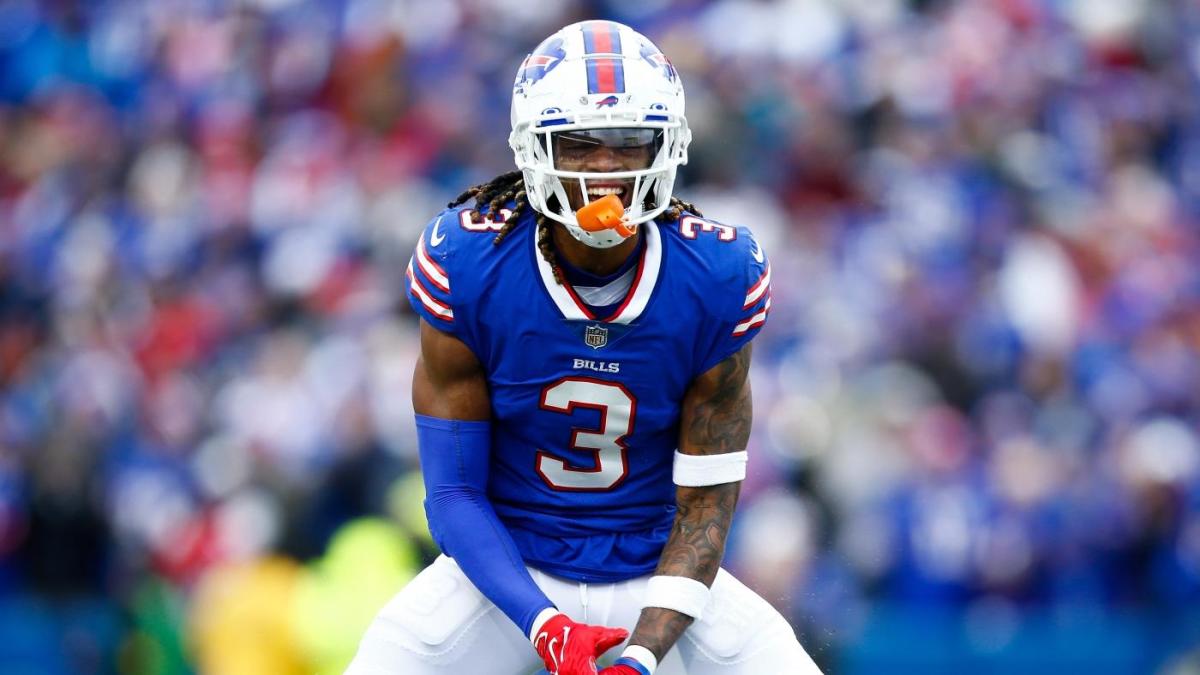 In a six-minute video released on Saturday, Buffalo bills Safety Dammar Hamlin spoke at length for the first time since suffering a near-fatal cardiac arrest after being tackled during a Week 17 game vs. Cincinnati Bengals. In the introduction to the video, Hamlin explains that he waited to speak until the time was right, explaining that his situation required mental, physical, and spiritual treatment while also referring to the end of the Bills' season.
Hamlin began by expressing his gratitude and appreciation for the support he had been given, before thanking a slew of people and groups.
"What happened to me on Monday night football, I feel, is a direct example of God using me as a vessel to share my passion and love directly from my heart with the entire world," Hamlin said. "And now I am able to give it back to the children and communities around the world who need it most. This has always been my dream, and this has always been what I have stood for and will continue to stand for."
Hamlin then thanked the Bills' coaching, athletic, and medical staff as well as the UCLA Medical Center and Buffalo General Hospital staff, who were all involved in his life-saving treatment and aftercare. Hamlin then thanked his mother and father, his little brother, and other family and friends before thanking the Bills fandom.
"Since I became Buffalo Bill, it has been nothing but real love and support. Not just for me, but everyone's situation," Hamlin said. "No matter what it was, the Bills Mafia jumped in behind it and gave their 110% support, and love, no matter the situation. With this happening to me, I couldn't feel anything less than love. And it really helped me stay motivated and get through the toughest moments and the toughest times." I really can't thank you enough."
Hamlin then thanked his Bills teammates before going on to thank the city of Cincinnati, the Cincinnati Bengals, and the rest of the NFL for the outpouring of support shown on the football days and week following Hamlin's medical episode.
"She puts humanity above team loyalty. She showed the world's unity over division," Hamlin said. "I am not surprised by that, but I am so grateful and will be forever grateful and indebted."
Finally, Hamlin thanked the children who sent him letters and gifts while he recovered, as well as those who donated to the Chasing M Foundation. The foundation, which Hamlin started before his NFL career to give back to children in his native western Pennsylvania, has received nearly $8 million. of donations after his near-fatal injury.
"This is just the beginning of the impact I wanted to have on the world," Hamlin concluded. "And with God's guidance, I will continue to do amazing and wonderful things. I couldn't do this without any of your support and love, and I can't wait to continue taking you all on this journey with me."
Midway through the first quarter of the Bills' Week 17 game against the Bengals, Hamlin collided with Tee Higgins when he tackled the Bengals' star wide receiver after a 13-yard gain. Hamlin immediately collapsed upon standing, prompting Billings' medical staff to administer emergency medical treatment. Hamlin was removed from the field via ambulance and taken to UC Medical Center after receiving CPR and an automated external defibrillator (AED), where he remained in critical condition for some time. The game was abandoned and never resumed.
Hamlin, a sixth-round selection in the 2021 NFL Draft, has started 13 games this season in place of an injured Micah Hyde.
"Devoted travel trailblazer. Freelance beer scholar. Passionate analyst. Hardcore twitter fanatic."