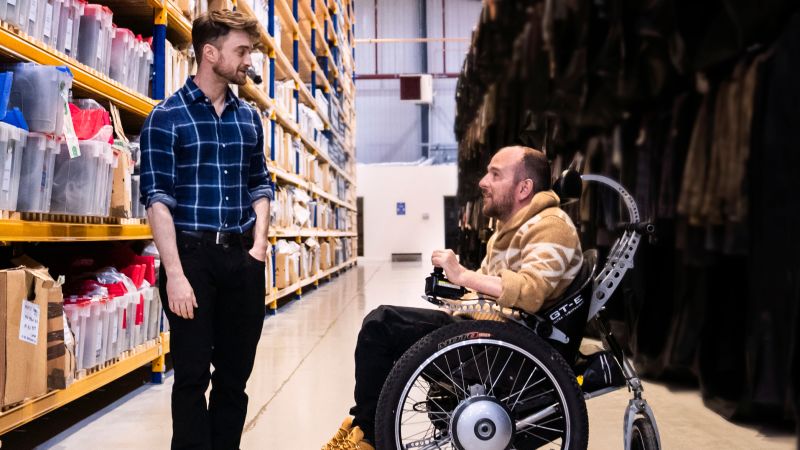 Daniel Radcliffe's latest project is very close to his heart.
"David Holmes: The Boy Who Lived" tells the story of Holmes, a gymnast who played Radcliffe's actor for ten years in the "Harry Potter" films before Holmes was involved in an accident in 2009 on the set of "Deathly Hallows – Part 1." Leaving him paralyzed. Radcliffe is the executive producer of the documentary.
"As Daniel and his closest stunt colleagues rally to support David and his family in their moment of need, it is David's extraordinary spirit of resilience that becomes their greatest source of strength and inspiration," a project press release said.
Holmes Share project news on Instagram Tuesday.
"Being a stuntman was my goal in life, and doubling Harry was the best job in the world," he wrote. "This film tells the story of not only my accomplishments in front of the camera, but also the challenges I face every day, and my overall attitude toward life after a broken neck."
"In the turbulent world we now find ourselves living in, I would like to quote Harry; we are as strong as we are united, and as weak as we are divided," he added.
The film includes personal footage from Holmes' life filmed over the past decade, behind-the-scenes material from Holmes' stunts, as well as interviews with Radcliffe, friends, family and former crew.
Directed by Dan Hartley, the film will premiere on HBO on November 15 and will be available for streaming on Max, which, like CNN, is a division of Warner Bros. Television. Discovery.
"Freelance entrepreneur. Communicator. Gamer. Explorer. Pop culture practitioner."