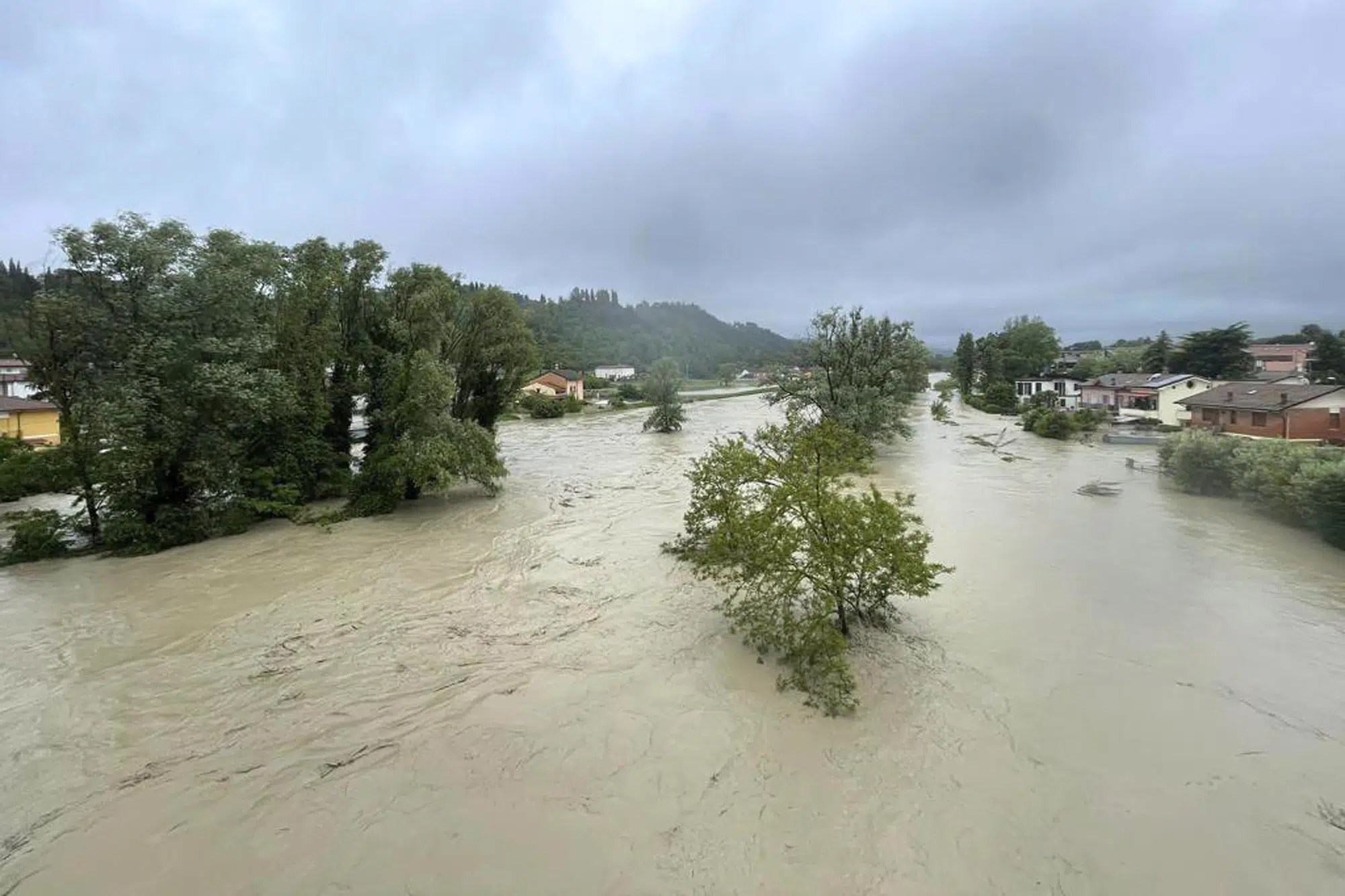 Imola, Italy (AFP) – Exceptional rainfall Wednesday swelled a drought-hit region of northern Italy, swelling rivers above their banks, killing at least eight people, evacuating thousands and prompting officials to warn that Italy needs to a national climate action plan. Floods caused by change.
Torrential rain also forced Formula One to cancel this weekend's Emilia-Romagna Grand Prix not to overwork emergency crews who were already stretched in response to the rivers of mud that tore through the region, wreaking havoc on infrastructure and homes.
Days of rainstorms stretched across a wide swath of northern Italy and the Balkans, with "horrific" floods, landslides and evacuations reported in Croatia, Bosnia and Slovenia.
Emilia-Romagna deputy governor Irene Priollo said eight people were killed and others missing in the floods, which forced the evacuation of more than 10,000 people.
Among the dead, officials said, was a farmer who braved flood waters to try to save equipment on his property. His wife was among the missing.
Rescue helicopters pulled people from rooftops as flood waters rose in homes. In one rescue, a Coast Guard member pulled a woman from her home through a skylight and held her tightly while the two were lifted into a hovering helicopter and pulled inside.
"Even the upper floors are not safe anymore," Gianluca Zattini, mayor of Forlì, one of the hardest-hit cities, told SkyTG24.
Italy's Civil Protection Minister Nello Musumesi has called for a new nationwide hydraulic engineering plan to adapt to the impact of increased flood and landslide incidents. In a statement, he noted that an average of 200 mm (7.9 in) of rain had fallen in 36 hours in the region, with some areas recording 500 mm (19.7 in) in that period.
"If you consider that this region averages 1,000 millimeters (39.3 inches) of rain per year, then you realize the impact of these rains in these hours," said Musumesi.
Citing the November landslide in Ischia, which killed dozens of people, he said Italy is increasingly experiencing tropical weather seen in parts of Africa and other regions around the world, with long periods of drought interspersed with unimaginable downpours. the soil.
"Nothing will change again… and what happened in these hours is proof of that," Musumesi said. "When soil stays dry for too long, instead of increasing its absorbent capacity, it ends up cementing and allowing rain to continue to flow over the surface and cause absolutely unimaginable damage."
Compounding Italy's vulnerability to floods caused by climate change are already fragile hydrological conditions in much of the country. Italy must also grapple with the decades-old practice of people building in areas prone to mudslides or floods – homes that are often allowed to stay put thanks to occasional government amnesties.
Cesena's mayor, Enzo Latuca, posted a video early Wednesday morning on Facebook warning that as the rain continues in the Emilia-Romagna region, the Savio River and its smaller tributaries could flood for a second day. He urged residents to move to the upper floors of their homes and avoid low-lying areas and river banks.
Musumesi said 50,000 people have lost electricity, and more than 100,000 have lost the use of mobile phones or landlines.
Many of the evacuating residents put their vitals into the rubber boats they usually haul each summer to the region's thriving beach resorts on the Adriatic Sea and haul them through the flooded streets.
The deputy head of the Civil Protection Agency, Titi Postiglione, said rescue operations for those who needed emergency evacuations were particularly difficult given many roads and roads were flooded and telephone service was disrupted.
Some regional train lines remained suspended on Wednesday around Bologna and Ravenna, Italy's state railways said, with severe delays elsewhere.
Prime Minister Giorgia Meloni, who was on her way to a G7 meeting in Japan, said the government was monitoring the situation and was ready to agree emergency aid.
In the Balkans, the swollen Una River has flooded parts of northern Croatia and northwest Bosnia, as authorities have declared a state of emergency. The mayor of the Bosnian town of Bosanska Krupa said hundreds of homes were flooded.
"We have the end of the world," Emin Halitović told the N1 regional network. We can no longer count the flooded buildings. It wasn't like this before."
Dozens of landslides have been reported in eastern Slovenia, many of which endanger homes and infrastructure.
In Croatia, hundreds of soldiers and rescue teams have continued to bring food and other essentials to people in flood-affected areas who are isolated in their homes. There have been no reports of injuries so far.
___
This story has been corrected to show that the Italian Minister of Civilian Protection's last name is Musumeci, not Musemeci. An earlier version was corrected to show that Melonie was on her way to Japan, not back home.
___
Winfield reported from Rome. Jovana Gec contributed from Belgrade, Serbia, and Frances Demelio contributed from Rome.
"Devoted travel trailblazer. Freelance beer scholar. Passionate analyst. Hardcore twitter fanatic."