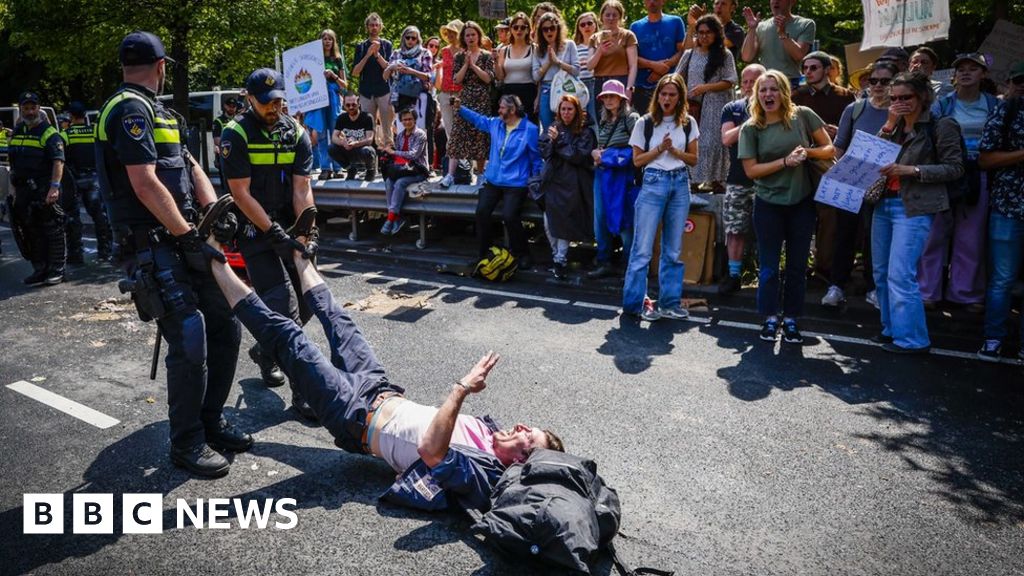 Dutch police have arrested more than 1,500 climate protesters after blocking a major highway in The Hague.
During the protest, organized by Extinction Rebellion, activists marched on the A12 motorway calling for an end to fossil fuel subsidies.
Police fired water cannons to try to disperse the crowds – but many showed up in raincoats and swimwear.
Most of the arrested protesters have been released, but police said 40 will stand trial.
Among those taking part in Saturday's protest were several Dutch celebrities, including actress Carice van Houten, best known for her role as Melisandre in the TV series Game of Thrones. Dutch news agency ANP said she was arrested but later allowed to return home.
Extinction Rebellion accused police of using water cannons just 15 minutes after the siege began – however The police said they asked The activists should leave and be given a chance to do so before using the water cannons.
Then 1,579 people who refused to leave were arrested.
Police said 40 people will remain on trial after being arrested for other criminal offenses such as vandalism and resisting arrest resulting in injury.
The arrests took place within a few hours and the road was cleared early Saturday evening.
Extinction Rebellion said at least 6,000 people demonstrated on or next to the A12 – including an "A12 Orchestra" of more than 80 musicians.
This is the seventh time that Extinction Rebellion protesters have blocked the A12. Protesting on this route is prohibited by the rules set by the mayor.
"Travel specialist. Typical social media scholar. Friend of animals everywhere. Freelance zombie ninja. Twitter buff."