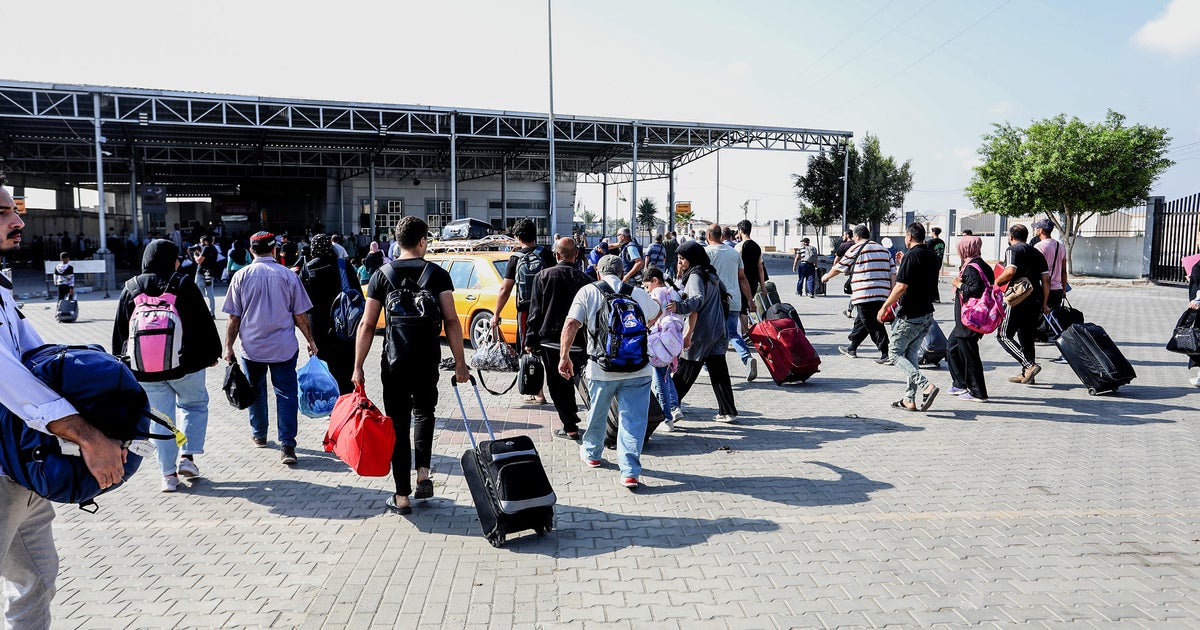 Hundreds of foreign passport holders and some wounded people trapped in Gaza began to leave War torn area And on Wednesday, the Rafah border crossing with Egypt was opened to them for the first time since the crisis October 7 Hamas attacks on Israel. The Hamas-controlled Interior Ministry in Gaza issued a list of foreign passport holders who can leave Gaza via the Rafah crossing.
At least five NGO workers who were confirmed to be Americans were included on a list approved for crossing on Wednesday, but it remains to be seen how many of the at least 400 American citizens the State Department says are stuck in Gaza will be able to cross. Transit in the future. days.
An American woman trapped in Gaza told CBS News she doesn't expect to cross yet.
"They started letting foreigners out today, but they're not Americans because I think we're not as important as we thought we were," Utah resident Susan Biseso told CBS News on Wednesday.
Bseiso said: "The American embassy and the Ministry of Foreign Affairs have not contacted us since the last time we went to the border and were bombed four times. They did not communicate with us or do anything to get us out."
"It's as if they are holding us hostage – and it's not Hamas that's holding us hostage, it's IDF soldiers, Egypt and America. They are using us as a human shield in a way."
Video footage showed the opening of the crossing gate on the Palestinian side of the border on Wednesday morning as people began crossing into Egypt for the first time since then. the war seem. In the past, much-needed aid convoys have passed through Egypt and Gaza But no one has been allowed to cross through the Rafah crossing yet.
Reuters reported on Wednesday that at least 320 foreign passport holders crossed the border into Egypt from Gaza. About 545 foreigners and dual nationals, along with dozens of sick and wounded, are expected to leave throughout the day.
Diplomatic sources confirmed to CBS News that Qatar brokered an agreement between Egypt, Israel and Hamas, in coordination with the United States, to allow limited evacuations from Gaza.
After being allowed into the station area, huge queues of those waiting to depart formed around the transit kiosks to check passports and other documents.
An Egyptian official, who spoke on condition of anonymity, said that the first ambulances carrying wounded Palestinians from the Gaza Strip entered Egypt through the Rafah crossing on Wednesday.
CBS News producer Marwan al-Ghoul reported earlier on Tuesday that among those crossing there will be at least 81 people whom the Egyptian government will allow to travel in ambulances from Rafah to Al-Arish to receive medical treatment.
The area surrounding the Rafah border crossing was bombed during Israeli air strikes after Hamas attacks, which Israeli authorities say left 1,400 people dead, most of them civilians. Another 240 people were taken hostage.
Some of those being transferred for treatment in Egyptian hospitals are among what the Hamas-controlled Gaza Ministry of Health says are more than 15,000 wounded in retaliatory Israeli raids, which the ministry says killed more than 8,500 people, two-thirds of them women and children.
Meanwhile, internet monitoring organization Netblocks and the main Palestinian operator Paltel said in social media posts on Wednesday that the entire Gaza Strip was in the midst of another internet blackout.
Communications in Gaza were cut off for 48 hours when Israel announced the expansion of its ground operations last week. Paltel said communications were restored on Monday before the latest power outage.
"Travel specialist. Typical social media scholar. Friend of animals everywhere. Freelance zombie ninja. Twitter buff."