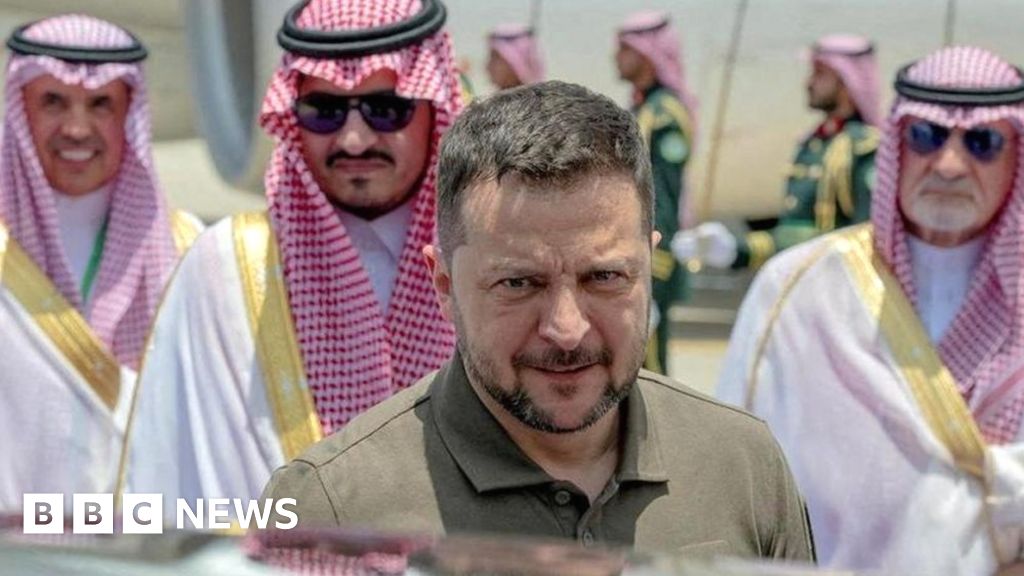 By Tessa Wong in Hiroshima and James Gregory in London
BBC News
Volodymyr Zelensky accused some Arab leaders of "turning a blind eye" to the Russian invasion ahead of his expected appearance at the G7 summit in Japan.
It is believed that the Ukrainian president will arrive in Hiroshima on Sunday in a bid to secure more military support for a planned counterattack.
Zelensky was in Saudi Arabia on Friday to attend the Arab League summit.
Among the Arab League countries, only Syria publicly supported the Russian invasion.
Other member states have sought to maintain good relations with Moscow.
"Unfortunately, there are some in the world and here of you who turn a blind eye to these [prisoner of war] "Illegal cages and annexations," Mr. Zelensky said.
"I am here so that everyone can take an honest look, no matter how hard the Russians try to impress, there is still independence."
Mr. Zelensky also told the assembled leaders in Jeddah that his country was defending itself against colonialists and imperialists, and seemed to evoke the Arab world's history of invasion and occupation.
Saudi Arabia, the host country, has taken a delicate line on the conflict — on the one hand supporting a UN resolution calling on Russia to withdraw its forces and pledging $400 million in humanitarian aid to Ukraine, while on the other hand resisting imposing sanctions on Russia, preferring to see itself as neutral. regarding the conflict.
Meanwhile, Syria has only been re-admitted to the Arab League — its leader, Bashar al-Assad, told the summit there was a historic opportunity for the region to reconfigure itself without foreign interference.
Zelensky also targeted Iran, which is not a member of the Arab League, for providing Shahed drones to Russia. Iran denies supplying drones to the conflict.
The Ukrainian leader is expected to fly from Saudi Arabia to attend the G7 summit, though his office has not confirmed the visit.
The G7 summit began on Friday with a renewed condemnation of Russia and the announcement of more sanctions.
The group of seven countries, made up of the United States, the United Kingdom, France, Italy, Germany, Canada and Japan, represent the world's richest democracies. This year, eight more countries are invited including Australia and India.
The trip will be the farthest Zelensky has traveled from Kiev since the war began in February 2022 and, like other trips outside Ukraine, could pose a potential risk to his safety.
But the calculations are that the risk is worth taking if it means securing more help in his fight against Russia.
"When a person is somewhere far away, across the ocean, or somewhere else, he does not always feel and understand what is happening on the territory of our country. It is the physical presence of our president that is extremely important in such events," said Oleksey Danilov, secretary of the National Security and Defense Council. strong in Ukraine.
In the past few days, Mr. Zelensky has visited Italy, Germany, France and the United Kingdom, where he announced promises of military support. It also continues to push allies to provide advanced fighter jets to Ukraine, but so far no country has committed to providing them directly.
Once in Hiroshima, he will likely try to persuade more cautious leaders to come to the aid, such as Japanese Prime Minister Fumio Kishida and Indian leader Narendra Modi.
"By showing up in person, this is an opportunity for him to make sure he doesn't walk away empty-handed, and that he comes back to Kiev full of the arms deals he wants," including the promise of lethal weapons from Japan, said John Kirton, director of the G7 Research Group.
Although Japan is very sympathetic to Ukraine, its strict military laws mean that it has so far provided only non-lethal defense equipment.
Earlier on Friday, Kishida welcomed G7 leaders at Hiroshima Peace Memorial Park where they laid wreaths to honor those who died in the US atomic bomb that hastened the end of World War II.
The summit's first day ended with a statement in which member states pledged "new steps" to stop the war in Ukraine, and promised more sanctions "to increase costs to Russia and those who support its war effort."
They said they would "deny Russia of G7 technology, industrial equipment and services that support its war machine" and limit Russia's revenue from energy and diamond sales.
The summit, which ends on Sunday, is expected to end with a statement on the war in Ukraine.
"Travel specialist. Typical social media scholar. Friend of animals everywhere. Freelance zombie ninja. Twitter buff."