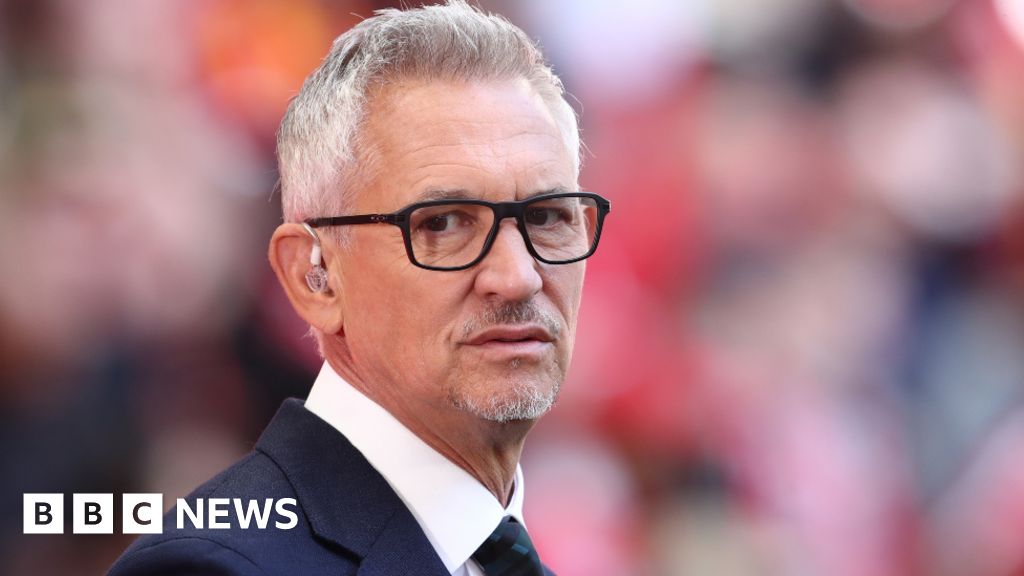 Written by Rachel Russell and Charlie Adams
BBC News
The BBC said Gary Lineker had been asked to withdraw from presenting Match of the Day until an agreement could be reached over his use of social media.
It follows a row over neutrality over comments he made criticizing the government's new asylum policy.
The BBC said it considered Linen's "recent social media activity to be a breach of our guidelines".
She added that he should "stay away from taking sides in partisan political issues or political differences."
The BBC asked Linker to back down after "extensive discussions with Gary and his team in recent days".
"He has decided that he will withdraw from presenting today's match until we reach an agreed and clear position on his use of social media," the statement read.
He continued: "When it comes to leading our coverage of football and sports, Gary is second to none.
"We've never said that Gary should be a no-brainer, or that he can't have a point of view on issues that matter to him, but we've said he should steer clear of taking sides on partisan politics or political controversies."
Fellow pundit Ian Wright said he would not be appearing in "Solidarity", tweeting: "Everyone knows what today's game means to me, but I've told the BBC I won't be doing it tomorrow. Solidarity."
Alan Shearer, who also presented on the programme, said he had "informed the BBC that I will not be on MOTD tomorrow night".
Lineker has yet to comment publicly but while presenting 5News earlier, former BBC presenter Dan Walker read a script live from the 62-year-old.
Walker said he sent Lineker a message asking, "What's going on. Are you going to back off?"
He said he received a response saying, "No, they have arrived [the BBC] He told me I had to back off."
On Tuesday, Home Secretary Soella Braverman outlined the government's plans to stop people arriving in the UK illegally from seeking asylum, in a bid to tackle a rise in people crossing the Channel in small boats.
Lineker responded on Twitter, calling it an "immeasurably cruel policy targeting the most vulnerable with language not unlike that used by Germany in the 1930s."
Braverman criticized Lineker's tweet, saying it "minimizes the untold tragedy" of the Holocaust.
The Home Secretary, speaking on the BBC's Political Thinking podcast, said the Nazi comparison was "lazy and unhelpful" and said her family "feels very strongly the impact of the Holocaust" because her husband is Jewish.
Many opposition MPs and charities also strongly objected to the government's plans.
Richard Eyre, a former BBC editorial policy controller who also served as a member of Ofcom's content board, said the company had "no choice" but to take action against Lineker after his tweets critical of the government's asylum policy.
Speaking to the BBC Radio 4 program on Friday evening, he said: "I think it was inevitable. It is [Lineker] He has the BBC's letters written on his forehead and yet he plunged into the most controversial story of the day.
He added, "It is now inevitable that, having not been effectively impeached but at least temporarily impeached, the BBC will now be subjected to a flood of criticism saying that it is acting at the behest of the government."
A Labor source told the BBC the company would have to "rethink its decision".
She said: "The BBC's cowardly decision to stop Gary Lineker from broadcasting is an assault on freedom of expression in the face of political pressure.
"Conservative politicians who press for people to be removed for disagreeing with government policies should be ridiculed, not bullied. The BBC should rethink their decision."
Scotland's first minister, Nicola Sturgeon, called the BBC's decision "indefensible", writing on Twitter: "As a strong supporter of public service broadcasting I want to be able to defend the BBC. But the decision to remove Gary Lineker from Air can not be excused.
"It undermines freedom of expression in the face of political pressure – and it always seems right-wing pressure to yield to it."
Lineker has hosted Match of the Day since 1999 and is the BBC's highest-paid star, earning around £1.35m in 2020-21.
He works for the BBC as a freelancer.
The former soccer player has previously sheltered asylum seekers and has publicly advocated for better rights and protection for refugees. He has also criticized successive Conservative governments over issues including Britain's exit from the European Union.
His comments received widespread support on social media, with one tweet getting 235,000 likes.
"Travel specialist. Typical social media scholar. Friend of animals everywhere. Freelance zombie ninja. Twitter buff."