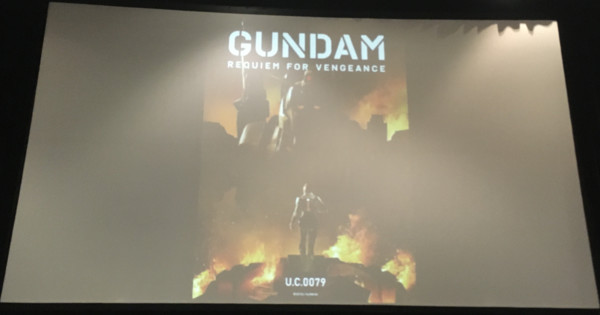 The entire animation was produced using Unreal Engine 5
---
ANN's Coverage of Anime Expo 2023 Sponsored by Yen Press!
---
Bandai Namco Filmworks Announcing a new animation project Mobile Suit Gundam: Requiem for revenge during anime gallery Industry panel on Saturday. Staff produce the animation entirely using Epic Games' Unreal Engine 5, as shown in a trailer presented at the panel.
German artist Erasmus Brosdau (original zeroThe Lord Inquisitor: Seed of Ambition) directs the project, W.J Gavin Hignett (Tekken: BloodlineTransformers: Cyberverse, Star Wars: Resistance) He writes. Australian actress Celia Massingham (DC's Legends of Tomorrow, Ladies in Black) He voiced the main character and performed motion capture animation. project Naohiro Ogata (Mobile Suit Gundam: The Witch from MercuryAnd Mobile Suit Gundam Thunderbolt) in the project.
Manuel Augusto Deschinger Moura is the lead character designer, w Kimitoshi Yamane (Cowboy BebopAnd Escaflonseveral Gundam projects) is mechanical design supervisor. Wilbert Roget II (Mortal Kombat 11, Call of Duty: WWII, Lara Croft and the Temple of Osiris games) compose music.
Hignight confirmed that the episodes of the project are set in the First World Century chronology Mobile Suit Gundam the story and its sequels, Brosdau added in a video message that the story is told from the perspective of the Zeon faction, particularly from the cockpit of Zaku's mobile suits. The trailer said the story is about "eleven months after the Revolutionary War" and credited the studio safe house. Hignight was killed Mobile Suit Gundam Thunderbolt And Mobile Suit Gundam: MS Team 08 influences on the project.
Hignite and Massingham appeared in person at the session to discuss the project, and Roget II also appeared. (Ogata would have appeared on the panel, if it weren't for Mobile Suit Gundam: The Witch from Mercury The anime is preparing to air its finale on Sunday.)
source: Bandai Namco Filmworks" anime gallery painting (Egan Low)
---
"Certified food guru. Internet maven. Bacon junkie. Tv enthusiast. Avid writer. Gamer. Beeraholic."