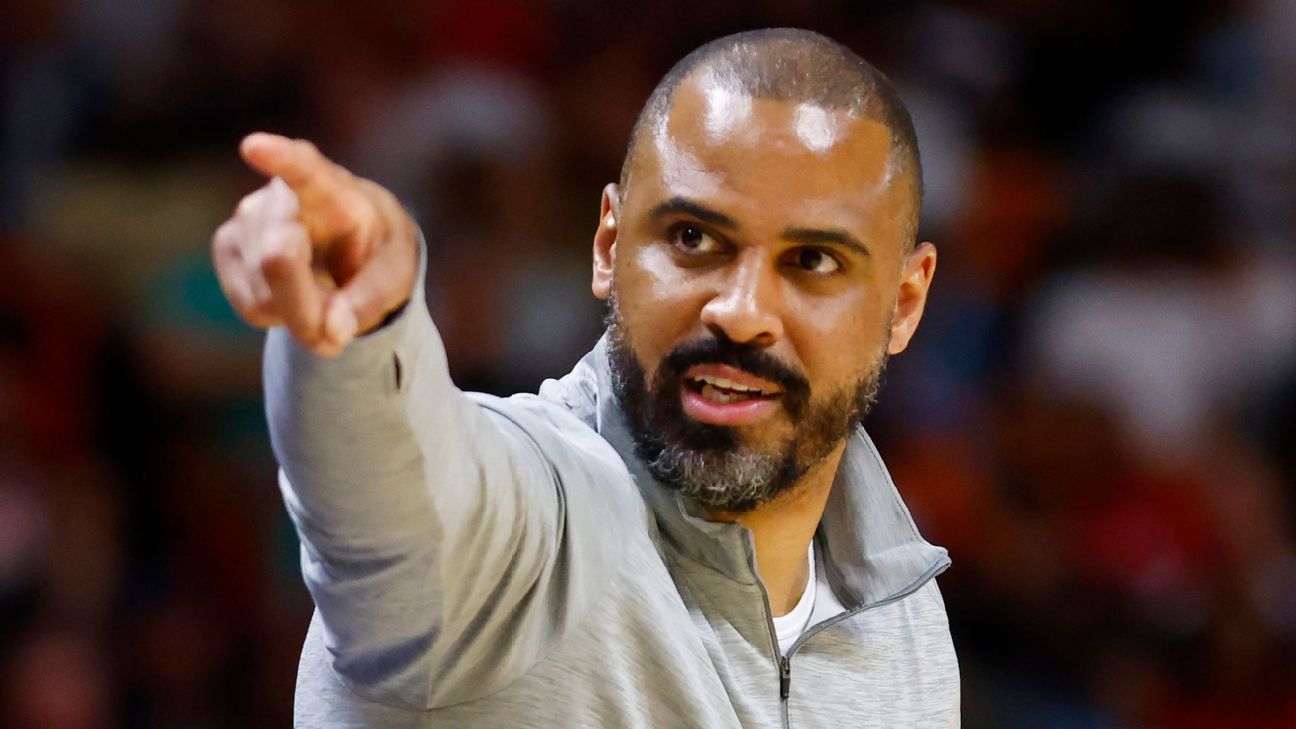 Adrian VojnarowskiSenior NBA insider2 minutes to read
The Houston Rockets have agreed a deal to hire Emi Odoka as the franchise's new head coach, sources tell ESPN Monday.
The hiring process comes nearly three months after the Boston Celtics suspended and fired Odoka for an improper workplace relationship, a situation the Rockets investigated with the league office and with the Celtics, among others, before making the job offer, sources tell ESPN.
In his one season as head coach, Udoka led the Celtics to an NBA Finals appearance against Golden State.
The hiring is a coup for Rockets general manager Rafael Stone, who helped sell Udoka on the franchise's young talent, salary cap space and the chance to win draft lottery and generational talent pick Victor Wimpanyama.
Sources said Udoka and Stone moved quickly toward a partnership after an initial meeting that took place recently. Odoka has decided not to pursue the Toronto Raptors job — and other potential opportunities in this recruitment cycle, the sources said. The Brooklyn Nets considered signing Udoka in the wake of Steve Nash's early-season firing, but ultimately decided to promote interim head coach Jacquie Vaughn.
Udoka's ability to motivate the locker room and leadership respect was a large part of his appeal to the Rockets and the market. Udoka led the Celtics to a 51-31 record and became one of five starting coaches to reach the NBA Finals in the past 25 years, according to ESPN Stats & Information Research.
Odoka helped the Celtics achieve the league's No. 1 defensive efficiency a preseason and a top-10 finish on offense. The Rockets are ranked in the bottom five in both categories in a season that saw them go from 22nd to 60th.
Sources said former Lakers coach Frank Fogel and former Charlotte coach James Borrego were also prominent members of the search to coach the Rockets.
An investigation of Udoka's independent law firm found that he used vulgar language in his dialogue with a female subordinate before initiating an inappropriate workplace relationship with a subordinate, an element that factored heavily into the severity of Udoka's initial suspension, sources told ESPN in September. .
These investigative findings—which characterized Odoka's remarks as being specifically about his coming from a superior workplace—contributed to what turned out to be an impossible path back to his position as Celtics head coach. The power dynamic associated with the president's inappropriate relationship with an employee was the primary finding and policy violation cited in the law firm's report, which was commissioned by the Celtics and completed in September, sources said.
"Devoted travel trailblazer. Freelance beer scholar. Passionate analyst. Hardcore twitter fanatic."