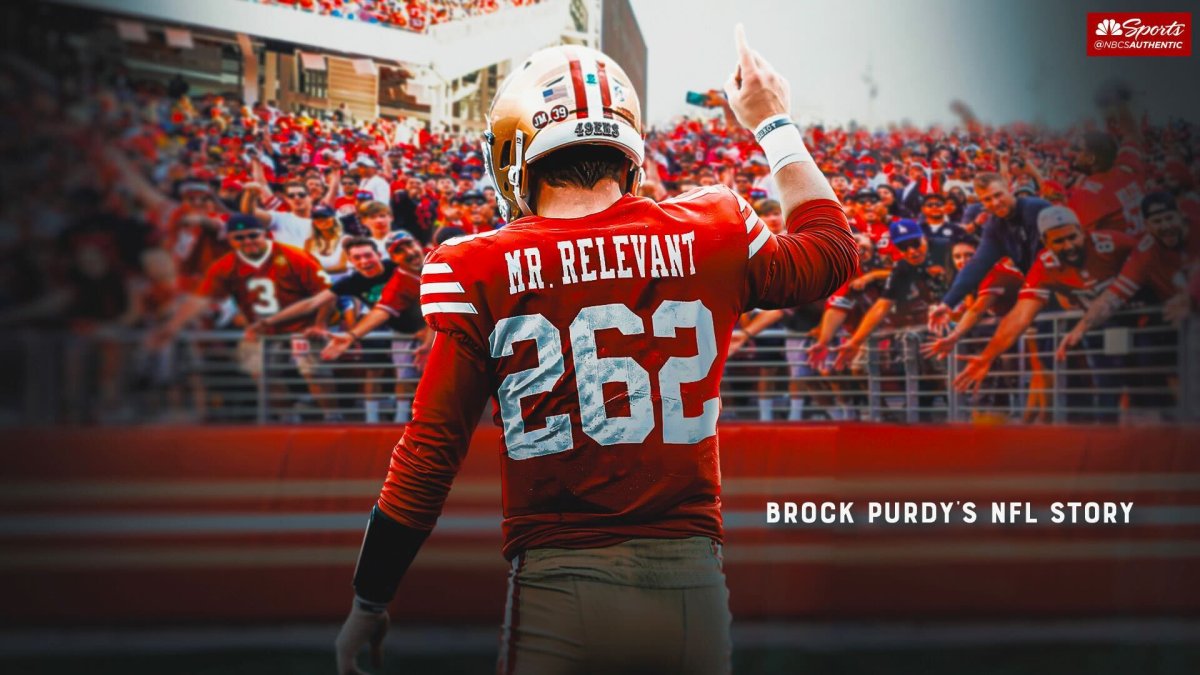 Editor's note: "Mr. Relevant: Brock Purdy's NFL Story," a 49ers Talk original series, details the QB's incredible journey from last pick of the 2022 NFL Draft to Bay Area star through his eyes and those closest to him, his mother and father.
Brock Purdy's father had a feeling last season that the 49ers' Week 13 meeting with the Miami Dolphins would be special for his son.
Turns out Sean Purdy was right.
Weeks before the game, Sean Brock asked how many home games were left on the 49ers schedule for the family to schedule to attend. Brock went down the list, but when he mentioned dolphins, something snapped inside his father.
"Man, you know how life goes," Sean remembers telling Brock. "This will be the game you get into."
"We laughed about it. I was joking."
That's because Miami isn't just a team in the Purdy family. It's the Lt. Sean, a Florida native who grew up a die-hard Dolphins fan, vividly remembers watching it on television while waiting for Brooke's birth on Dec. 27, 1999, at Desert Samaritan Hospital in Mesa, Arizona. Brooke and Sean watched film of how Hall of Fame quarterback Dan Marino tried together, and the young quarterback tried to emulate the Dolphins legend, even now wearing his No. 13 jersey in his honor.
Despite that connection, the Purdy family instead chose to attend the following week's game, when the 49ers host Tom Brady and the Tampa Bay Buccaneers. So, when I started competing against the Dolphins, Sean was at workwith the game being played on a shared TV screen.
Sean Purdy noticed his son wearing his helmet, but he didn't really think twice until he saw 49ers starting quarterback Jimmy Garoppolo on a cart, heading to the locker room with a foot injury in the first quarter.
"I saw Jimmy driving and I went, 'Man,'" Sean told NBC Sports Bay Area. "I told him, 'Dude, I think Brock's going to come in,' and my hands were sweating." "I'm getting goosebumps on my legs right now."
Meanwhile, at Levi's Stadium, Brock was asked to warm up. He saw Garoppolo limping off the field, but no one knew at the time how serious the injury really was. Maybe it was only for a series or two.
"When I went out there, I was trying to do everything I had studied that week [49ers coach Kyle] "Shanahan was calling," Purdy said. "At the same time, I've been practicing against a really good defense. I've done a good job in practice. I just have to go out there and see my progression and make a throw."
"Just play football. I've been doing this my whole life."
George Kittle remembers Purdy's first meeting well. While the tight end had very few reps with the young quarterback during practice, he saw what he was capable of against the 49ers' rookie defensive players.
"I knew he was good because of the way he was coaching with our defense," Kittle told NBC Sports Bay Area. "He's going to make those special plays against our great defense. Worst-case scenario, he won't be bad."
"He went into the huddle with confidence. He was resolute. There was no earthquake in his words or the way he spoke. He wasn't shaken. He wasn't flustered. In the first third, he comes in and oh my God, he's a cover scratch. He comes up and hits a beautiful strike."
That first completion to Christian McCaffrey eventually set up a touchdown strike for Kyle Juszczyk. After the point-by-point attempt, which gave the 49ers a 10-7 lead, Purdy returned to the bench, where he asked how Garoppolo was doing. He thought the veteran might be ready to exit for the next series.
This was not the case. Purdy has been informed that Garoppolo will miss the rest of the season with a fractured foot.
"At that moment, I'm like, 'Wow,'" Purdy said. "Okay, okay, I'm not going to worry about next week. I have to say, 'Let's win this game.'"
That's what the 49ers did, as Purdy completed 25 of 37 passes for 210 yards and two touchdowns with one interception in a 33-17 victory.
"Next thing you know we were up by three points," Kittle said. "When you have a quarterback that comes in and is confident, it increases the ability of everyone around him. That's one of Brock's best things."
Download and follow the 49ers Talk Podcast
"Devoted travel trailblazer. Freelance beer scholar. Passionate analyst. Hardcore twitter fanatic."