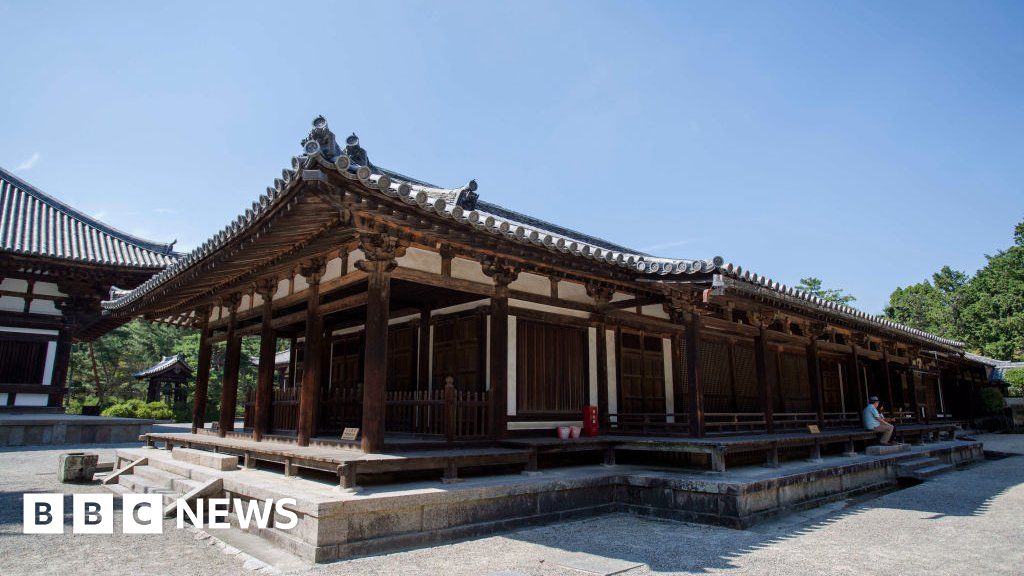 Written by Nadine Youssef
BBC News, Toronto
Japanese police have questioned a Canadian teenager after he carved letters on a wooden pillar of an eighth-century temple.
Police said the 17-year-old carved "Julian" on a pillar at the Toshodaiji Kondo temple complex in Nara, Japan.
The boy was caught carving the pillar with his fingernail by a Japanese tourist, and alerted the temple staff.
The temple is a UNESCO World Heritage Site.
After the incident on July 7, the boy was questioned on suspicion of violating the Cultural Property Protection Act.
The police stated to the Japanese that the carving was done on the pillar of the temple's "Golden Hall", which is a designated national treasure. Mainichi newspaper.
Police also told CNN that the boy said his actions were not intended to harm Japanese culture. They added that he is now with his parents, who were with him at the time of the vandalism.
A monk at the temple told the Mainichi newspaper that "although it was done without malice, it is still regrettable and sad."
The temple is one of the eight sites that make up the historical monuments of ancient Nara.
According to the UNESCO website, the ruins, which include Buddhist temples and Shinto shrines, "provide a vivid picture of life in the Japanese capital in the eighth century, a period of profound political and cultural change."
Located about 45 kilometers (28 miles) south of Kyoto, Nara was once the capital of Japan. It is still popular with tourists.
Under Japanese law, anyone who damages an object of "important cultural property" can face up to five years in prison, or a fine of ¥300,000 (US$2,120; £1,650).
The incident in Nara comes on the heels of a video that showed a UK-based man carving a message on a wall in the ancient Colosseum in Rome.
"Travel specialist. Typical social media scholar. Friend of animals everywhere. Freelance zombie ninja. Twitter buff."