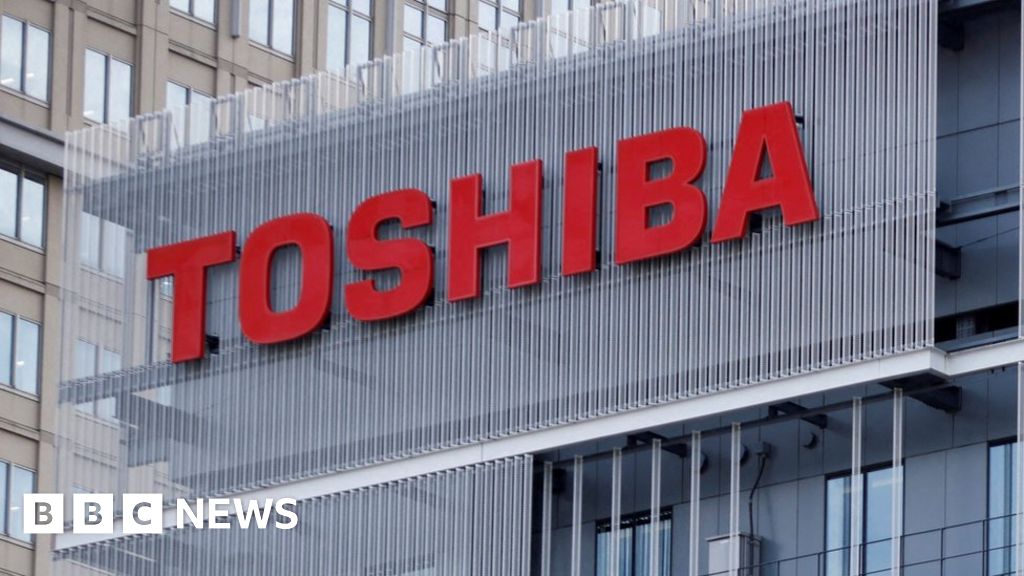 Written by Mariko Aoi
Business reporter
Toshiba, one of Japan's oldest and largest companies, is set to end its 74-year history on the stock market, with a group of investors buying a majority stake.
The company has announced A consortium led by private equity firm Japan Industrial Partners (JIP) has bought 78.65% of its shares.
Owning more than two-thirds of the company allows the group to complete a $14bn (£11.4bn) deal to take it private.
The company traces its roots back to 1875, where it made clocks and mechanical toys.
Under the agreement, its shares could be withdrawn from the stock market as early as the end of this year.
The company "will now take a big step toward a new future with a new shareholder," Taro Shimada, Toshiba's president and CEO, said in a statement.
Toshiba shares began trading in May 1949 when the Tokyo Stock Exchange reopened as Japan emerged from the ravages of World War II (WWII).
Its divisions range from home electronics to nuclear power plants, and for decades after World War II it was a symbol of the country's economic recovery and technology industry.
In 1985, Toshiba launched what it described as "the world's first mass-marketed laptop computer."
However, the Tokyo-based company has faced a number of major setbacks in recent years.
"The Toshiba debacle is a result of insufficient corporate governance at the top," Gerhard Fasol, chief executive of business consultancy Eurotechnology Japan, told the BBC.
In 2015, it admitted overstating its profits by more than $1 billion over six years and paid a fine of 7.37 billion yen ($47 million; £38 million), which was the largest in the country's history at the time.
To avoid bankruptcy, it sold its memory chip business in 2018, which was seen as the crown jewel in the company's portfolio.
"Toshiba, in the eyes of many Japanese people, especially the government, is a national treasure, which is part of the problem," Fasol said.
Before implementing the new demerger plan, the company's board of directors said it was considering JIP's offer to take the company private.
"Web maven. Infuriatingly humble beer geek. Bacon fanatic. Typical creator. Music expert."