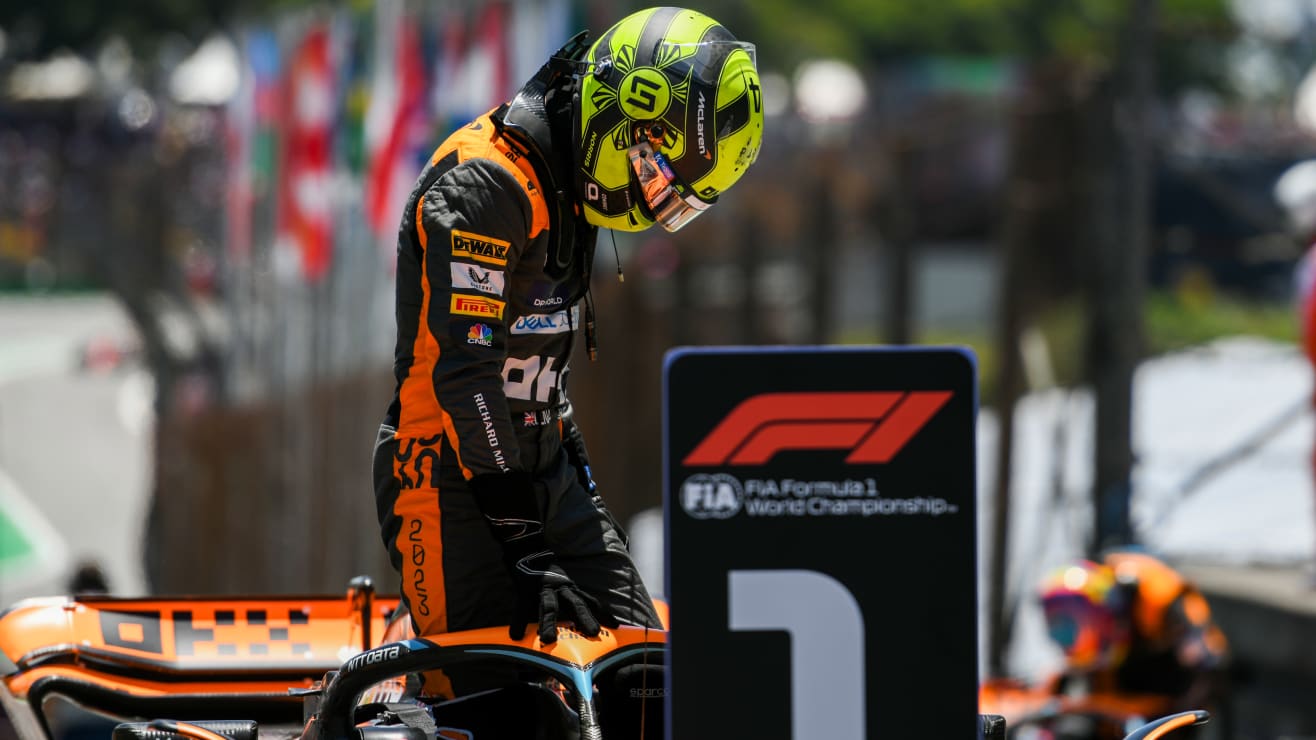 Lando Norris took pole position in the Sprint Shootout race during the Sao Paulo Grand Prix, after leading his McLaren by 0.061 seconds over Max Verstappen.
The Briton achieved a time of 1 minute and 10.622 seconds, compensating for disappointment after his lower-than-expected result in qualifying on Friday. Verstappen's teammate, Sergio Perez, managed to take third place despite using used tires.
George Russell and Lewis Hamilton placed their Mercedes cars in fourth and fifth respectively, while Yuki Tsunoda was sixth ahead of Charles Leclerc in seventh.
There was a good display from Daniel Ricciardo in eighth, while Carlos Sainz claimed ninth and Oscar Piastri – racing at Interlagos for the first time in his F1 career – claimed 10th.
1






Lando


Norris
no


McLaren




1:10.622

2






the above


Verstappen
Release


Red Bull Racing




1:10.683

3






Sergio


Perez
for every


Red Bull Racing




1:10.756

4






George


Russell
rus


Mercedes




1:10.857

5






Louis


Hamilton
pork


Mercedes




1:10.940
The Haas duo of Kevin Magnussen and Nico Hulkenberg will start the Sprint from P11 and P12 respectively after failing to make SQ3. Behind them is Pierre Gasly, who exited SQ2 in thirteenth.
Alfa Romeo's Valtteri Bottas took 14th, while Fernando Alonso also retired from SQ2 in P15, with Aston Martin mechanics unable to repair the damage to his car following his collision with Esteban Ocon in SQ1.
MUST WATCH: Ocon and Alonso connect in a bizarre Sprint Shootout swipe
The incident – which will be investigated by the stewards – brought about a dramatic early end to SQ1 when Ocon crashed into the barriers at Turn 3 as a result of contact. The Alpine driver was in the elimination zone and therefore found himself finishing the session in P16.
After a strong performance on Friday to finish third, Lance Stroll had a tougher session and retired from P17. Zhou Guanyu also made an early exit in P18, while the Williams cars of Alex Albon and Logan Sargeant would come to the back of the Sprint grid in 19th and 20th. respectively.
Sprint Shootout Highlights: 2023 Sao Paulo Grand Prix
As it happened
SQ1 – Sainz leads as Ocon and Alonso incident highlights red flags
After an eventful opening day at Interlagos on Friday, with Verstappen taking pole position in Sunday's race as stormy weather brought qualifying to an early end, the drivers returned to action on Saturday for the final Sprint Shootout of 2023.
Fortunately for those who don't like rain, the 12-minute SQ1 session started in warm, dry conditions. However, this posed the risk of the track losing grip overnight. It was a quiet start when the green light came on, and no one made any movement at the start, before several drivers exited using the mandatory medium tyre.
Yesterday's pole holder was the first to arrive at the track as half the field began to do some laps, while the remaining ten remained in the garage, perhaps because he wanted to avoid using too many tyres. The world champion achieved the early speed with a time of one minute and 11.888 seconds, three tenths ahead of his colleague Perez.
Eight minutes before the end of the race, all drivers left the pits with time still running, with Sainz putting himself at the top of the timesheets. While some of the group chose to stop, the Red Bull duo remained outside the circuit. In other leagues, Piastri suffered a slight fluctuation, as happened in the qualifiers on Friday, although he managed to avoid being eliminated.
There was a problem for Magnussen – who finished fifth – as the Haas team had to pit due to something stuck in the front of his car, which could put him at risk of falling down the order as time went on.
After McLaren was unlucky in qualifying on Friday, it looked as if there was a chance of repeating history, with Piastri in 14th place as the session approached the final minutes. However, the shootout was then halted as yellow flags were initially waved for Ocon, who had been involved in an accident but was fortunately fine, before bringing out red flags.
Meanwhile, Alonso suffered what appeared to be a flat tire and was forced to return to the pitlane. Replays showed there was contact between the Alpine car – which appeared to be slightly out of shape over the barriers on a fast lap – and the slower-moving Aston Martin in Turn 3, prompting an angry reaction from Ocon on team radio.
The incident was noted by the stewards and it was quickly confirmed that SQ1 would not resume, meaning that drivers in the elimination zone would not get another chance to improve their lap times.
Sainz finished the session ahead of Norris and Hamilton, and Ocon faced further problems as he found himself outside the penalty shootout in 16th place.
While Alonso managed to qualify, his teammate Stroll was less fortunate, ending up in 17th. Cho's Alfa Romeo was also out alongside the Williams duo of Albon – who was improving when the red flags came out – and Sargeant.
Knockouts: Ocon, Stroll, Cho, Albon, Sargent
2023 Sao Paulo GP Sprint Shootout: Ocon crashes outside SQ1 contact with Alonso
SQ2 – Norris sets the pace in late session
There was a delay to the SQ2 start as work was carried out to repair the barriers following Ocon's severe crash, which also provided an opportunity for Aston Martin to attempt to repair Alonso's car, with the Spaniard finishing the SQ1 in 11th.
The shootout eventually continued at 1140 local time, with 10 minutes on the clock as SQ2 began. As was the case in SQ1, Verstappen decided to be the first out on track and stood at the front of the pit lane queue while the drivers waited for the green light. Perez followed, with both Red Bulls coming out on new medium tyres.
Despite Aston Martin mechanics working on his car, it appeared that Alonso would not participate in the session, as the two-time world champion had already come out to speak to the media. Meanwhile, the majority of the remaining drivers were doing their first laps, and Verstappen once again set the pace with a time of 1 minute and 11.449 seconds.
There was an impressive early display from Haas, with Hulkenberg and Magnussen taking fifth and seventh, pushing the Mercedes duo down to ninth and 10th. A lull followed before the field – many of whom were on used intermediate tires – returned to the track for the final minutes of SQ2.
Everything looked tough in the final moments, but AlphaTauri made a dramatic leap out of the elimination zone, with Ricciardo moving up to second and Tsunoda up to seventh. The Japanese driver was pushed down while others moved up – including Norris, who topped the timesheets – but Tsunoda still managed to hold on to No.10.
This saw Magnussen and Hülkenberg exit the race in 11th and 12th respectively, followed by Gasly in 13th and Bottas in 14th. Alonso did not return to action, placing him in 15th on the Sprint grid.
Out of the race: Magnussen, Hulkenberg, Gasly, Bottas, Alonso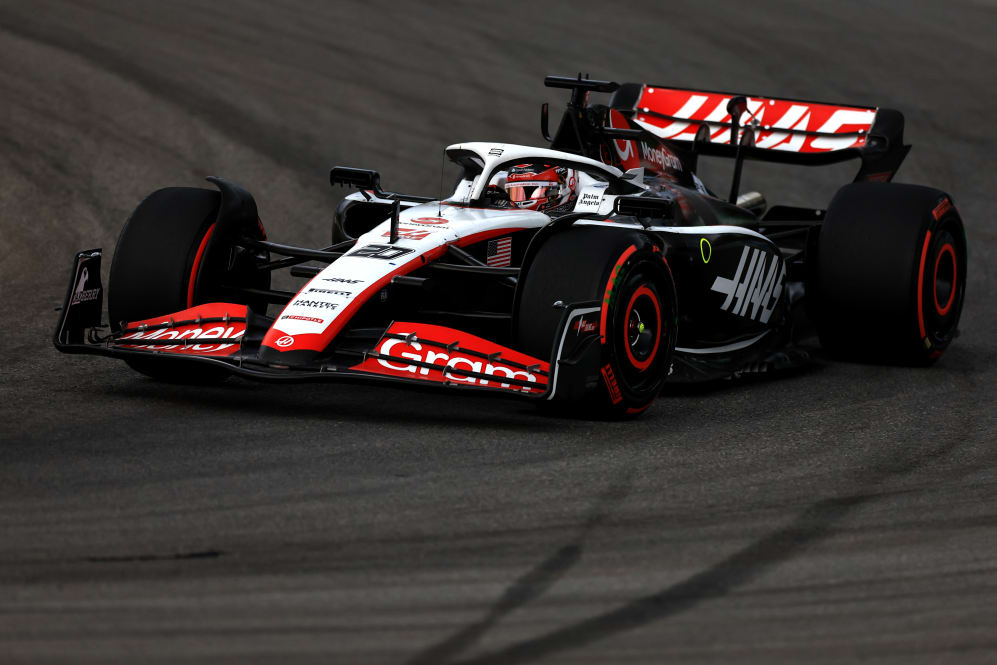 SQ3 – P1 for Norris as he overtakes Red Bull
After an eventful session so far, the eight-minute top-10 shootout got underway, but this time there was no big rush to get going, with just one lap on the cards. Some drivers – Perez, Sainz and Piastri, specifically – were left without a new set of soft tires during the session, as they were all used in qualifying on Friday.
Finally there was movement as the clock ticked down to four minutes. Verstappen was again keen to get going and made some overtakes on his way out of the pits, giving him some fresh air on track.
Before him, Piastri was the first to get a lap on the board, clocking 1 minute 11.189 seconds. This did not keep him in pole position for long, as Norris beat that lap with a time of 1 minute and 10.622 seconds while Verstappen finished second. Tsunoda impressively positioned himself in third place before Perez pressured him.
Despite more laps to come, Norris retained pole position in the sprint race, six hundredths of a second ahead of Verstappen. Perez took third place, while Russell took fourth place and Hamilton took fifth place.
The speedy Tsunoda will start from sixth on the Sprint grid, with Leclerc close behind in seventh and Ricciardo eighth. Sainz and Piastri rounded out the top ten.
It was confirmed after the session that, alongside Alonso and Ocon, other drivers had been called in to see the stewards – with both Norris and Tsunoda calling out the alleged failure to follow the race director's instructions.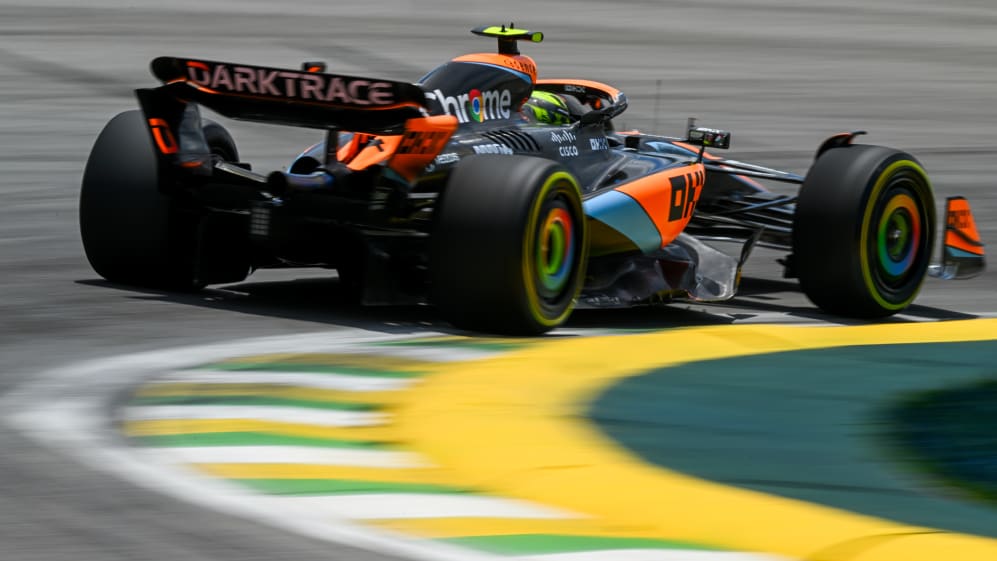 Main quote
"It was a great day, but honestly it felt like one of the worst laps I've ever done, so it was a surprise," Norris said. "My first pole in a long time so I'm happy. The pace was good all weekend, and the car was strong. It's tough, the bulls are always fast, and Max is very fast. I'll give it my all."
What then
The drivers will now take a rest period before lining up for the 100 km race at 1530 local time. Go to Racing Center To learn how you can capture the event.
"Devoted travel trailblazer. Freelance beer scholar. Passionate analyst. Hardcore twitter fanatic."