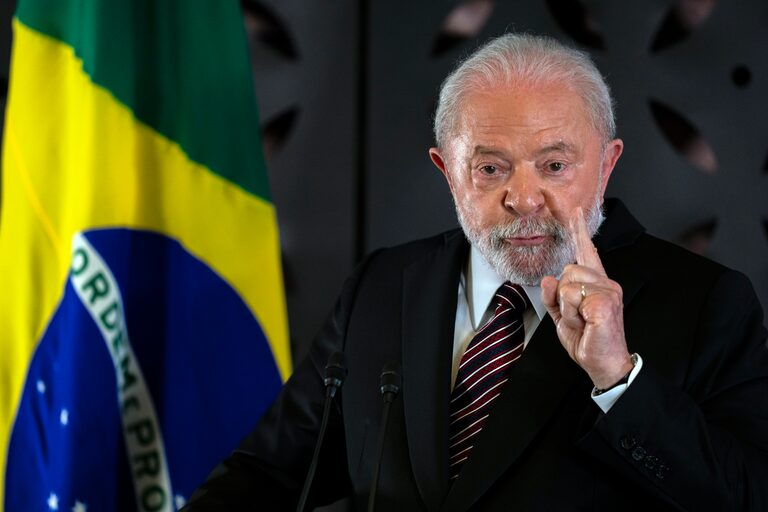 RIO DE JANEIRO – President of Brazil, Luis Inacio Lula da SilvaThis Monday he promised to arrange a meeting with the Ukrainian representative. Volodymyr ZelenskyDuring the G7 summit in Japan, but it He didn't come.
"Very simple. We had a bilateral (meeting) with Ukraine at 1515 (local time). We were informed that we were late. In the meantime I met with the President of Vietnam. When the President of Vietnam left, Ukraine does not appear. I'm sure he had another meeting," the Brazilian insisted during the press conference.
Zelensky met with several world leaders – including the G7 leaders of South Korea, Indonesia and India – during his visit to Hiroshima, where he attended the G7 summit this weekend.
According to government sources consulted by Folha de S. Paulo, The meeting time was changed three times at the request of the Ukrainian delegation With consequent last-minute changes to Lula's agenda—but in the end no one showed up for a meeting with the Brazilian president, who, according to the newspaper, He waited in the hotel conference room with Ukrainian and Brazilian flags ready for the meeting.
Zelensky himself, at a press conference, asked if he was disappointed not to meet his Brazilian counterpart, assuming that Lula would indeed be disappointed. However, he did not elaborate on the botched meeting and confirmed it "Everyone" has their "own time".Therefore, the meeting could not have taken place.
For his part, Lula said he still wanted to talk to the Ukrainian president. Not "disappointment", but "sadness"..
"But Zelensky is of legal age and knows what he's doing."Brazil's president was sentenced.
Even so, Lula assures that what happened is Without prejudice to its purpose of being an arbitral state In the conflict between Ukraine and Russia, he has questioned the intentions of both Moscow and Kiev to seek peace: "I will maintain my position. I am trying to form a bloc with other countries, with India, with China, with Indonesia, to try a policy of peace in the world.
"I feel that neither (Russian President Vladimir) Putin nor Zelensky are talking about peace now. It seems to me that both believe that someone is going to win and that there is no need to talk peace. Motion cannot be made in war. First the attacks must stop and then a negotiated solution must be found. This is how we will find peace," Lula added on Twitter.
In recent months Lula has given a Repeated misconduct in his role as mediator. For example, the Russian foreign minister's recent visit to Brazil and reports from his tour of China, in which he declared that the United States was also responsible for the war, caused deep discomfort in Western powers and Ukraine. Also, Zelensky flatly rejected Brazil's peace plan, which called for concessions from both Kiev and Moscow.
"The Ukrainian peace formula is the only plan capable of stopping the Russian war of aggression," Zelensky insisted.
Likewise, the Brazilian president also tried to downplay the matter and said he was not going to the summit in Japan. "Discussing the War in Ukraine".
"Discussions about war should take place in the UN," particularly in the Security Council, but he felt it needed reform.
"The UN no longer has the power to maintain peace in the world because it is members of the Security Council who wage war."He condemned, a thesis he had already proposed during his opening speech at the summit.
"UN If the Security Council had the power to negotiate, war between Ukraine and Russia might not happen. We need a serious institution with the weight and strength to make decisions. And this is also necessary on the climate issue," he wrote on Twitter.
ANSA and DPA agencies
Nation
"Introvert. Thinker. Problem solver. Evil beer specialist. Prone to fits of apathy. Social media expert. Award-winning food fanatic."