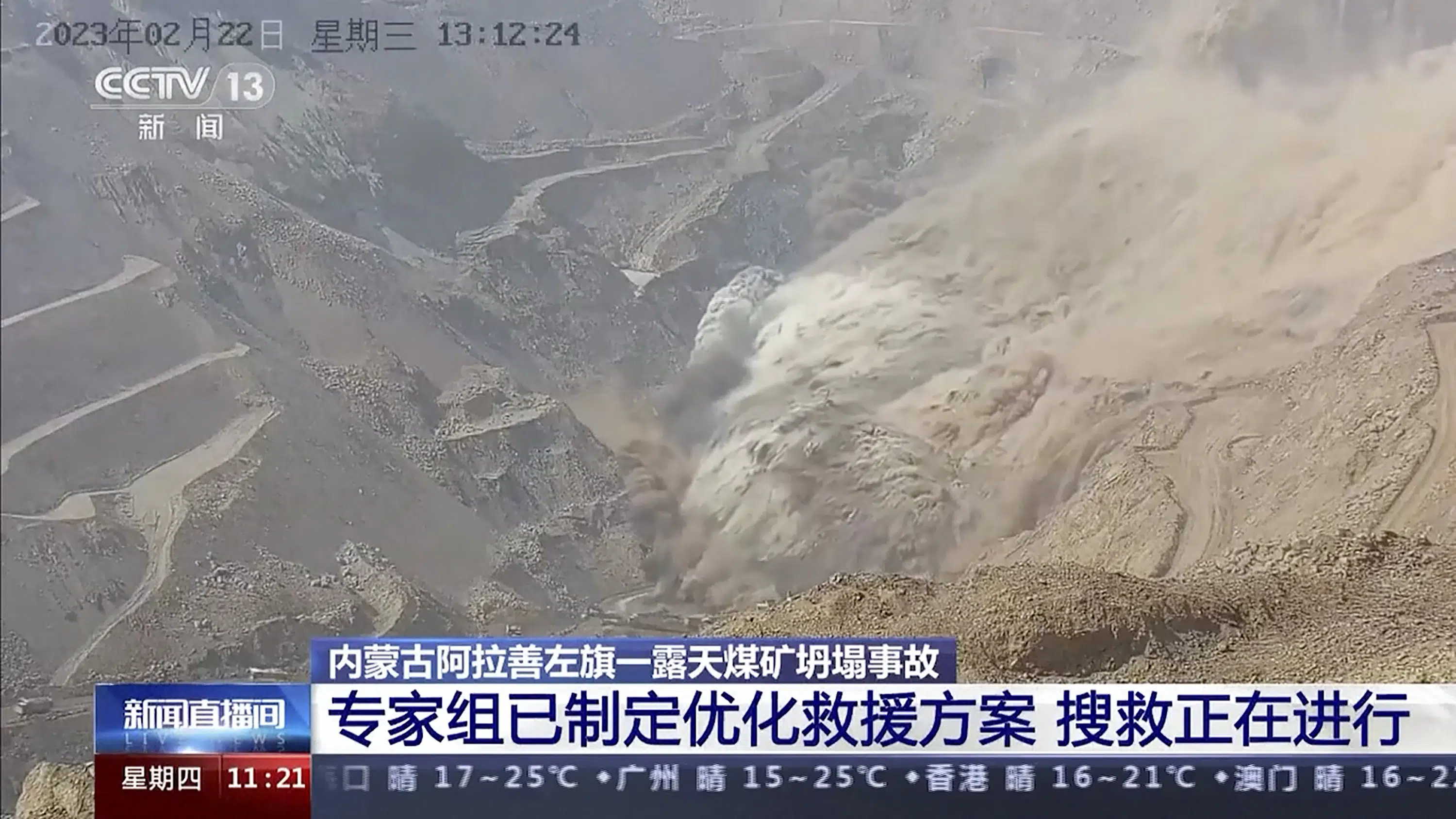 ALEXA LEG, China (AP) — Rescuers with bulldozers and bulldozers dug through tons of earth and rubble Thursday in search of the 48 people missing after a landslide buried an open-pit mine in northern China. State broadcaster CCTV reported that the death toll in the disaster had risen to five.
Conditions in the area remain dangerous, and the search had to be suspended for several hours after the second landslide at the giant facility in Aleksa Dori, Inner Mongolia.
More than a dozen bulldozers, trucks, SUVs and fire engines were seen Thursday afternoon passing through a remote police checkpoint about 25 km southwest of the mine.
Almost all of the personnel were stopped by the police and checked entry clearances before being allowed to proceed along the road to the mine.
A police officer said that only those with government approval would be allowed into the area. She said people living near the mine had been sent to live in a nearby town.
The initial cave-in hit one of the crater walls around 1:00 p.m. on Wednesday, burying people and mining trucks below with tons of rock and sand. An additional landslide followed about five hours later, suspending work.
The cause of the disaster is still under investigation.
The official Xinhua news agency said about 900 rescuers with heavy equipment were at the site and had resumed the search by Thursday morning.
Chinese President Xi Jinping has called for "all-out efforts in search and rescue" and "ensuring the safety of people's lives and property and maintaining overall social stability."
CCTV footage of the collapse showed a massive wall of debris pouring down a slope, onto people and vehicles below.
The company that operates the mine, Inner Mongolia Xinjing Coal Industry Co., Ltd. Ltd. , was fined last year for multiple safety violations ranging from unsafe roads in and out of the pit, to unsafe storage of volatile substances and a lack of training for safety personnel. , according to the news site The Paper.
Inner Mongolia is a major mining region for coal, various minerals and rare earths that critics say have decimated the region's landscape of mountains, grassy plains and deserts.
China relies heavily on coal for power generation, but has tried to reduce the number of deadly mine accidents by putting more emphasis on safety and shutting down smaller operations that lack the necessary equipment.
China has recorded a slew of fatal industrial and construction accidents in recent months as a result of poor safety training and regulation, official corruption, and the tendency of profit-seeking companies to cut corners.
Despite these high-profile accidents, the total number of industrial accidents fell by 27 percent in 2022, when a large part of China's economy was shut down under a policy not to spread the coronavirus, over the previous year, the Ministry of Emergency Management announced last month. The ministry said the number of deaths in such accidents also decreased by 23.6%.
"Travel specialist. Typical social media scholar. Friend of animals everywhere. Freelance zombie ninja. Twitter buff."