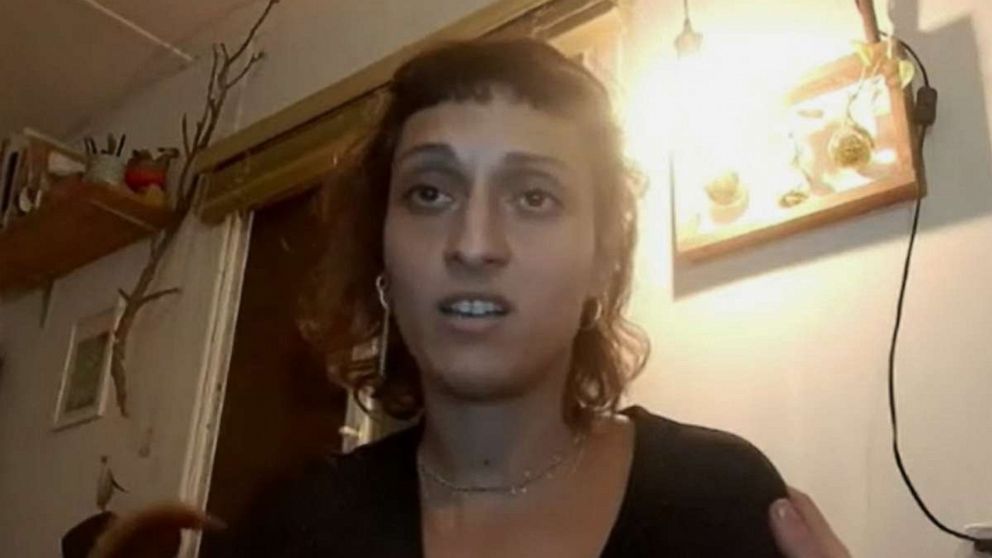 A woman who ran for her life when Hamas terrorists opened fire on festival-goers in southern Israel shares horrifying details of her survival.
Daniel Levy, who was working at the Supernova music festival when the attack occurred, recalled that dozens of terrorists "filled the sky" around 6:30 a.m. Saturday near the Gaza border, descending as the crowd was celebrating the Jewish Sukkot holiday.
"They just started shooting, and the sky was full of missiles," she said in an interview with ABC News Live.
The 31-year-old said she knew she "needed to stay in an open field" in order to survive the attack.
For the next half hour, Levi and her friends Nicole and Ellen stayed put. When they heard gunfire from a distance, Levy told her friends that they were involved in a "dangerous situation" and needed to evacuate the area.
The group went to their car, where they met a friend who was working as a security guard at the event. He told them that a "suicide bomber" had been found on the road, and urged the group to follow him and wait together.
According to Levy, the attack lasted 10 minutes, with Hamas terrorists targeting festival-goers from the east and north as they sought shelter.
"they [shot] "On us everywhere," she said. "And after that, we couldn't hide. We had nowhere to go."
As police and security guards tried to fight on the road against Hamas, Levy and her friends ran back toward the festival area.
Within seconds, the group had to make a difficult decision – either run across a field towards Gaza, where Hamas fighters would likely kill them, or hide in the trees in a eucalyptus forest.
"We decided to go into the trees," she recalls. "We were just trying to survive. They chased us for six hours."
Levy said the "suicide bombers" were always behind them, and she could hear people running for their lives and screaming as they were shot. She explained that they stayed low under the trees and removed leaves from under their shoes to avoid being heard as they fled.
"We had nowhere to hide," she continued. "It wasn't humane. They just killed everyone."
Levy relied on Google Maps for help and spoke to her uncle, an army captain familiar with handling difficult situations, begging him to send help. Acting impulsively, she also informed the police and asked them to track her phone in real time in the hope that they would help in their rescue.
By messaging friends back and forth, Levy was able to identify Hamas-occupied villages that were unsafe for him to seek refuge in.
The women hid in trees for six hours and then decided to run into an open field toward the river. As they fled, Hamas terrorists were seen traveling in jeeps, "chasing" anyone who crossed their path.
"We decided to run away," Levy said. "We had no other choice."
When they reached the river, the women took cover near some bamboo, leaning against the wall while checking to see if anyone could see them. An hour later, the group noticed a car passing by. It turned out to be the police.
"Thank God they were the real police," Levy said. He added: "Most of the suicide bombers were wearing police and soldier uniforms [could] Kidnapping and killing people on the road.
The police took the two women to an area called Batish, where they were provided with food and water, and they were able to charge Levi's phone. She credits being the only person with a phone as part of the reason they were saved.
"I was the only one who could talk to the world, ask for help, tell them where we were, ask what happened so we could get out of there alive," she said.
Reflecting on the attack, Levy, now safe at home and with her family, says she "hopes everything is okay."
"I want everyone to be okay here," she said. "We are strong. We are united."
The fighting has continued since Hamas launched its attack on Israel from the air, land and sea on Saturday. More than 200 bodies were recovered from the music festival site, according to the Israeli Rescue Service.
Israeli authorities said that at least 1,200 people were killed and 2,900 others were injured in Israel. According to the Palestinian authorities, at least 1,100 people were killed and 5,339 others injured in Gaza.
"Travel specialist. Typical social media scholar. Friend of animals everywhere. Freelance zombie ninja. Twitter buff."