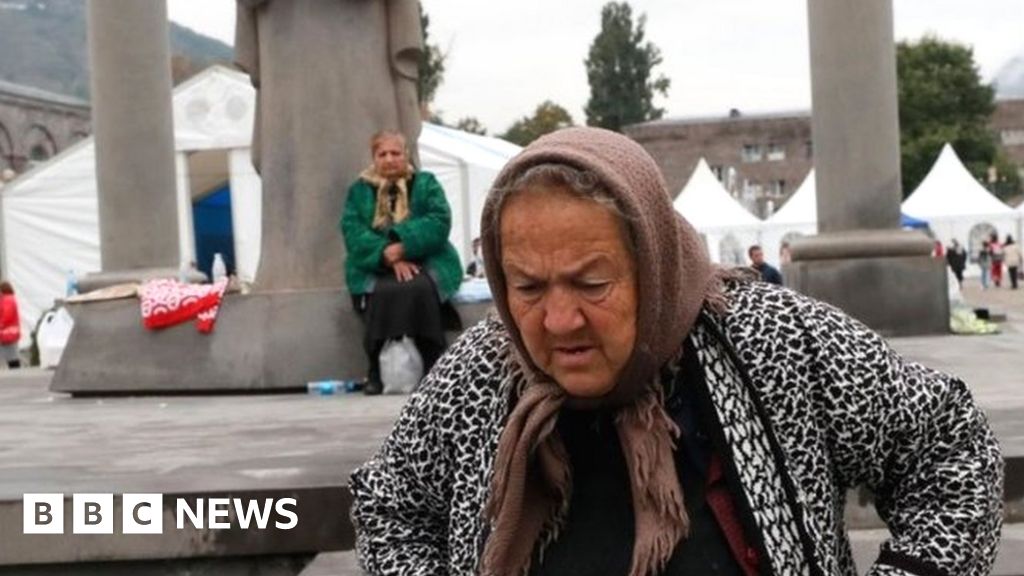 Armenia says more than 100,000 people have fled the Nagorno-Karabakh region.
This means that almost the entire population of the ethnic Armenian enclave has left since Azerbaijan took over the region last week.
Azerbaijan said it wanted to reintegrate the region and treat its residents equally, but an Armenian spokesman said that was just a "lie."
The Nagorno-Karabakh region – recognized as part of Azerbaijan – was administered by ethnic Armenians for three decades.
The mountainous region of the South Caucasus enjoys the support of Armenia, as well as its ally Russia.
At least 200 ethnic Armenians and dozens of Azerbaijani soldiers were killed when the Azerbaijani army overran the region. As part of the ceasefire agreement, the separatists agreed to surrender their weapons.
The leader of the self-declared republic of Nagorno-Karabakh said it would cease to exist in the new year.
Nazli Baghdasaryan, spokeswoman for the Prime Minister of Armenia, said that the number of refugees who entered the country during the past week reached 100,417, out of the population of Nagorno-Karabakh, which is estimated at about 120,000 people.
The United Nations High Commissioner for Refugees also reported that 100,000 people had fled, noting that many of those fleeing "suffer from hunger and exhaustion and need immediate assistance."
Artak Beglaryan, a former Armenian separatist official, said that the "last groups" of Nagorno-Karabakh residents were on their way to Armenia on Saturday.
"There are still a few hundred people at most, mostly officials, emergency services employees, volunteers and some people with special needs," he wrote on social media.
In addition to those killed during the Azerbaijani military operation, at least 170 people were killed in a huge explosion at a fuel depot in Nagorno-Karabakh on Monday.
It is not yet clear what caused the explosion that occurred near the main city of Khankendi, known to Armenians as Stepanakert.
The United Nations says it will send a mission to Nagorno-Karabakh this weekend to assess the humanitarian situation, after Azerbaijan said it would allow such a visit.
Armenia's ambassador at large, Edmond Marukyan, criticized the timing of the visit but stressed that it was important for UN officials to see for themselves what ethnic Armenians had been subjected to.
He told the BBC: "It is good that they will be there and they will witness that these people were ethnically cleansed from their ancestral homeland, from their homes where their parents were, where their ancestors lived, and these people were completely cleansed from this area." .
But he rejected Azerbaijan's assertions as a "lie."
"It is complete propaganda, another fake propaganda for Azerbaijan. No one will remain in Nagorno-Karabakh," he said.
"Travel specialist. Typical social media scholar. Friend of animals everywhere. Freelance zombie ninja. Twitter buff."