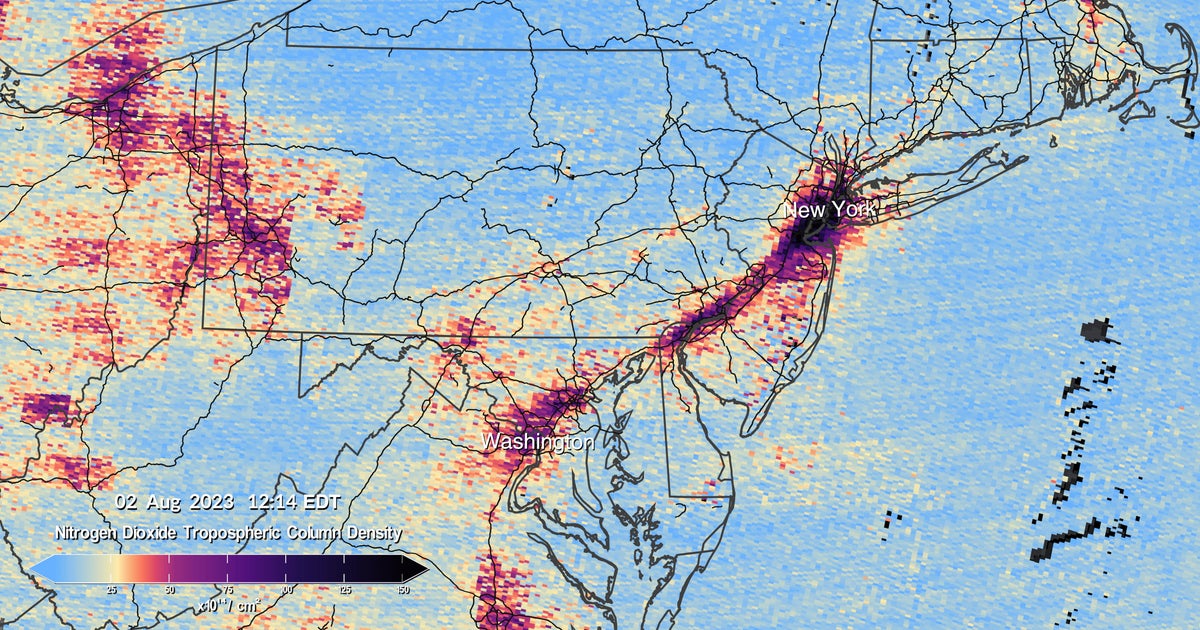 NASA has released the first data maps from a new tool that monitors air pollution from space. The visuals show high levels of major pollutants such as nitrogen dioxide – a reactive chemical typically produced when fossil fuels are burned for transportation, power generation and other industrial activities, as well as wildfires – in the atmosphere over parts of North America.
Those the picturesCompiled by NASA in a time-lapse video and released Thursday, NASA has identified several metropolitan areas in the United States, Canada, Mexico and the Caribbean as air pollution hotspots, especially during certain times of the day. Pollution maps "show high levels of nitrogen dioxide over cities in the morning, and enhanced levels of nitrogen dioxide on major highways," the agency said in a report. New release. Pollution dissipated in those areas in the early afternoon before picking up again later as cities experienced the "second rush hour of the day".
The data used to create the new NASA air pollution maps was collected on August 2. High concentrations of nitrogen dioxide have been detected in a number of US cities and their surrounding areas, including Dallas, Houston, New Orleans, New York, Philadelphia and Washington, DC.
Air pollution is observed by a photoanalyzer called Tropospheric Emissions: Pollution Monitoring, or TEMPO, which was born out of a collaboration between NASA Langley Research Center and the Smithsonian Astrophysical Observatory. The tool was launched into orbit It was launched by a SpaceX Falcon 9 rocket in April along with a communications satellite, and is currently observing Earth from 22,000 miles above the equator, according to NASA.
The TEMPO scale is the first "space instrument designed to continuously measure air quality over North America with an accuracy of a few square miles," the agency said in a statement. It measures sunlight as it reflects off the Earth's surface, clouds, and atmosphere, and helps determine how much gas is present, because atmospheric gases absorb sunlight.
The nitrogen dioxide detected by TEMPO had to rise above the clouds in order for the spectrometer to notice it, as the instrument uses visible sunlight to collect its data and make measurements. Cloudy areas appear as missing data in NASA visualizations, and TEMPO can only record air pollution during daylight hours.
After heatwaves ravaged large swathes of the world and massive Canadian wildfires depleted the air quality of millions across the United States this summer, stoking concerns about the effects of climate change, experts point to the value of TEMPO's comprehensive air pollution data bank.
"Neighborhoods and communities across the country will benefit from TEMPO's game-changing data for decades to come," NASA Administrator Bill Nelson said in a statement. This summer, millions of Americans felt first-hand the impact of smoke from wildfires on our health. NASA and the Biden-Harris Administration are committed to making it easier for ordinary Americans and policymakers to access and use TEMPO data to monitor and improve the quality of the air we breathe, benefiting life here. On the ground."
"Web maven. Infuriatingly humble beer geek. Bacon fanatic. Typical creator. Music expert."