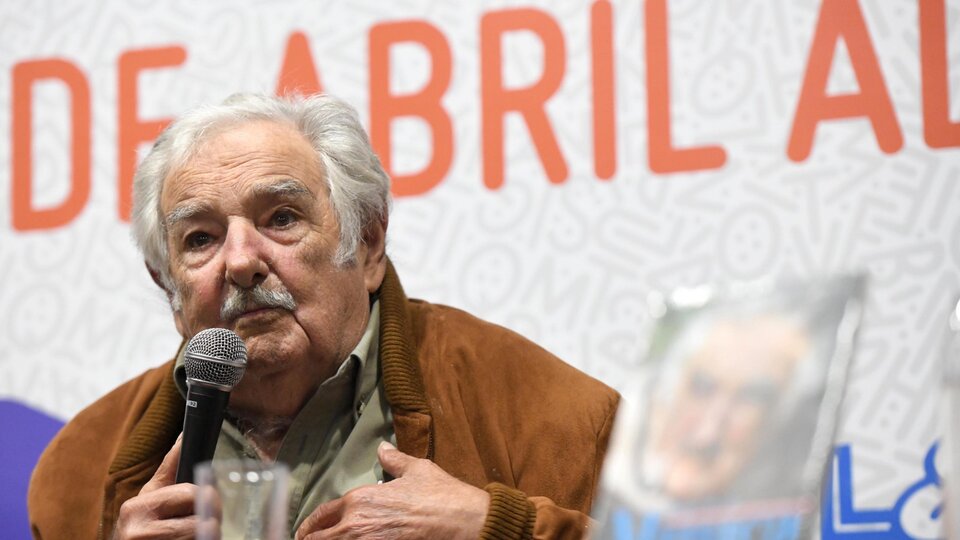 The sowing metaphor has a future perspective. And it is precisely this spirit that foreshadows the world to come that arises Seeds to the windA book that collects the thought of Jose "Pepe" Mujica With the aim of conversing with new generations. The text published by Editorial October, the text revealed from conversations with the former president of Uruguay, Mario Massio and Carlos Martel, presented at the International Book Fair this Sunday at 4:00 p.m.
The event started on time in the Carlos Corostiza room, and in front of a packed auditorium, Mujica followed his partner onto the stage. Lucia Tobolansky and Nicholas Trotta, former Minister of Education of the nation, who acted as Speaker. "Reflecting on Pepe's words" was Trotta's invitation to frame the hour-long speech. Wide front He showed his views on various concepts.
"I haven't read the book," "Pepe" said with brutal honesty, drawing laughter from the audience. "I fully believe what these guys posted is true. Because I talked to them a lot and they signed me up," he added, referring to the work of Mazzeo and Martell, who shared his militancy in the Movimiento de Liberación Nacional-Tupamaros. Conclusion: 200 pages of Mujica lectures on various topics such as capitalism, neoliberalism, the state, the armed forces, socialism, the diaspora, and Latin America.
"We're entering a powerful and paradoxical era. Because we've come a long way in technology, but we're deeply stuck in values. We're eight thousand or so people on Earth, and we have a culture that proliferates consumerism, and a culture that confuses existence," the political leader began to reflect.
At this point, Trotta introduces the resurgence of neoliberalism in the world and concerns about the institutionalization of hate speech and meritocracy. "This is the maternity period. That is why strange phenomena appear, like what is happening in El Salvador, where the government gives clubs to Troche and Moses. And whatever barbarism is committed, some people think it's okay. There is a lot of talk about freedom at this time. If this happens, they're going to steal you," he said, as the audience erupted in applause.
Regarding the much-talked about independence, the former Uruguayan president distinguishes other meanings. "They want to sell us a sense of freedom to suck our blood. But you cannot be free if you are subjected to needs that you have to hide. We are free when we spend the time of life doing what we love. We are free when we have time to cultivate our affections, but that is not a business.
And in the construction of connections, in the context of liquid love, Lucia Tobolansky also contributed her vision. "We live in a turbulent time where everything is rejected. For this reason, every time I speak to young people who are struggling, the first thing I tell them is don't ignore their partner or their family. Because that's the place to plant thoughts first. It's always a beacon of safety. There will be," said the former vice president of Uruguay.
The presentation of the book is not an excuse to think about the present with an eye towards the future. "We have to do something for those who are going to come after us. "That's why I don't share the skepticism some people have about today's youth," said "Pebe". "That's why some crazy people like us decided to make the struggle for the betterment of society the central reason for our existence. We have lived for it, we have suffered many failures. But to succeed in life we ​​have to get up and start again every time we fall.
Mujica knows exactly what he's talking about when he mentions his resume. For twelve years he was held in cruel conditions, but he assures that he was never defeated. "A large part of my personality was built on that isolation. I learned a lot. And it's a curious thing. Humans learn more from pain and failure than from success.. Because success makes us proud, but failures, if they don't undo us, make us think more deeply and humbly. In difficult circumstances, remarkable things can sprout."
The speech escaped analysis of the situation, but Trotta was encouraged to ask the senior leader about Uruguay's political future. "The broad front is going to rule again, but people will be angry. Because today people's expectations are higher than what governments can deliver. For some time now the people of the world have been voting against a government that is not clear about what they are voting for, and that is why they are voting for any wrong bullet.Mujica was shot.
As the world seeks to impose anti-politics, the ex-guerrilla turns to sources and delivers a hopeful message centered on the collective. "Will we get ahead? It's up to us. These are the basics of the book. Not all is won, but not lost. Despite all the ups and downs, the human race is always moving forward. And I know the world to come is a world of contradictions, but fairer than we know.
Mujica and Tobolansky will present a lecture on the challenges of Latin American integration this Monday at 7:00 pm in the Assembly Hall of the School of Law of the University of Buenos Aires (Figueroa Alcorta 2263).
"Introvert. Thinker. Problem solver. Evil beer specialist. Prone to fits of apathy. Social media expert. Award-winning food fanatic."