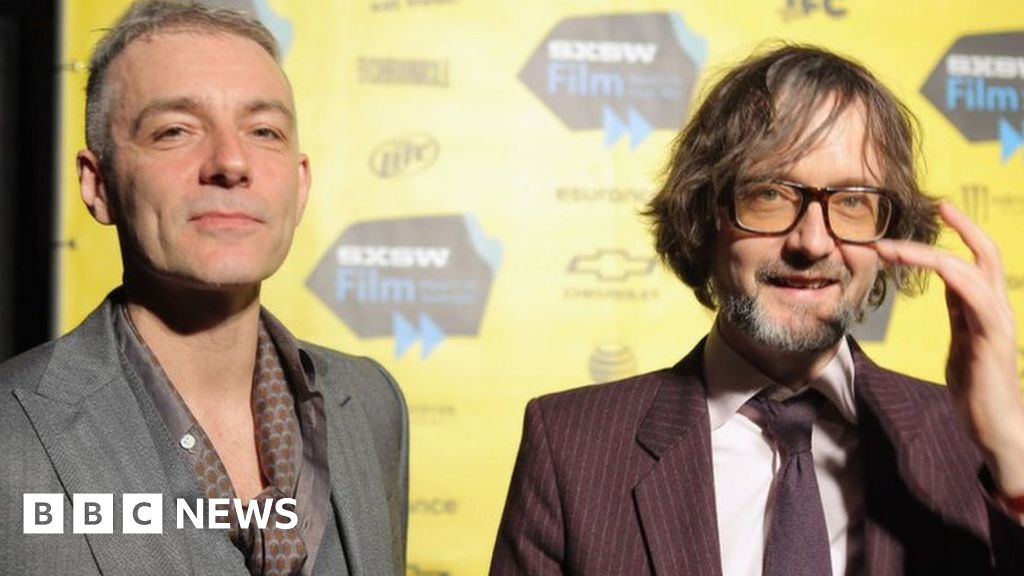 Written by Mark Savage
BBC Music Correspondent
Bass player Steve Mackey has passed away at the age of 56, his family confirmed.
The Sheffield musician has had hits including Common People, Disco 2000 and Lipgloss, after joining Pulp in 1989.
His wife, Katie, posted a message on social media Thursday, saying he had been in the hospital for three months with an undisclosed illness.
"We are shocked and devastated to say goodbye to my brilliant and beautiful husband," she added.
"Steve was the most talented man I knew, and an exceptional musician, producer, cameraman and director.
As in life, he was adored by everyone who crossed his paths in the many creative disciplines he conquered.
"I would like to express my heartfelt thanks to all the NHS staff who have worked tirelessly for Steve. He will be missed beyond words."
Skip Instagram content, 1
Allow Instagram content?
This article contains content provided by Instagram. We ask your permission before uploading anything, as they may use cookies and other technologies. You may like to read Instagram Cookie Policy And privacy policy before admission. To view this content, choose "Accept and Continue".
The end of Instagram content, 1
Pulp posted their own tribute shortly afterwards, informing fans that their "beloved" bass player had passed away Thursday morning.
They shared a photo of the musician from their 2012 tour, spending a day in the snow-capped Andes.
"We had a day off and Steve suggested we go climbing," the band said. "We did it and it was an absolutely magical experience.
"So much more charming than staring at a hotel wall all day (which we might have done otherwise).
"Steve made things happen, in his life and in the band. We'd very much like to think he's back in those mountains now, on the next leg of his adventure."
Skip Twitter content, 1
Allow Twitter content?
This article contains content provided by Twitter. We ask your permission before uploading anything, as they may use cookies and other technologies. You may like to read Twitter Cookie Policy And privacy policy before admission. To view this content, choose "Accept and Continue".
Twitter content end, 1
Pulp is set to return on tour this summer for a series of reunion shows.
McKee opted out of the concerts, telling fans that he had decided to focus on "music, filmmaking and photography projects" instead.
Massive Attack, another British hit of the '90s, paid homage to him by sharing a black-and-white photo of McKee, while quoting a lyric from his band's track Sorted For E's & Wizz.
Skip Twitter content, 2
Allow Twitter content?
This article contains content provided by Twitter. We ask your permission before uploading anything, as they may use cookies and other technologies. You may like to read Twitter Cookie Policy And privacy policy before admission. To view this content, choose "Accept and Continue".
Twitter content end, 2
Born in Sheffield in 1966, the musician attended the school with another Pulp alumnus, Richard Hawley.
He joined the band in 1989—a decade into their career—and first appeared on their third album, Separations.
After signing to Island Records in the early 1990s, the band hit the big time with classic albums including His 'N' Hers and Different Class, where superstar Jarvis Cocker became one of the most beloved figures of the Britpop era.
Speaking to Pulp's official website in 1996, Mackey said he had been enjoying the ride to fame.
"I think if you're in a famous band you might as well enjoy it." He said.
"It's what we've always wanted to do and I don't think there's anything wrong with being silly. You might as well throw away a golden opportunity – you might as well be a librarian your whole life."
Skip YouTube content, 1
The end of YouTube content, 1
After the band's hiatus in 2002, McKee co-wrote and produced songs for artists including M.I.A. (Galang, Sunshowers), Florence + The Machine (Kiss With A Fist) and Arcade Fire (Everything Now).
He also had a cameo role in 2005's Harry Potter and the Goblet of Fire, as one of The Weird Sisters – a rock band that also includes Jarvis Cocker and Radiohead musicians Johnny Greenwood and Phil Silway.
The group is set to play a series of festivals in summer 2023, including the Isle of Wight, Latitude and Transmit.
He has also shot and directed campaign images and motion ads for several leading brands including Miu Miu, Marc Jacobs, and Armani.
Advertising and art exhibitions
McKee teamed up with Pulp again for their reunion in 2012; She also co-curated the Frieze Art Fair in London for a number of years in the 2000s.
The designer and founder of the magazine, Katie Grand, married in 2009. Mackie also left a son, Marley, who was born in 1996.
"Freelance entrepreneur. Communicator. Gamer. Explorer. Pop culture practitioner."