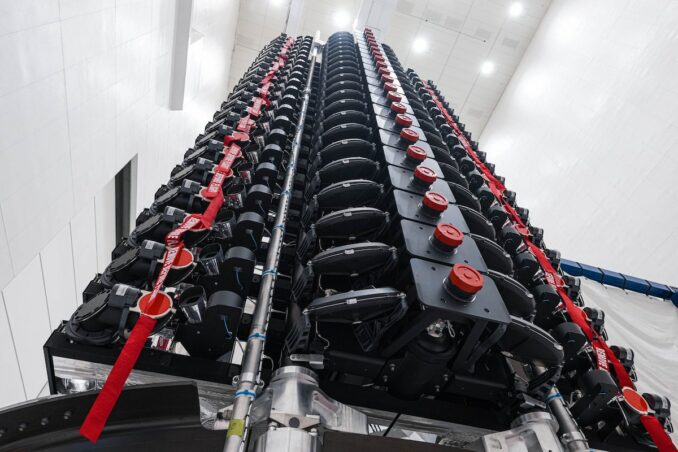 The first of two Falcon 9 missions SpaceX plans for Sunday into orbit will carry the largest constellation of second-generation Starlink satellites ever to be launched from the West Coast. This will be Starlink's 50th launch of the year.
The Falcon 9 rocket is scheduled to lift off from Space Launch Complex 4 East (SLC-4E) at Vandenberg Space Force Base in California at 2 a.m. PT (5 a.m. EDT/0900 UTC) with 22 satellites on board. Backup launch times are available at 2:50:40 AM PDT (5:50:40 PM EDT / 09:50:40 UTC) and 3:08:40 AM PDT (6 :08:40 AM EDT / 10:00 AM EDT). 08:40 UTC).
Spaceflight Now will provide launch coverage on the launch pad's live stream 24 hours a day, 7 days a week.
The California launch on Sunday will be followed by another Starlink delivery mission carrying 23 satellites, which will launch from Pad 40 at Cape Canaveral Space Force Station at 7:45 p.m. EDT (2345 UTC).
The Starlink 7-6 mission will be the first time the Falcon 9 has carried 22 satellites, called V2 Mini, from the West Coast. Previously, missions from there were limited to 15 or 21 Starlink vehicles, depending on the orbit. On the East Coast, the Falcon 9 launched 23 V2 Minis a week earlier on October 21, one more than the previous maximum for a mission from the Cape.
SpaceX did not explain how it achieves this additional delivery capacity. This may be due to improved Falcon 9 rated performance or perhaps a manufacturing change that reduced the overall weight of the satellites.
The Falcon 9 first stage rocket, tail number B1075, is making its seventh flight. It entered service in January of this year carrying 51 older generation Starlinks into orbit. It went on to launch the Tranche 0 Flight 1 mission for the US Army Space Development Agency, and then made four more Starlink delivery flights. It last flew on September 25, taking 34 days.
After separating from the Falcon 9 second stage, B1075 will continue to land on the Of Course I Just Love You drone, which will be stationed in the Pacific Ocean off the coast of Baja California.
The 22 Starlink satellites will be launched from the second stage after just over an hour of flight. The successful deployment will bring the total number of Starlink satellites in orbit to 4,989, according to Statistics compiled by Jonathan McDowell.
If this launch continues on time, SpaceX will have completed 25 orbital missions from Vandenberg in the last 365 days, an average of one launch every 14.6 days. Including launches from Cape Canaveral, this will be SpaceX's 89th orbital mission in the last 365 days, a launch every 4.1 days on average.
"Web maven. Infuriatingly humble beer geek. Bacon fanatic. Typical creator. Music expert."