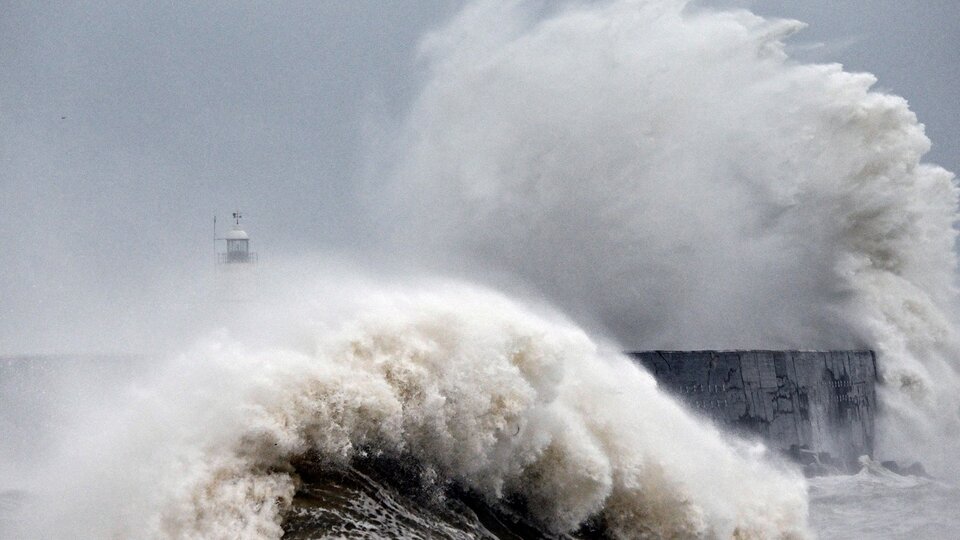 The Ciaran storm let go Seven people died in Western Europe This Jupiter, hit various countries in its path Wind gusts of up to 200 km/h caused power outages and severe disruption to transport networks.
About 1.2 million households are without electricity at night, of which 780,000 are located in the French region of Brittany (West). By noon, nearly a million were without supply.
In Ghent, Belgium, A five-year-old girl died in a falling tree While playing and A 64-year-old woman She was walking through the park with her seriously injured husband and daughter.
For the same reason, A lorry driver also died in your vehicle French Department of the Aisne (North-East), and the French authorities also declared A man has died after falling from a balcony in the port city of Le Havre.
Further A man died in the Dutch city of Venre, a woman in central Madrid and a person in Germany after falling trees.
"Wind speeds in Brittany were exceptional and many records were broken," French national weather service Météo-France announced on social network X (formerly known as Twitter).
In the northwest of France, during the night from Wednesday to Thursday, Winds gusted to 200 km/h in FinisterreAt the end of the Brittany coast.
In Spain, the northwest of the peninsula was the hardest hit, where authorities urged citizens to take extreme precautions. Parts of the Galicia region, mainly on the coast, were at red alert level, indicating a serious risk due to strong winds. According to Spain's meteorological agency (Aemet), parts of the coast of the Basque Country were also on red alert, with waves reaching 8 or 9 metres.
Thirteen flights were canceled at Bilbao airport and five at airports in Galicia, Asturias and Cantabria, airport manager Ena indicated. A few trains were disrupted in the northern coastal areas.
"nothing"
In France, 16 people were injured, including one serious and seven firefightersThis Thursday Home Secretary Gerald Dorman pointed out in X.
The three French departments of Finistère, Côtes-d'Armor and Manche were on red alert for storms at midnight, the highest level, which was downgraded to yellow on Thursday.
"I didn't sleep much, last night was violent, I've never seen anything like it. Trees are falling everywhere," Yves Robin, mayor of Porspoder in Finisterre, told AFP.
This Thursday, the storm continued its northward path. Part of the train service in Belgium was disrupted, while the rest of the trains ran at reduced speeds.
In Cornwall, southern England, huge waves of up to 135 km/h battered the coast, leaving more than 8,500 homes without power. Hundreds of schools across the region have been closed.
Most sea traffic from the port of Dover was suspended in the morning and 35 people were evacuated to hotels on the island of Jersey as homes were damaged by 160km/h winds, police said.
The Netherlands also warned of gusts of up to 110 km/h Around 200 flights were canceled at Amsterdam's Schiphol Airport.
Eurostar, which operates trains between the Netherlands, Belgium, France, Germany and the United Kingdom, said services could be "disrupted" and Passengers were advised to postpone their journeys if possible.
"Introvert. Thinker. Problem solver. Evil beer specialist. Prone to fits of apathy. Social media expert. Award-winning food fanatic."