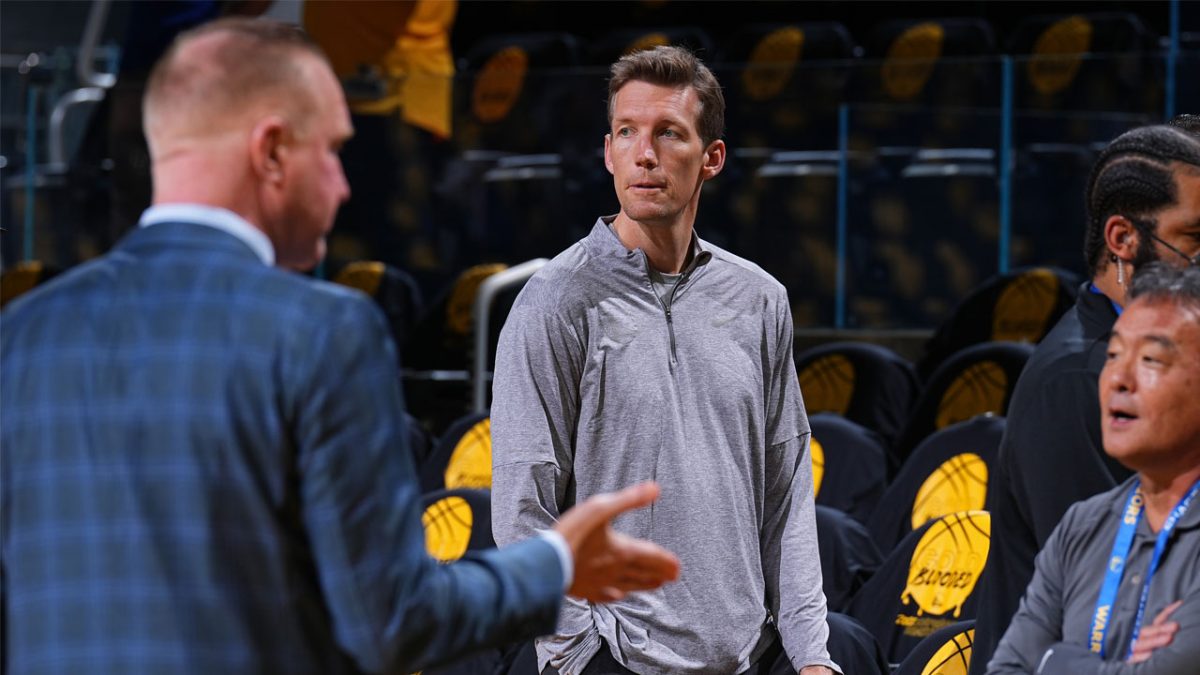 As time went on and anxiety grew, the Warriors' only substantial concern on the eve of free agency was getting Draymond Green signed on the dotted line. Everything after that is a garnish.
If Draymond signs, first-year general manager Mike Dunleavy and longtime coach Steve Kerr are practically assured of avoiding the pesky upsets of last season.
From frequent injuries to excused absences, from managing loads to sheer desperation, one of the sordid facts about the 2022-23 Warriors is that continuity was popular. Kerr has drawn 25 different starting lineups in the regular season, and five different lineups in 13 playoff games.
No serious competitor relies on two-way players getting important minutes in crucial matches, but that was the case with Anthony Lamb and T Jerome. Not because Kerr and his staff adored them but because they were desperately filling roster gaps and these two have earned more trust with veterans than with their younger colleagues.
If Kerr loses a bit of hair and adds a few worrisome wrinkles, it could be related to spending 95 incessant surfing of a game of roulette.
That was handled so carefully and quickly that next season's rotation, assuming Draymond's inclusion, was decided more or less three months before training camp: Stephen Curry and Klay Thompson at guard, Andrew Wiggins and Green up front, Kevon Looney at center.
Furthermore, on the bench already has Chris Paul as her starting point guard, Gary Payton II as her defensive back and utility man, Jonathan Cumminga as her hyper-athletic winger and Moses Moody as her easy point guard/striker.
Golden State has a nine-man rotation before either starter—both of whom Dunleavy expects to be on the 14-man roster—has touched the ground.
First round pick Brandin Podziemski draft pick as the starting shooter, while second round draft pick Trayce Jackson-Davis brings a defensive mindset and ability to finish in the paint.
"Our list is in a good place," Dunleavy said last week. "We don't have a lot of decisions to make."
Now understand, that was the GM's freshman assessment before the draft – and while you know but don't acknowledge that dynamic guard Jordan Paul will be a valuable business asset.
So free agency is about filling in the edges. It's about finding veterans with at least one identifiable skill and getting them to sign a minimum contract. Sure, there's always a chance, maybe a good chance, that one or two could take the place of one of the nine players mentioned earlier and break the rotation.
But the Warriors, staring at a luxury tax bill that will push payrolls beyond $400 million, are highly unlikely to do anything extravagant. Unless that was the case, the negotiations with Draymond hit an irreconcilable wall.
Assuming they don't, Kerr's only concern is managing the minutes and loading his Over-30 team. Paul is 38, Curry is 35, Thompson and Green each have 33. None of them are likely to go over 75, and Paul is close to 60.
Which indicates the only expected caveat: the mileage. With mileage/age comes regular maintenance and an increased risk of injury. Dr. Rick Ciprini, whose management of Otto Porter Jr. two seasons ago was nothing short of amazing, would be just as valuable as any player on the roster.
Celebreni's history is enough to give the warriors confidence in his operation.
If Mike Dunleavy seems a little too comfortable for someone who was promoted 10 minutes ago, it's because he's confident about what the roster with Draymond will look like.
Related: Moody Gives Honest Reaction to Warriors' CP3-for-Poole Trade
He's also confident that CEO Joe Lacob won't sit on his hands in the unlikely event that Draymond goes elsewhere.
"A lot of all of our challenges can be worked out, whether it's an aging slate, a new CBA with some restrictions in there, or whatever else you can come up with," Dunleavy said last week. "We know all of these things.
"But we also feel like we're in a great place because we have a competitive owner that's willing to spend, an associated group, that has good synergies, good operations, and good, sound decision making. We feel confident in our ability to navigate."
Simply put, the Warriors can look at their current roster and know they have one big goal in the days to come, and that is to secure Draymond.
Do that, and let training camp separate those who will be in the rotation from those who provide the bench decoration.
Download and follow the Dubs Talk Podcast
"Devoted travel trailblazer. Freelance beer scholar. Passionate analyst. Hardcore twitter fanatic."