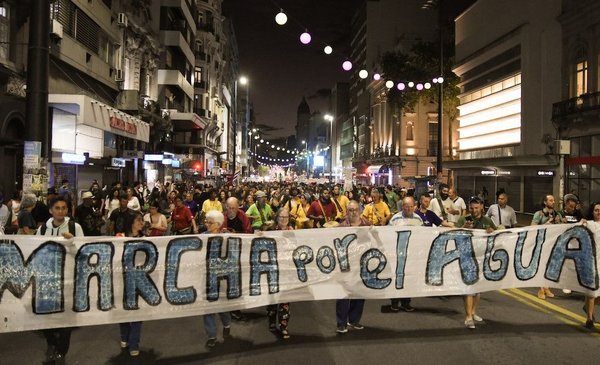 "There is water for 18 days", State Sanitary Works (OSE) President Raul Montero warned this Tuesday. The water crisis in Uruguay began to be felt last November, when the lack of rain was already strongly felt at the Paso Severino dam: It went from 65 million cubic meters to a historic low of 6.5 million. In other words, it has only 10 percent of its maximum flow. OSE requested the Ministry of Health to defuse the situation Replace the maximum permissible level of sodium chloride in the water going to households. This move raised awareness among the people, not just realizing it Salty taste of water, on the other hand saw the change of color and pushed them out on the streets for eight consecutive days demanding an abatement of this situation. The opposition Frente Amplio, for its part, held a sit-in that lasted more than six hours to question the officials responsible for the administration.
Affects the situation More than two million people -more than half of the country's population- from Montevideo, after all.
"OSE water is not potable, but it is drinkable", Uruguay's Environment Minister Robert Bouvier told reporters. Earlier, on May 4, the Ministry of Public Health announced a change in regulations governing water treatment by OSE: it raised the permissible chloride level from 300 milligrams per liter to 700; and sodium 200 to 400, for 30 days. This is reported by the portal viewer, In response to the request The water mixes with water received from the lower reaches of the Rio de la Plata.
This result "Violates" the Constitution And Contravenes human rights treaties Condemnation from Environment and Human Rights Committee – UNESCO Human Rights Chair, University of the Republic (Udelaar), Last May 10. They are not the only ones. On social media, claims with videos and photos of brown water coming out of taps went viral. From the Workers' Trade Union Conference – National Workers' Conference (PIT-CNT), the trade union, They have called for the next May 24th to mobilize in "conservation of water".. "We absolutely disagree with political action," they pointed out from the Udeler Social Science Student Center. And they denounced water resources as "commoditized, displacing the perception of water as a basic human right".
Meanwhile, the opposition Frente Amplio has called Congress to question the environment minister. Earthling; and health, Karina RandoA meeting attended by the OSE Board.
Actions taken by Govt
Actions to be taken to face water scarcity announced Tuesday night without the presence of the President, Louis Luckall Bowe. In front of them, National Emergency Organization Director JI dared Maria Delgado; Social Development Ministers, Martin Motto; public health, random; and environment and Earthling. "Uruguay faces worst water shortage in 74 years since records were taken"Delgado agreed.
Building a reservoir in Passo Severino, they said, would allow the work to maintain water levels and quality.
The government will take over the desalination plant designed by the Technical University of Montevideo (UTEC), which will start operating next week.
An agreement will be drawn up between OSE and the Congress of Mayors to speed up the repair of losses in pipeline networks.
Incentives for "responsible use of water" are being discussed with the Ministry of Economy.
OSE will set up a plant to manufacture water packets, which will be distributed among people in socially vulnerable situations. Work is underway on an alternative project to provide safe and sustainable drinking water with an investment of $250 million, known as the Azarati or Neptuno project, which has been questioned as a private initiative.
Bottled water prices will be monitored and necessary measures will be implemented against potential imports if required.
These policies are in addition to those adopted a week ago at the Childhood Care Centers (CAIF) throughout the country, Uruguay's Institute for Children and Adolescents (INAU) and 467 schools in the metropolitan area. Today there is optimal access. Quality bottled water. In the same sense, two liters per person per day, pregnant women, children between 0 to 2 years, chronically ill and patients of National Resource Fund are guaranteed. Ministry of Development.
"In the current situation, water supply will be maintained for the entire population till the rains come." Delgado said then. Frente Amplio Mayor of Montevideo, Caroline GosseFor his part, He also made announcements to mitigate the effects of the crisis in terms of transparency, reduced consumption, improved access to potable water and management.. Along these lines, he declared a "state of alert" and created a crisis committee. In addition, it prohibited the use of OSE water for washing sidewalks and cars, as well as for irrigation, and in parallel, measures to protect households from these types of activities. He also announced an estimate of tax cut on bottled water.
intervention
"The greater advantage for us was to preserve the bacteriological quality, and we abandoned two parameters precisely set by sensory criteria", Montero argued during more than six hours of interpolation that he held a wide lead in Congress. The Environment Minister and the Health Minister were there, however, as they pointed out viewer, It will not have major political consequences as the coalition government has the necessary number of legislators to give back to its officials. Anyway, he insisted on it "Although these two parameters of sodium and chloride are not met," OSE's water is "adequately and properly treated."
Crude than Montero, the Minister of Health was: "100g of potato chips contains sodium equivalent to 7 glasses of water", He said he was defending himself. "The WHO guidelines for sodium intake state that the maximum recommended intake for adults is 2,000 mg per day. We can say that avoiding small amounts of these foods can completely complement or replace water intake from the OSE". Minister. At the same time, he examined the proposed contingency plan.
"Drinkable water consumption could have avoided the crisis. In October they declared an agricultural emergency due to drought, followed by 10 weeks of silence from the people regarding water management. Aggressive boycott", the Broad Front demanded from the Congress. Along these lines, they condemned the "transparency and mismanagement of the water crisis".
"Introvert. Thinker. Problem solver. Evil beer specialist. Prone to fits of apathy. Social media expert. Award-winning food fanatic."