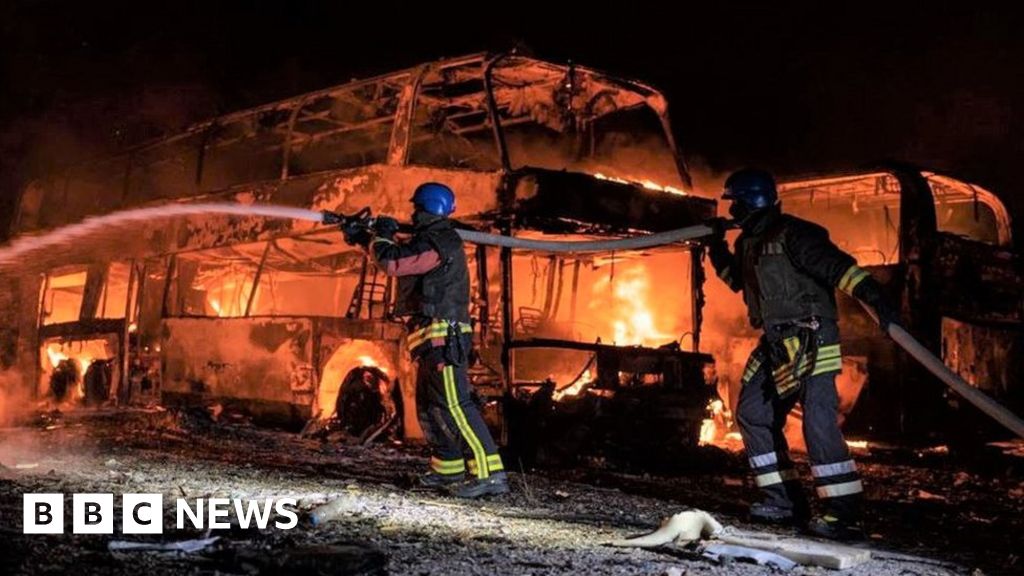 By Hugo Bachiga in Kiev and Catherine Armstrong in London
BBC News
The Ukrainian capital, Kiev, was subjected to more Russian air strikes, which one official described as "extraordinary in intensity".
Ukraine said 18 missiles were shot down, and footage showed air defenses destroying targets over the city.
Officials said that at least three people were injured during the barrage of drones and missiles.
Russia has stepped up its air campaign in recent weeks, ahead of an expected Ukrainian attack in the south.
The air raid alert went off at around 02:30 local time (23:30 GMT Monday) and was raised two hours later in the eighth attack on the capital this month.
An unusually large number of explosions were heard in the city centre, with authorities informing residents in online messages that air defense had been activated.
The commander of the Ukrainian Armed Forces, Valery Zaluzhny, said that Russia attacked Kiev from the north, south and east, and 18 air, sea and land missiles were used.
Serhiy Popko, head of the military administration of the Ukrainian capital, called the bombing "the largest number of offensive missiles in the shortest period of time."
"According to preliminary information, the vast majority of enemy targets in Kiev airspace were detected and destroyed," he added.
Kievans were warned to stay away from windows as debris from interceptors fell from the sky.
Mayor Vitali Klitschko said the missile debris fell in central areas, including in the city zoo. No animals or workers were injured.
The Solomyansky district, which includes the international airport, was reportedly the hardest hit.
A fire that broke out in a non-residential area of ​​the area has since been put out, Mr. Popko said.
Russia's resumption of strikes on Kiev earlier this month came after more than 50 days of lull. The Ukrainian authorities believe that Moscow's strategy is to deplete the air defense systems, which have been extremely successful in intercepting most of the launched missiles and drones.
In the past few days, President Volodymyr Zelensky has been on a European tour, where Western allies have promised him military equipment worth several billion dollars, including British Prime Minister Rishi Sunak and French President Emmanuel Macron.
Since Russia invaded Ukraine, thousands of civilians and combatants have been killed or wounded, cities and towns have been destroyed in the fighting, and nearly 8.2 million Ukrainians are registered as refugees in Europe, of which 2.8 million are in Russia.
"Travel specialist. Typical social media scholar. Friend of animals everywhere. Freelance zombie ninja. Twitter buff."