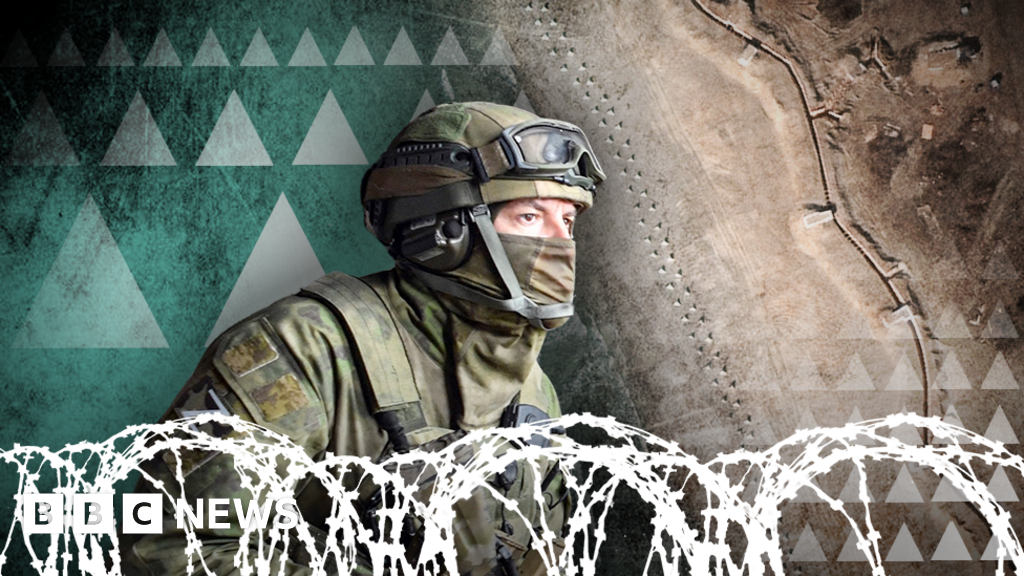 Written by Daniel Palumbo and Erwan Rivault
BBC Check
A fortified beach resort. Main road surrounded by anti-tank trenches. Satellite analysis by BBC Verify has revealed some extensive defenses that Russia has built up as it prepares for a major Ukrainian counterattack.
After months of stalemate, the expected offensive is likely to be a crucial test for Ukraine as it seeks to prove it can make significant gains on the battlefield with the weapons it received from the West.
By examining hundreds of satellite images, the BBC has identified some key points in the massive buildup of trenches and other fortifications in southern Ukraine since October.
These four sites provide insight into what Russia can expect from the counterattack, and what defenses Ukrainian forces might face.
1. The western coast of Crimea
Russia captured Crimea in 2014, and it was previously known for its beach resorts.
Now, instead of sun loungers and parasols, the 15-mile (25 km) coastline is dotted with defensive structures erected by Russian troops.
The photo below shows the only open sandy beach on the west coast without natural defenses such as cliffs or hills.
First, there are "dragon's teeth" along the beach: pyramidal-shaped concrete blocks, designed to block the path of tanks and other military vehicles.
Behind them, a line of trenches provided cover from incoming attacks. Numerous bunkers can also be spotted along the trenches.
Piles of lumber, digging machines and stores of dragon's teeth along the coast indicate that construction work was still in progress when the image was taken in March.
Some military experts suggest that the defenses are more likely a precaution, rather than a sign that Russia expects to defend from a naval attack, since Ukraine has little naval capability.
"Fortifications would likely be in place to deter any daring Ukrainian operation to attack Crimea from across the sea rather than by land," says intelligence analyst, Leila Guest.
The beach fortification is just one example of an extensive network of trenches, as indicated by the black dots in the map below, based on the work of open source analyst Brady Afric.
BBC Verify was able to identify other key fortification sites by locating individual trenches from videos on social media.
Once the exact location was discovered, it was possible to trace the entire network of trenches using satellite imagery.
2. Tokmak
The small city of Tokmak lies on a major road in the southeast of the country that Ukrainian forces may want to use to isolate Crimea from other Russian-controlled territories.
There were reports that Ukrainian civilians were moved in order to turn the city into a military fortress. This would provide the soldiers with access to supplies and a base to retreat to.
The satellite image above shows that a network of trenches has been dug in two lines north of Tokmak – the direction Ukraine should attack from.
Behind these trenches is another ring of fortifications around the city, with three layers of defenses that can be clearly seen in this satellite image.
The top part of the satellite image shows an anti-tank crater. They are usually at least 2.5 meters deep and designed to catch any enemy tanks trying to cross.
Behind the ditch are several rows of dragon's teeth and another trench network.
But Ukrainian forces are likely to face more traps.
It is very likely that the mines are also hidden between the three lines of defense of the Tokmak, says Marc Cancian of the Center for Strategic and International Studies.
"Minefields are an essential part of every defense, and the Russians have used them extensively throughout the war.
"Here it will be large and better hidden, slowing down Ukrainian attacks so that other combat elements, such as artillery and infantry, can strike the attacking forces."
BBC Verify also discovered that three other towns near Tokmak were similarly fortified.
3. Highway E105
A line of trenches and anti-tank ditches now runs along a 22-mile (35 km) stretch of the main E105 highway, west of Tokmak.
The E105 is strategically important, as it connects Russian-controlled Melitopol in the south with the northern city of Kharkiv, which is controlled by Ukraine. The side that controls it can easily move troops around the area.
If Ukrainian forces attempt to use this route, Russia will likely target it with heavy artillery from behind its defences. The Russia site is also within range of another nearby road – T401 – which could also be targeted.
"The Russians are concerned about the Ukrainian armored units that have been built recently. If these units have access to a major highway, they can move very quickly," Kansian says.
The Russian defenses are intended to get them off the roads and thus slow them down.
4. Rivnopil, north of Mariupol
The port of Mariupol is strategically located between the Russian-occupied territories in the east and Crimea in the south. It also became a symbol of resistance to the invasion when hardline fighters held out for months while the city was surrounded.
As Russia expects Ukraine to try to retake it, BBC Verify decided to look at the area around the city – which led to the discovery of a cluster of circular trenches.
Located near the small village of Rivnopil about 34 miles (55 km) north of Mariupol, each circular trench had a mound of soil in the centre, possibly either to protect the artillery or to keep the guns stable.
Meanwhile, circular trenches allow soldiers to take cover and move artillery so that it can aim in any direction.
It shows Russia preparing to defend open areas (without the natural protection of hills and rivers) along with the wider trench network.
But some analysts suggest that Ukrainian forces could use similar satellite imagery and drone surveillance to identify and bypass many of these defences.
"It is possible that the Russians will attempt to direct Ukrainian forces through certain routes heavily mined and previously targeted by Russian artillery," says Alexander Lord of strategic consultancy Sibylline Ltd.
Satellite images show clear defenses – but this may all be part of Russia's plan.
Additional reporting by Tom Spencer
What questions do you have about this investigation? Daniele Palumbo and Erwan Rivault, together with Ukrainecast presenter Vitaly Shevchenko, will answer a selection of your questions on Monday 22 May.
In some cases, your question will be posted, displaying your name, age, and location as you submit it, unless you indicate otherwise. Your contact details will not be published. Please make sure you have read Terms and Conditions And privacy policy.
Use this form to ask your question:
If you are reading this page and cannot see the form, you will need to visit the mobile version of the BBC website to submit your question or email it to [email protected]. Please include your name, age, and location with any question you submit.
"Travel specialist. Typical social media scholar. Friend of animals everywhere. Freelance zombie ninja. Twitter buff."