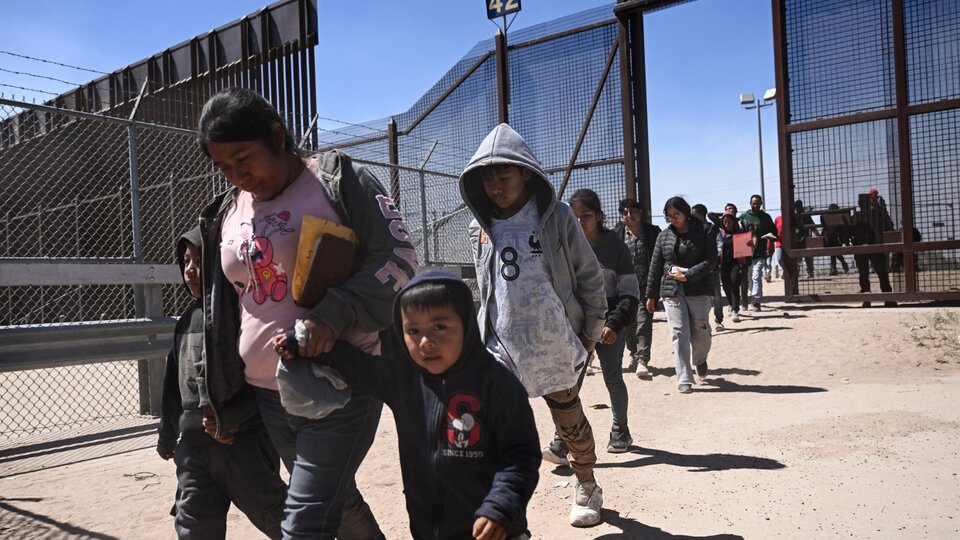 President Joe Biden's administration will restrict asylum at the U.S. border with MexicoA health regulation that allowed nearly all undocumented immigrants to be deported will take effect with restrictions on Thursday when it is repealed. "Those who did not use legal means to enter the United States are not eligible for asylum"The Secretary of Homeland Security explained, Alejandro MayorkasWhen you realize this new rule that will come into force at 23:59 on Thursday. At the time The so-called Title 42 expiresA regulation implemented during the pandemic allows automatic deportation of almost anyone who enters the country without a visa or the necessary documents to enter.
Details of the new law
Those "ineligible" immigrants will be deported unless they demonstrate a "reasonable fear of persecution." Mayorkas said they have the option to rebut the presumption of "ineligibility for asylum" in "extremely limited circumstances" in their country of deportation. The government requires immigrants to activate the CBP One mobile application or in countries of destination before arriving in the United States.
There are some exceptions to the asylum restrictions: if they are unable to access or use the mobile app due to a language barrier, illiteracy, or technical glitch, if they have applied in at least one other country and been denied, or in "must" exceptional circumstances, list the Department of Homeland Security (DHS) in a report. They also do not apply to unaccompanied children.
When the government proposed the rule last February, NGOs compared it to a move by former Republican President Donald Trump in 2019 to try to block the arrival of migrant traders. The courts blocked it. From its implementation in 2020 to the end of March 2023Title 42 Almost 2.8 million requests were made to deport immigrantsAccording to the Bureau of Customs and Border Protection.
"We have been very clear that our border is not open, irregular crossings are illegal, and those who are not eligible will be turned back "quickly," Mayorkas said. On Tuesday night, Biden acknowledged that he was predicting a complicated situation. "It's going to be confusing for a while."He said BidenIts government has taken a more moderate stance in recent months, proposing what it calls "legal pathways."
The U.S. administration is trying to convince immigrants in these ways, such as making an appointment through a mobile application, seeking a family reunification permit, or taking advantage of a program that allows 30,000 people a month to enter from Venezuela, Nicaragua, and Cuba. Haiti for humanitarian reasons.
A tense situation at the border
Secretary Mayorkas said the government anticipates apprehensions of "huge numbers" of irregular migrants at its border with Mexico, noted that DHS personnel, facilities and border communities are under "incredible pressure," and predicted that the government-initiated program would yield results. It takes time.
"They make things very difficult for you"He informed AFP Michael, a 35-year-old Venezuelan mason who did not want to give his last name after trying in vain to make an appointment through a mobile application from Ciudad Juárez, Mexico. Once the health provision expires, immigration policy will be governed exclusively by Title 8, a decades-old immigration provision that allows the deportation of anyone who enters the country without a visa or required documentation.
In Tijuana alone, on the border with California, thousands of migrants of various nationalities, including entire families and children, gather between the border walls. Thursday night approached Title 42 to seek humanitarian asylum in the United States. Since last weekend, the camp has included people from Colombia, Venezuela, Peru, Haiti and Honduras, as well as people from as far away as Turkey and Bosnia, as well as Mexicans from the violent southern states of Michoacán and Guerrero. Organized crime displaces them.
"Quick Exits"
To address the challenge of suspending Title 42, Washington has more than 24,000 Border Patrol agents and 1,100 new Border Patrol coordinators.. It will have hundreds of police officers from other agencies of the Department of Homeland Security, 400 volunteers and a thousand people responsible for so-called "credible fear" interviews to determine whether the person is likely to be persecuted or tortured if returned to their country.
Several NGOs, such as Human Rights Watch, strongly criticized the regulation, defining it as a "violation of human rights and international law" during the public comment phase. Biden, who is running for re-election in the 2024 presidential election, believes that this is the only way to tackle immigration as Congress disagrees on immigration policy.
The fight in Congress continues
Republicans accuse the Democratic president of losing "operational control" over the border They are negotiating to try to get the House of Representatives to vote Thursday on a proposal that would limit asylum and expand the border wall. However, getting a green light in the Senate with a Democratic majority is highly unlikely, and Biden has already warned he would veto it.
Democratic lawmakers, for their part, introduced a different bill Wednesday that would expand legal pathways to entering and staying in the United States. The bill in question "eliminates delays in employment-based visas, which will reduce barriers at ports of entry and spur job growth," Mexican-born Congresswoman Linda Sanchez said at a press conference.
"Introvert. Thinker. Problem solver. Evil beer specialist. Prone to fits of apathy. Social media expert. Award-winning food fanatic."