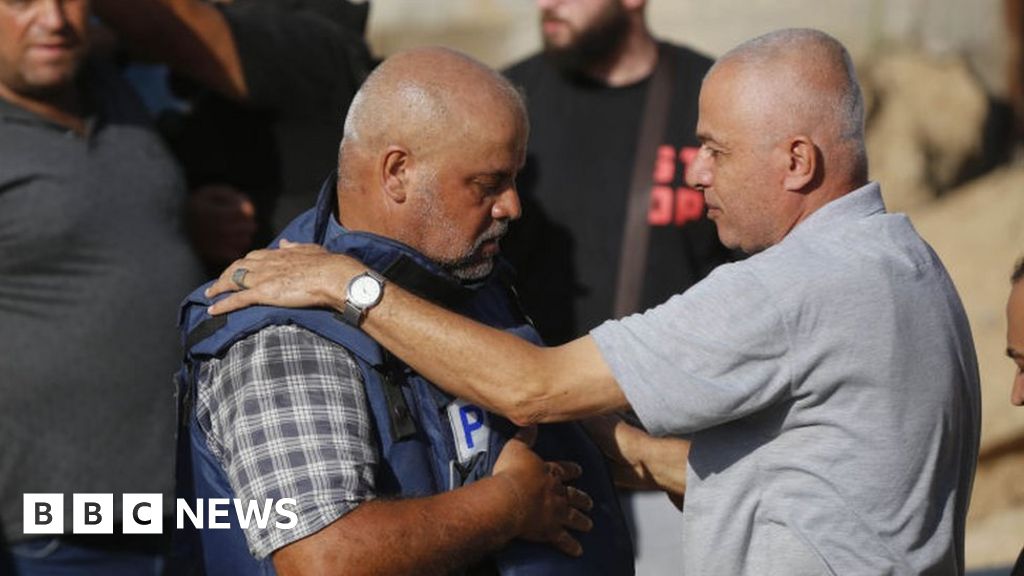 Written by Katherine Armstrong
BBC News
The network confirmed that the family of an Al Jazeera correspondent was killed in an Israeli air strike on Gaza.
Al Jazeera said in a statement that Wael Al-Dahdouh's wife, his teenage son, and his young daughter were all killed in a refugee camp in the central Gaza Strip on Wednesday.
It was later reported that his grandson had also died.
Al Jazeera condemned the Israeli killings and "indiscriminate attacks."
According to the news organization, the Dahdouh family was living in a house in the Nuseirat camp in central Gaza after being displaced from northern Gaza following Israel's warning to residents to move south due to ongoing military operations.
Al Jazeera said that 15-year-old Mahmoud was in his final year of high school, while his daughter Sham was seven years old and his grandson Adam was 18 months old.
Other family members were said to have been buried under the rubble, but some are known to have survived.
More about the war between Israel and Gaza
The IDF confirmed that it carried out an attack targeting Hamas in the area where members of the Dahdouh family were killed.
Asked by the BBC about the loss of civilian lives in Israeli air strikes in Gaza, including journalists and their families, Israeli army spokesman Lieutenant Colonel Peter Lerner said: "Any loss of life is a tragedy."
Footage posted online showed Al-Dahdouh crying in the hospital, holding what appeared to be the body of his seven-year-old daughter and kneeling over the body of his teenage son.
"There is no safe place in Gaza at all," he said in an interview with Al Jazeera, translated into English.
Al-Dahdouh is the bureau chief of Al Jazeera Arabic in Gaza and worked at the agency for several years.
Al Jazeera said it was "deeply concerned about the safety and well-being of our colleagues in Gaza and holds the Israeli authorities responsible for their security."
"We urge the international community to intervene and put an end to these attacks on civilians, thus protecting innocent lives."
At least 24 journalists have been killed so far in the recent conflict between Israel and Gaza, according to the Committee to Protect Journalists.
Gaza is under sustained military bombardment by Israel following a surprise attack by Hamas fighters on October 7, killing more than 1,400 people. More than 200 people are still being held hostage.
Meanwhile, the Hamas-run Health Ministry in Gaza says 7,000 people have been killed there. Israel cut off fuel, electricity, and most water supplies to the area. A small amount of aid is now being brought in through Egypt.
"Travel specialist. Typical social media scholar. Friend of animals everywhere. Freelance zombie ninja. Twitter buff."