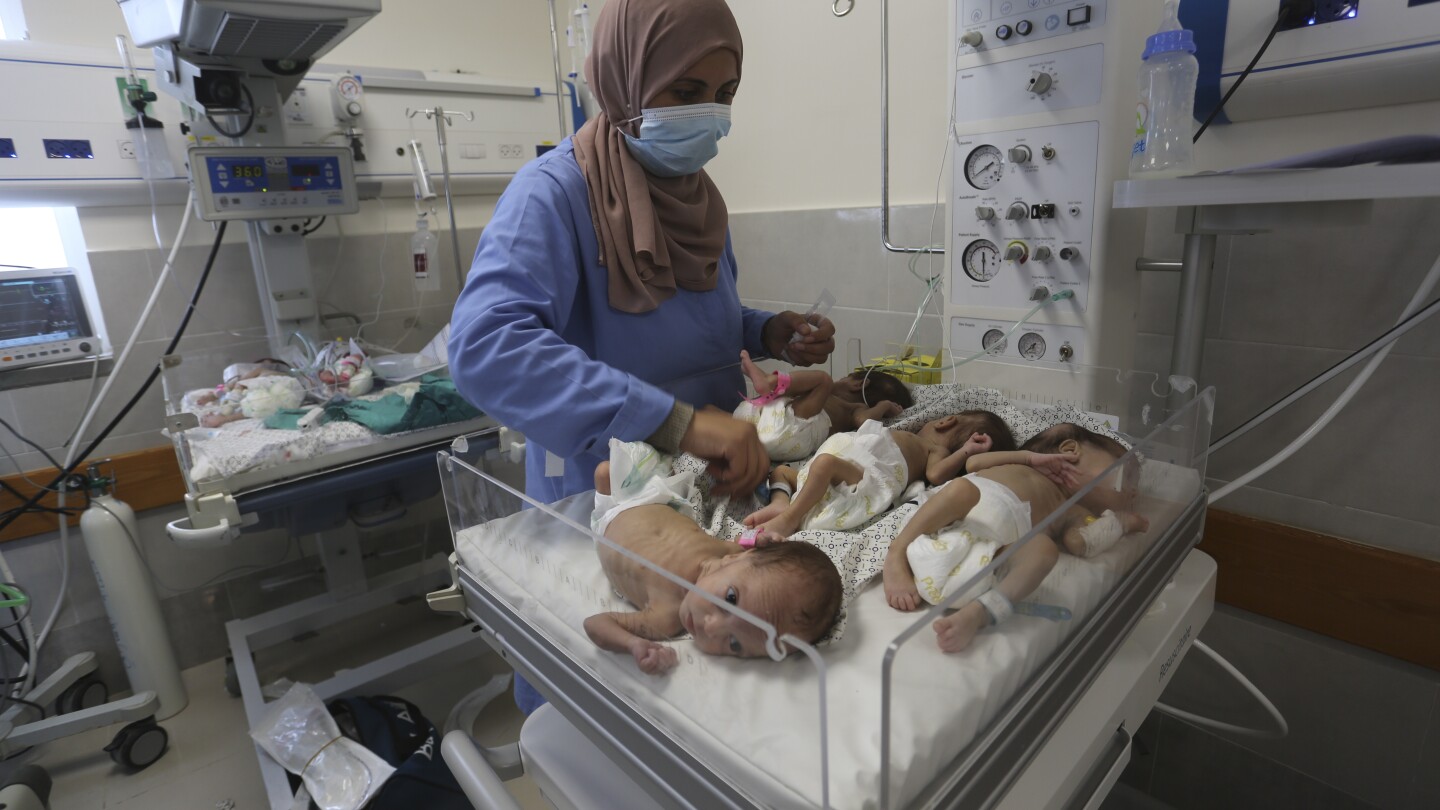 KHAN YOUNIS (Gaza Strip) — Health officials said 31 "very sick" premature babies were safely transferred from the main hospital in Gaza to another in the south on Sunday, and will be transferred to Egypt on Monday, dozens of other babies said. Seriously injured patients remained stuck there days after Israeli forces entered the complex.
The fate of the newborns at Al-Shifa Hospital captured global attention after their release Pictures show doctors trying to keep them warm. A power outage shut down incubators and other equipment, and food, water and medical supplies ran out as Israeli forces battled Palestinian militants outside the hospital.
WHO chief Tedros Adhanom Ghebreyesus said on social media that the "severely sick" children were evacuated along with six health workers and ten of their family members. They were transported in Palestinian Red Crescent ambulances to a hospital in the city of Rafah, south of the Gaza Strip, where they received urgent care.
Muhammad Zaqout, director of Gaza's hospitals, said that the children suffered from dehydration, vomiting, and low body temperature, and some of them suffered from sepsis because they did not receive any medication, and were not in "appropriate conditions to survive." He said they would go to Egypt to get more specialized care.
The WHO team that visited the hospital on Saturday said 291 patients were still there, including infants, trauma patients with highly infected wounds and others with spinal injuries who were unable to move. Four infants died in the two days before their visit, according to Zaqout.
The World Health Organization said that about 2,500 displaced people, mobile patients, and medical staff left Al-Shifa Hospital on Saturday morning. She added that 25 medical staff members are still with the patients.
"The patients and health workers they spoke to were terrified for their safety and health, and requested evacuation," the agency said, describing Shifa as a death zone.
Israel has long claimed that Hamas maintains a sprawling presence The command center is inside and under the healingThis is within the framework of its broader accusation that fighters are using civilians as cover. It portrayed the hospital as a main target in its war to end Hamas' rule in Gaza after the rule of the armed group A large-scale attack on southern Israel Six weeks ago, which claimed the lives of more than 1,200 people and led to the outbreak of war.
Hamas and hospital workers deny these accusations, and critics consider the hospital a symbol of what they say is Israel's reckless endangerment of civilians. Thousands have been killed in Israeli raids, and there are severe shortages of food, water, medicine and fuel in the besieged territories.
Israeli forces stationed in the hospital and Researching its causes for several days They say they found weapons and other weapons, and showed reporters the entrance to the tunnel opening. The Associated Press was unable to independently verify Israel's findings.
The Israeli army said that its forces found about 35 tunnel openings and a large number of weapons during operations in the Sheikh Ajlin and Al-Rimal areas in Gaza.
The ship was captured
The Israeli military said that Houthi rebels based in Yemen seized a cargo ship in the southern Red Sea en route from Turkey to India, but said there were no Israelis on board and it was not an Israeli ship. A statement issued by Prime Minister Benjamin Netanyahu's office described the ship as owned by a British company.
There was no immediate comment from the Houthis. Earlier in the day, the Iran-backed group threatened to target ships linked to Israel in the Red Sea.
The United Nations Ship Database identified the ship's owners as a Tel Aviv-based company, Ray Shipping Ltd. Calls to Ray Shipping were not returned Sunday, and company officials did not immediately respond to a written request for comment.
Fierce fighting in the north
There were reports of violent clashes in the Jabalia refugee camp in the northern Gaza Strip on Sunday night. "There was a constant sound of gunfire and tank shelling," Yassin Sharif, who is staying in a UN-run hospital in the camp, said by phone. "It was another night of terror."
The Commissioner-General of the United Nations Agency for Palestinian Refugees, Philippe Lazzarini, said that 24 people were killed in what eyewitnesses described as an Israeli air strike on a school in an overcrowded United Nations shelter in Jabalia the day before. The Israeli army, which has repeatedly called on the Palestinians to leave northern Gaza, merely said that its forces were active in the area "with the aim of striking terrorists."
More than 11,500 Palestinians were killed, according to Palestinian health authorities. Another 2,700 were reported missing. It is believed to be buried under the rubble. count No difference between civilians and combatants; Israel says it has killed thousands of activists.
Hostages to help
About 1,200 people were killed on the Israeli side, most of them civilians killed during the Hamas attack on October 7, in which the movement participated. About 240 prisoners were withdrawn Return to Gaza and shattered Israel's sense of security. The army says 52 Israeli soldiers were killed.
Hamas released four hostages, Israel rescued one, and the bodies of two hostages were found near Al-Shifa, where heavy fighting took place.
Israel, the United States, and the Gulf state of Qatar, which mediates with Hamas, have been negotiating the release of the hostages for weeks. On Saturday, a senior White House official indicated that it would be necessary to finish this before large amounts of much-needed aid could enter.
Brett McGurk, the White House National Security Council coordinator for the Middle East, said: "The release of a large number of hostages will lead to a significant cessation of fighting… and a massive increase in humanitarian aid." He said at a conference in Bahrain.
Qatari Prime Minister Sheikh Mohammed bin Abdulrahman Al Thani said on Sunday that he was "confident" that an agreement would be reached soon, telling reporters that "the sticking points, frankly, at this stage are more practical and logistical."
Winter arrives
More than two-thirds of Gaza's 2.3 million people have fled their homes. The United Nations Agency for Palestine Refugees, or UNRWA, is struggling to provide basic services to hundreds of thousands of people sheltering in and around schools and other facilities. The agency said 17 of its facilities were directly bombed and 176 people were reported killed.
Their suffering has worsened in recent days with the arrival of winter, when cold winds and heavy rains blow Tent camps.
Over the weekend, Israel allowed UNRWA to import enough fuel to continue humanitarian operations for a few more days, and to keep its internet and phone systems running. Israel cut off all fuel imports at the beginning of the war, shutting down Gaza's only power plant and most water treatment systems, leaving most residents without electricity or running water.
Defense Minister Yoav Galant said Saturday that "with each passing day, there are fewer places where Hamas terrorists can operate," adding that the militants would learn this in southern Gaza "in the coming days."
His comments were the clearest indication yet that the military intends to do just that Expanding its attack on the southern Gaza StripWhere Israel ordered Palestinian civilians to seek shelter. Israel has repeatedly bombed what it says are militant targets across the south, often killing civilians.
The evacuation area is Already crowded with displaced civiliansIt was not clear where they would go if the attack approached. Egypt has refused to accept any influx of Palestinian refugees, partly because Fears that Israel will not allow them to return.
___
Magdy reported from Cairo.
___
Complete AP coverage at https://apnews.com/hub/israel-hamas-war.
"Travel specialist. Typical social media scholar. Friend of animals everywhere. Freelance zombie ninja. Twitter buff."