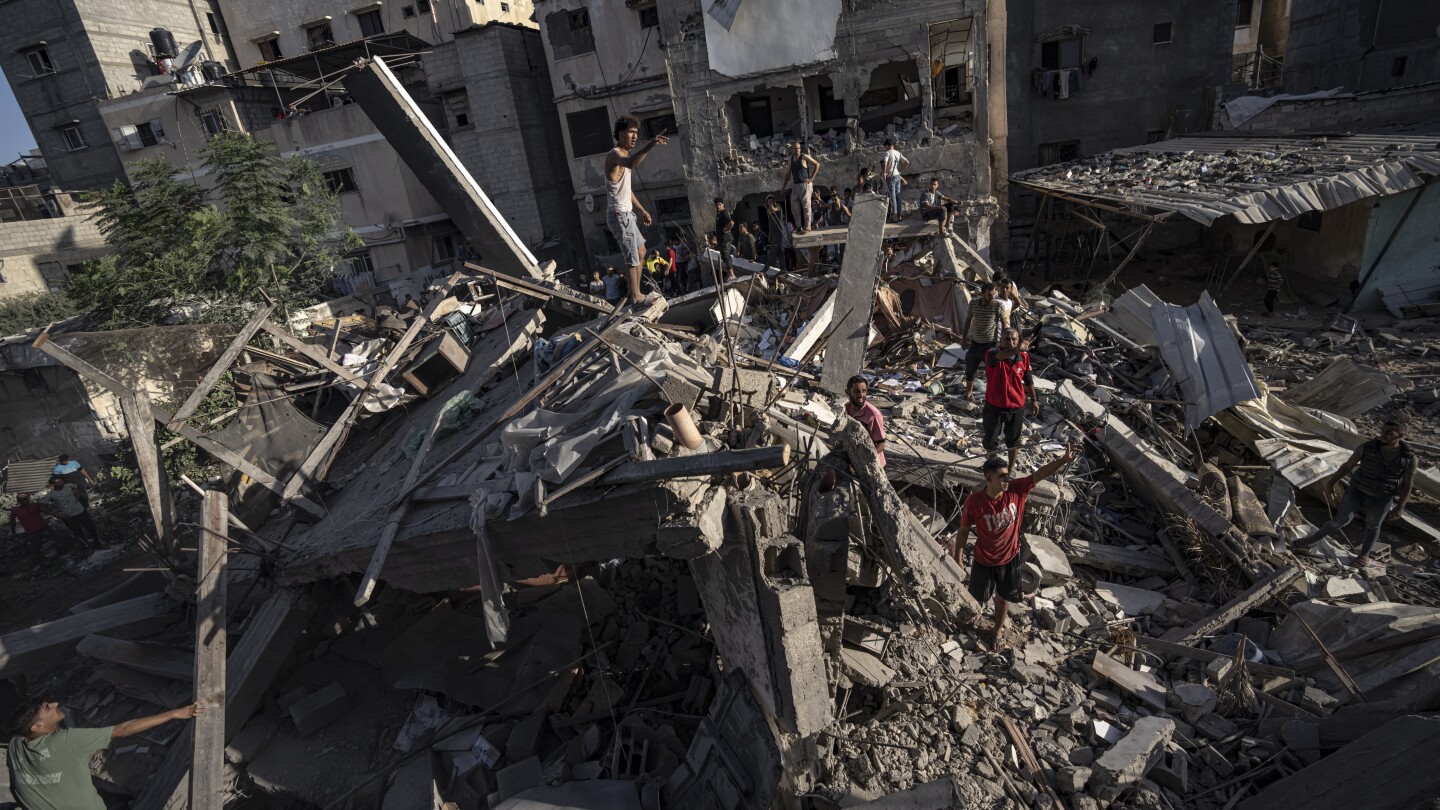 KHAN YOUNIS, Gaza Strip (AFP) – Israeli warplanes bombed a refugee camp in the Gaza Strip early Sunday morning, killing at least 33 people and wounding dozens, health officials said. The raid came at a time when Israel said it would continue its offensive to crush Hamas' rulers in the Strip, despite American calls to stop delivering aid to desperate civilians.
The high death toll in Gaza sparked increasing international outrage. With tens of thousands from Washington to Berlin taking to the streets Saturday to demand an immediate ceasefire.
Israel rejected the idea of ​​halting its attack, even for a short humanitarian pause, which was proposed by US Secretary of State Anthony Blinken during his current tour in the region. Instead, she said, the enclave was under siege agitation The rulers were "facing the full force" of its forces.
Israeli Defense Minister Yoav Galant said: "Anyone in Gaza City risks his life."
Large columns of smoke rose when the Israeli army said it had surrounded Gaza City, the initial target of its attack against Hamas. The Gaza Ministry of Health said that more than 9,400 Palestinians were killed in the Strip during nearly a month of war, and that number is likely to rise as the offensive continues.
Ashraf Al-Qudra, spokesman for the Ministry of Health, said that early Sunday, air strikes bombed the Al-Maghazi refugee camp in the central Gaza Strip, killing at least 33 people and wounding 42 others.
He added that first responders, with the help of residents, were still searching under the rubble for the dead or possible survivors.
Arafat Abu Mashaya, who lives in the camp, said the Israeli air strike destroyed several multi-storey houses where people forced out of other parts of Gaza were sheltering.
"It was a real massacre," he said early Sunday as he stood in the ruins of destroyed homes. "Everyone here is peaceful people. I challenge anyone who says there was resistance (fighters) here."
There was no immediate comment from the Israeli army.
The camp, a built-up residential area, is located in an evacuation zone where the Israeli army has urged Palestinian civilians in Gaza to seek shelter while focusing its military offensive in the northern areas.
Despite these calls, Israel has continued its bombing across Gaza, saying it is targeting Hamas fighters and assets everywhere. Hamas was accused of using civilians as human shields.
Critics say Israeli strikes are often disproportionate, given the large number of women and children killed in such attacks.
Blinken met with Arab foreign ministers He arrived in Jordan on Saturday after talks in Israel with Prime Minister Benjamin Netanyahu, who insisted there could be no temporary ceasefire. Until all hostages held by Hamas are released.
Jordanian Foreign Minister Ayman Safadi said that the Arab countries want an immediate ceasefire, saying that "the entire region is drowning in a sea of ​​hatred that will determine the features of future generations."
However, Blinken said: "Our view now is that a ceasefire will simply leave Hamas in place, able to regroup and repeat." What did you do on October 7?", when the group launched a large-scale attack from Gaza on southern Israel, triggering the outbreak of war.
He said Humanitarian stops It could be crucial in protecting civilians, getting aid in and removing foreign nationals, "while continuing to enable Israel to achieve its goal, which is to defeat Hamas."
Osama Hamdan, a senior Hamas official, told reporters in Beirut that Blinken "must stop the aggression and not present ideas that cannot be implemented." The spokesman for Hamas' military wing, known as Abu Ubaida, said in a speech that Hamas fighters destroyed 24 Israeli vehicles and caused casualties in the past two days.
Egyptian officials said that they and Qatar are proposing a humanitarian truce for a period ranging from six to 12 hours a day to allow the entry of aid and the evacuation of victims. They were also demanding that Israel release a number of women and elderly prisoners in exchange for the release of hostages, proposals that Israel seemed unlikely to accept. They spoke on condition of anonymity because they were not authorized to brief the press on the discussions.
Israel has repeatedly called on the 1.1 million residents of northern Gaza to flee to the south, and on Saturday gave residents a three-hour deadline to do so. But an Associated Press journalist on the road didn't see anyone coming.
Israel confirmed that Hamas "exploited" the window to move south and attack its forces. There was no immediate comment from Hamas on this claim, which cannot be verified. Israeli planes dropped leaflets urging residents to head south during another window on Sunday, from 10 a.m. to 2 p.m.
Air strikes destroyed large areas of residential neighborhoods in northern Gaza. UN monitors say more than half of northern Gaza's remaining population, estimated at about 300,000, are staying in UN-run facilities. But deadly Israeli strikes repeatedly hit and damaged these shelters. The United Nations Relief and Works Agency for Palestine Refugees said it had lost contact with many people in the north.
An Israeli airstrike overnight hit a water well in Tal al-Zaatar in the northern Gaza Strip, cutting off water to tens of thousands of residents in the area, the Hamas-run Beit Lahia municipality said in a statement early Sunday.
The United Nations said that about 1.5 million people in Gaza, or 70% of the population, have fled their homes. Food, water and fuel to run the generators that power hospitals and other facilities are running out.
The war has raised tensions across the region, with Israel and the Lebanese Hezbollah group repeatedly exchanging fire along the border. In the Israeli-occupied West Bank, at least two Palestinians were shot dead during an Israeli raid in Abu Dis, outside Jerusalem, according to the Palestinian Health Ministry. At least 150 Palestinians have been killed in the West Bank since the beginning of the war, most of them during violent protests and gun battles during arrest raids.
Thousands of Israelis demonstrated outside Netanyahu's official residence in Jerusalem on Saturday, urging him to resign and calling for the return of some 240 hostages held by Hamas. Netanyahu refused to take responsibility for the October 7 attack in southern Israel More than 1,400 people were killed.
Air raid sirens sounded Saturday evening in southern Israel after Hamas fired rockets at the city of Ashkelon. Rocket fire continued in the area throughout the conflict, forcing tens of thousands of people to evacuate their homes.
Among the Palestinians who were martyred in Gaza More than 3,900 Palestinian childrenthe The Gaza Ministry of Health saidWithout providing details about civilians and combatants.
The Israeli army said that four more soldiers were killed during the ground operation in Gaza, bringing the confirmed death toll to 28.
___
Magdy reported from Cairo. Associated Press writer Matthew Lee in Amman, Jordan, contributed to this report.
___
Complete AP coverage at https://apnews.com/hub/israel-hamas-war
"Travel specialist. Typical social media scholar. Friend of animals everywhere. Freelance zombie ninja. Twitter buff."