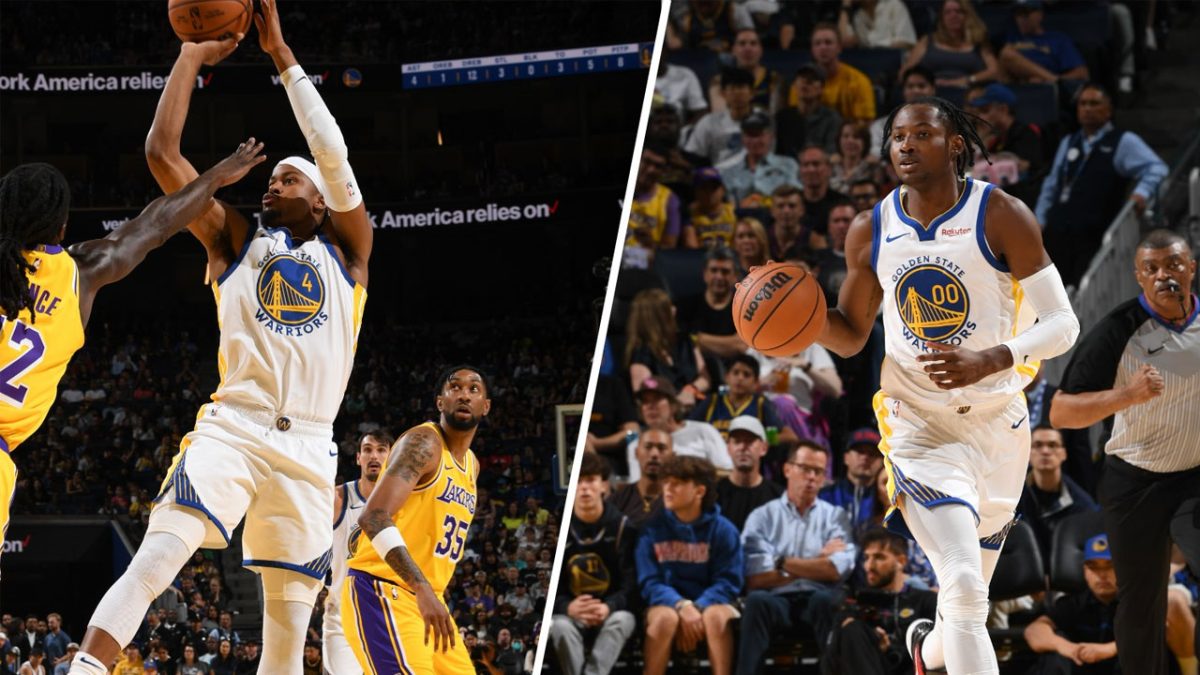 SAN FRANCISCO — Preseason basketball is largely about young players looking to prove themselves and those fighting for spots on the backfield. First, all eyes were on the 38-year-old guard to start Saturday's opener, a 125-108 win over the Los Angeles Lakers.
Chris Paul received a standing ovation from Warriors fans and quickly showed what they can expect from him this season. Paul played 13 minutes, all in the first half, scoring a goal in the penalty box. The pass-first point guard had six points, five assists and four rebounds in his first time in a Warriors jersey.
He was joined by Steph Curry, Klay Thompson, Andrew Wiggins and Kevon Looney in the starting lineup. Curry (eight points) and Thompson (10 points) combined to score 18 points and each played 13 minutes. There was an emphasis on Thompson to make rebounding and crashing the glass more of a priority, and he finished the game with four rebounds, which is about what he averaged last season.
Both LeBron James and Austin Reeves were unavailable for the Lakers.
Here are three takeaways from the Warriors' preseason opener.
CP3's first appearance
It didn't take long for Paul to prove the kind of immediate impact he would have on the Warriors' offense. His first shot attempt? His signature mid-range jump shot went for two points. His first help? It came as a result of Looney pushing the pace and Curry finding a quick 3-pointer.
Paul's five assists accounted for 13 Warriors points. Three of his five assists turned into 3-pointers, two by Curry and one by Wiggins, and three of his assists ended with Curry.
The role he will play when the Warriors are healthy likely won't be what it was in his first game with his new team. But the extra work Paul and Curry have put in after taking coaching to the court, and it's clear just how much more reliable non-Curry minutes will have to be when the ball is in Paul's hands.
Buds are better
Concerns and question marks surround the Warriors' first-round pick after an uninspiring showing in Summer League. Surrounded by NBA talent, Podzemski eased the nerves in his first preseason appearance.
Steve Kerr during his pre-game press conference referred to Podziemski as someone who will "connect lineups" once he gets his feet under him in the pros and praised his feel for the game. Kerr's assessment was seen shortly after Podziemski scored first with six minutes remaining in the first quarter. In the first quarter alone, Podziemski scored four points on two crafty layups, as well as one steal, one assist, one rebound, and took one charge.
Although Podziemski won't have to carry the same load as he did as a sophomore at Santa Clara, he can contribute in multiple ways when given opportunities like he did in his final season in college. He played 26 minutes and scored 11 points on 5-of-10 shooting, along with five rebounds, four assists, one steal and one block. Podziemski also dove for loose balls and picked off Lakers first-round rookie Jalen Hood-Schifino on a full court.
This was an impressive debut display for Podzemski and should help ease the tension after an up-and-down Summer League.
strong Second unit
With Draymond Green rehabilitating his sprained left ankle and Paul in the starting lineup, Kerr cycled a set after the first six overtime minutes of the first and second quarters. Podziemski, Moses Moody, Jonathan Kuminga and Dario Šarić came to join Wiggins. Gary Payton II quickly replaced Wiggins both times.
That group looked comfortable together after sharing the floor frequently in scrimmages leading up to Saturday night. Adding Green, and even Cory Joseph, would change things, but the second unit has the kind of connection Kerr hopes for.
The Warriors are hoping both Kuminga and Moody break out in Year 3. Kuminga scored a team-high 24 points on 8-of-14 shooting, and Moody was second on the Warriors with 15 points. They also combined to land 13 rebounds, eight from Kuminga and five from Moody.
From the veterans to the youngsters, there were a lot of positives in the Warriors' opening preseason win.
Download and follow Dubs Talk Podcast
"Devoted travel trailblazer. Freelance beer scholar. Passionate analyst. Hardcore twitter fanatic."