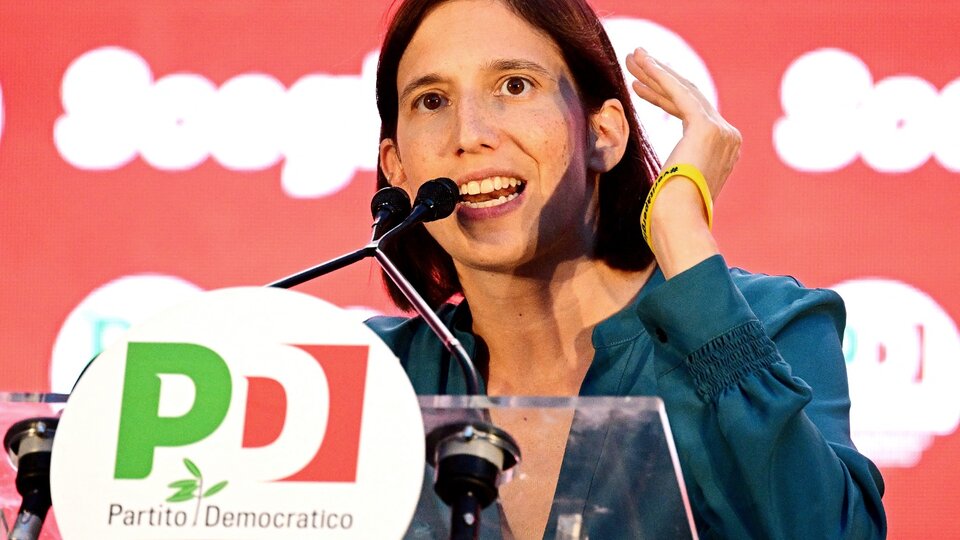 From Rome
He Democratic Party (PD), the most important party Italian center-leftOn Sunday he elected a woman secretary (top party official) for the first time. He is the youngest of the elect so far and is placed on the left. About Ellen Ethel SchleinBetter known as Ellie Schlein, 37, is a lawyer born in the canton of Ticino, Switzerland, an Italian-speaking Swiss region near Italy. He lived and studied law in Bologna, the city where his lawyer mother was born. On the other hand, his father was a Jewish American political scientist, descended from a family of immigrants from Ukraine, and a university professor.
Immigrants
Interestingly, for his university degree in Bologna, Schlein wrote a thesis on migration. He continued to deal with migrants until 2019, when he was elected as a member of the European Parliament by the centre-left in 2014.. After the endless series of dramatic shipwrecks in the Mediterranean it must focus a good part of its efforts on this matter. Last Saturday, at least 63 people died, many of them children.
"We're going to be a big problem for the Maloney government," Schlein said. To his followers after his election. He clearly points out many points on which the center-left disagrees with the right-wing government Georgia MeloneyFor example, the treatment of immigrants, public health, public education, which he wants to partially privatize.
Sunday's voting, which is accessible to all who have submitted their documents and even if they are not registered with a party, saw Schlein with 53.5% of the vote and the other candidate, head of the Emilia-Romagna region, with 46.2%. Stefano Bonacini has been appointed Vice President of Schlein Emilia Romania until 2022. Relations between the two have always been good, and Bonacini said he was ready to work with the new secretary to strengthen the party that has been going through months of transition. A deep crisis.
Voter turnout and crisis
Electoral turnout in Italy is declining significantly (73% in the 2018 elections, 64% in the 2022 elections), partly due to the pandemic that has fostered isolation and mistrust, and partly due to the growth in the average age of the Italian population (considered one of the oldest in Europe). However, long lines were seen at Democratic polling stations on Sunday, attracting many attentions. The party expected 1 million voters, but 1.2 million voters turned up. Perhaps, some researchers say, because the presence of Schlein, a woman and a young woman, a lot of strength to fight, and that inspired hope.
The right-wing, led by Giorgia Meloni, heads the current Italian government, and her party, Fratelli d'Italia, began to gain votes for her allies Matteo Salvini's League and Silvio Berlusconi's Forza Italia after the 2018 election. Another way. Fratelli d'Italia is now the number one party in Italy with the number of votes, followed by the PD. PTI, which was the first party, has also reduced its votes in recent years.
This and the internal disputes caused a severe crisis in the party. And many spoke of revitalizing it and changing its aims. For this reason, several regional and municipal conferences were held so that those associated with PD could discuss and understand what to do. Candidates were also discussed, resulting in Schlein's candidacy. In the midst of the crisis, the former Prime Minister Mr Enrico Leta, announced that he was resigning from his post and therefore calling for a new primary election. This Monday he offered the position to colleague Schlein. However, not everyone thinks the divisions within the party will be resolved quickly or easily. It will be a tough task for the new secretary.
Schlein's promises
Defined by those who know her as a determined and ambitious person, Elly Schlein, who was a member of the PD when elected to the European Parliament in 2014, decided to leave the party due to disagreements with then secretary Matteo Renzi. He re-registered a few days ago, although he continued to work with people from PD like Bonacini.
"This vote is a clear mandate for change," he told his supporters. People have come together and answered our call. Our responsibility now is not to betray that trust. This is the greatest responsibility we have." The applause for the new secretary was accompanied by "Bella Ciao," a reference to the Italian resistance during World War II, which his supporters sang in his honor.
"Together we will create a real revolution," Schlein added, referring to the unity needed to move all party members forward. And he noted issues where the party would be "a problem" for the Maloney government, as he expected. In it he mentioned about the protection of the poor The government does not want to see Public school safety, job security, barriers against privatization of public health. Regarding tragedies at sea, he recalled that the present government "authorized an ordinance that hampers rescue at sea". "We hope to create a European Mare Nostrum that helps migrants at sea," he said. "We will be a party that will not give peace until we put limits on insecurity. We will strive for country and party unity from tomorrow. We cannot afford anything else," he concluded.
Operation Mare Nostrum was created in 2013 by the government of Prime Minister Enrico Letta. A humanitarian emergency created by migrants in the Straits of Sicily. It had a dual mission: to guarantee the safety of life at sea and to bring to justice those who profited from the illegal smuggling of migrants. But the move was suspended in 2014 during Prime Minister Matteo Renzi's government.
"Introvert. Thinker. Problem solver. Evil beer specialist. Prone to fits of apathy. Social media expert. Award-winning food fanatic."