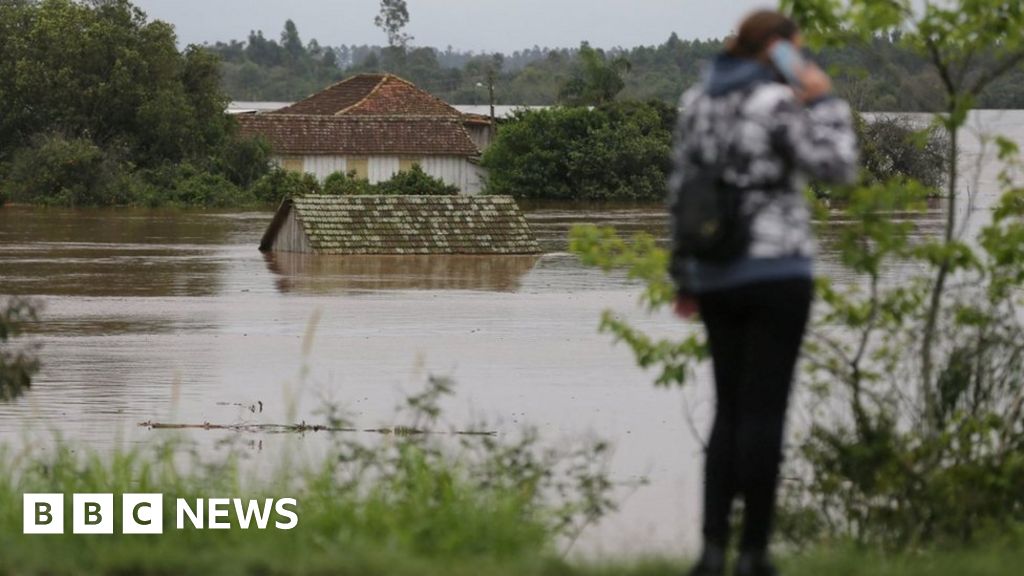 Heavy rains and winds from a hurricane have killed at least 27 people in southern Brazil, with more flooding expected.
The governor of Rio Grande do Sul state said it was the worst weather disaster the state had ever seen.
Officials said thousands were forced from their homes.
In Mokum, a town of 5,000 people, hundreds were rescued from their rooftops after 85 percent of the town was flooded, local media reported.
President Luiz Inácio Lula da Silva said the federal government was ready to help.
"Whenever there is a problem, the federal government will be there to save people from these problems," he said.
Fifteen more bodies were found in Mocum on Tuesday, Eduardo Leite, governor of Rio Grande do Sul state, told a news conference, bringing the death toll to 21.
Officials said more than 300 mm of rain fell in the state in less than 24 hours, triggering floods and landslides.
"There are still people missing," Mayor of Mocum, Mateus Trojan, told Gaucha Radio.
"The death toll may rise. The town of Mocum as we know it no longer exists."
Rescue workers use helicopters to reach areas cut off by the floods.
Further north, in the town of Nova Bassano, she is "devastated," resident Dersey Reginato.
"There are many people who have lost a lot, but here at home I have nothing left," she told Reuters news agency.
Luana da Luz, from Paso Fundo, was rescued by firefighters.
"We've seen that [water] "He was going to fill everything in from dawn," she said. "We were already putting things on the table, on the wood stove, but it didn't help."
Many factors contribute to floods, but the warming of the atmosphere caused by climate change increases the likelihood of heavy rainfall.
The world has already warmed by about 1.2°C since the beginning of the industrial age, and temperatures will continue to rise unless governments around the world make sharp cuts in emissions.
"Travel specialist. Typical social media scholar. Friend of animals everywhere. Freelance zombie ninja. Twitter buff."